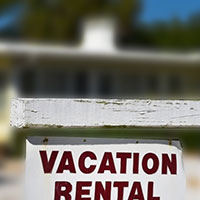 Vero tries to collect $440,000 in fines for illegal vacation rental
STORY BY LISA ZAHNER (Week of August 27, 2020)

After a multiyear court battle over the use of a $2.4 million home in Old Riomar as a vacation rental from 2017 to 2019, the City of Vero Beach is now trying to collect a $440,000 judgment for fines and interest awarded in the case on June 30.
Dr. Tony Abbassi, a Miami physician who owned the home while it was used as a vacation rental, appealed $411,000 in city code enforcement fines to the circuit court, claiming that he was duped by shady property managers, never received any of the city's notices by mail, and thus never knew it was illegal to operate a short-term rental in a residential zone in Vero.
City code enforcement staff had given evidence that Abbassi was present with his property manager when code enforcement visited the house and was notified in person that vacation rentals were not permitted in the city. Abbassi lost the court appeal, but then turned to the city council in hopes of getting his costs reduced by more than one half.
Presenting a statement from management company Global Retreats, Abbassi claimed "the property derived total rental income of $74,300 for the years 2017-20I8 and beginning 2019. This is the relevant time period of the offense. Using the 'double the pecuniary gain derived from the offense,' standard articulated by the Florida Statutes and the Florida Constitution, based on the gain it would be unfair and manifestly unjust to impose a fine upon us of any more than $150,000."
Abbassi appeared in council chambers last week, dressed in scrubs, but had a friend, Realtor Rachel Fresco of Aventura, plead his case to the council, working the angle that Abbassi was a busy primary care physician helping people sick with COVID-19 disease, and that the notices sent to the legal address on file for taxes went to the wrong address, a home he no longer owned.
Fresco even suggested that Abbassi was discriminated against because some of the city's paperwork described him as Middle Eastern.
The city council did not buy Abbassi's excuses, or his petition to reduce the judgment awarded by the court.
Fresco said paying the entire fine to the city plus nearly $30,000 interest would be a great burden to the Abbassi family's financial situation.
No money has been received yet. "We are pursuing collection," City Attorney John Turner said.
Code enforcement is handled out of the police department, with two full-time civilian officers, but no decision has been made about exactly how to use the $440,000 once received into the Code Enforcement Fines revenue account.
"The police department is part of the city's general fund, so all of the time and resources expended by the PD for this case are general fund expenses, which will be offset by this revenue," Vero Finance Director Cindy Lawson said.