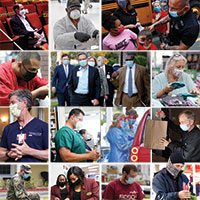 2020:The Year of Living Pandemically
STORY BY MICHELLE GENZ (Week of December 31, 2020)

It developed with breathtaking rapidity.
Last New Year's Eve, all we knew was that a pneumonia-like illness had broken out in Wuhan, a huge city most of us had never heard of in China.  Had something to do, we were told, with a fish market, or with bats.
Just a month later, the World Health Organization was declaring a global public-health emergency.  By mid-February, the disease – a novel coronavirus – had an official name:  COVID-19.  Before another 30 days passed, WHO was declaring COVID-19 a pandemic. 
By the end of March, the United States had more confirmed cases than any other country in the world.  But still, the coronavirus wasn't here in Indian River County.  Or was it?
In fact, it may have arrived in February, north of Sebastian on the campus of a family-run Christian mission that sprawls across sandy acreage that has eluded developers for decades.
That possible early case last February never made it into state records of COVID-19 cases. But a later positive test for virus antibodies almost certainly points to the early, undetected infection.
The illness, which hit its middle-age victim like a ton of bricks, was presumed at the time to be a severe case of the flu. But it may have been the first domino to fall in a series of at least six COVID-19 cases in the extended family that ran the mission, including the case that ended in death for its beloved pastor.
That man walked out of the emergency room against doctors' advice in April. Gasping for breath, he refused a COVID-19 test and went home to write his Easter sermon.
That message, his third delivered on video due to the lockdown, would be his last.
When the ailing pastor returned to the hospital the next day, he was immediately put on a ventilator. A month later, he died.
His son, who spoke freely about the family's anguish in May but asked not to have their story told then, now has allowed us to write about his family's ordeal but asked that the family still not be identified. "We just don't want to have to relive this all." 
Ten months after a member of the deceased pastor's family was knocked off his feet by a then mysterious infection, the novel coronavirus is still defying disinfectants and hand washing timed to the Happy Birthday song.
It is still slipping past barriers to our mouths and noses, swooping into the air as we sing, sigh or argue, and descending in an unseen ambush on the very people who sustain us – our families, caregivers and friends.
For every death by COVID-19 in the county – 160 to date, out of 160,000 residents – there are many people who, like the pastor's family, are still raw with grief. Others still fight to quell the anxiety caused by hospitalizations, which have occurred in 500 of the 6,200 known cases here.
That is one case for every 26 Indian River County residents, and one death for every 40 positive tests here.
In the county's long-term care facilities, 68 residents have died with COVID-19, along with one staff member who succumbed in October. According to a coworker, that female staffer had worked as a housekeeper but retired due to the risk of COVID-19.
But the boredom of her quiet life sent her back to work, the co-worker said, despite her family's fears. Within weeks, she had the virus. She was hospitalized three weeks before she died.
Even as some essential workers braved COVID-19 for minimum wage, sales of multimillion-dollar homes on the barrier island were brisk, as refugees from New York City, California and other areas hit hard by the virus zeroed in on Vero as a better, safer place to live.
Over the summer, top island brokers had their best year ever, eclipsing past sales records by as much as 50 percent, and the booming market continued into the fall and winter – despite a third surge in local infections bringing thousands more cases
"This has been a tremendously challenging year for healthcare providers across the country and Cleveland Clinic Indian River Hospital has been no exception," said the hospital's president, Dr. Greg Rosencrance.
"While the vaccine provides hope for the future, we have more work to do as we enter 2021," he said, and repeated his mantra of the past nine months – masks, hand washing, sanitizing, social distancing, limited gatherings. And he added one more: Get the vaccine when it comes your turn.
"I think the next two months might be some of the most challenging times in our lifetime," said Dr. Gerald Pierone, an infectious diseases specialist who has shepherded patients in Vero, Fort Pierce and Melbourne through another viral pandemic – HIV/AIDS.
Perhaps the biggest missed opportunity at limiting the spread of COVID-19 was the early disagreement among health professionals over the importance of wearing face coverings in public.
On March 1, U.S. Surgeon General Jerome Adams tweeted a plea for Americans to stop buying facemasks, saying that they are not effective in preventing people from catching the coronavirus.
"Seriously people – STOP BUYING MASKS!" Adams wrote.
It wasn't until a month later, on April 3, the Centers for Disease Control added wearing face coverings in public to its list of guidelines.
That delay and the high-level disagreements gave a segment of the population reason to doubt the science behind mask-wearing, and the doubt about masks has been difficult to undo.
Throughout the summer, lines would snake through government meetings like krewes at Mardi Gras so that speakers could enter their anti-mask tropes and conspiracy theories into the public record.
They mocked one of the county's two narrow requirements – that masks be worn in government buildings – by fashioning pointless coverings in flimsy lace and netting, or defiantly letting their masks trail like drool guards along the jawline.
Responding to the loud minority of anti-maskers, the county commission rejected a broad indoor mask mandate in mid-July. That left Indian River as the only county in the area not requiring masks broadly.
A limited mask order was put in place by the county administrator, but it affected only employees of public-facing businesses in unincorporated areas, as well as in government facilities and public transportation. The penalty for non-compliance: a $25 fine.
Even that little fine soon went away. In September, Gov. Ron DeSantis banned penalties for non-compliance with local mask orders.
Masks were eventually required in schools when social distancing was not possible, but a group of parents have sued to overturn that rule.
The cities of Sebastian and Vero Beach followed the county's lead and declined to pass broad mask mandates, even though the Vero City Council brought it up for a vote twice.
The first  Vero Beach council vote was taken even as council member Rey Neville, who phoned into the meeting, announced that he himself had COVID-19.
Neville strongly supported a broad mandate. But the call was disconnected by the time the vote was taken and the council deadlocked two to two, with attorney Joe Graves and now-Mayor Robbie Brackett voting no.
At the second vote at a special call meeting, a super-majority was required. Either Brackett or Graves needed to vote yes for the measure to pass. Both voted no.
Brackett, 57, who was elected mayor by his fellow council members after winning a second term in the November election, made it clear at the meeting that he understood the contagion of the virus: His own parents were battling COVID-19, he said in the televised hearing.
Subsequently, he tested positive for COVID-19 in October but was asymptomatic. Despite his and his parent's infections, he has not backed away from his general philosophy: Respect the opinions of others. Follow the rules of businesses. But don't infringe on the rights of the individual and don't impede the economy.
"Everyone has different beliefs on this thing. We just need to respect them, and this thing will work its way out eventually."
The mayor's parents, Robert Brackett, 86, and Sandra Brackett, 80, were infected at a meeting at their church, Vero Beach Church of Christ, in late June. It was one of their first outings since the lockdown in mid-March.
"I had spoken to my dad on Father's Day and he told me they decided they wanted to go back to church," said Robbie Brackett.
Joe Wild, a retired county judge who is married to Robbie Brackett's sister, is an elder at the church. He is "all for masks," believing they are harmless and "certainly not an affront to anyone's liberties."
Wild was at the service that night, as 60 or so church members gathered for the first time since the lockdown. All wore masks, and they socially distanced by sitting in every other pew.
He described a moving scene in which the speaker, whom many hadn't seen through the lockdown, became emotional. "At the end, a lot of them got up and hugged him," Wild said.
The next day, the man and his wife, who was also at the meeting, woke up feeling sick. The husband was able to get rapid-tested from his employer.
"He called me from the doctor's office and told me he tested positive," said Wild. Immediately church leaders began phoning all the attendees, cancelling the next week's meeting and asking members to isolate to see if they developed symptoms. Before long, Wild said, as many as 15 people had tested positive for COVID-19. One of them, an older woman, ended up dying of the disease. "It was pretty traumatic," Wild said.
"We are not one of these churches that say 'We're not wearing masks,'" said Wild. "We wore masks. We had a meeting to discuss how we were going to do it before we even opened again."
But church leaders did not plan for spontaneous hugging.
After the positive tests, the church closed for two weeks. Since it reopened, there have been no problems, Wild said. But he notes that ironically, there are members who now have doubts about the effectiveness of masks.
"In my mind, people were thinking, 'We're all wearing masks, we're not engaging in conversation. How did this even happen? Is there any point in wearing masks if we still all got infected?'
"I told them, it's not just wearing masks, it's wearing masks and staying six feet apart. There are all kinds of scenarios, but what we tell people is stay apart. You have one vulnerable person with a breathing disorder, and that's it."
Robbie Brackett's parents – Wild's in-laws – are active and sociable. The lockdown was hard for them. But apart from his mom having an underlying condition, they did not strike him as fearful when they caught the virus.
"They never indicated they were very nervous about it. They never overreacted," Robbie Brackett said. "We were concerned, obviously, but we just took it a day at a time."
While they were ill, the couple isolated together at their home as the rest of the family rallied around them – from a distance. Another son, who lives next door, checked on them regularly. Family members brought food to the couple, setting up a table outside the back door so they could drop food off and leave before the parents came out to get it.
Now and then they would stay to chat through an open window, the same strategy so many families resorted to for residents in nursing homes and assisted living facilities.
"They did what the doctor told them to do. They monitored their blood oxygen level and checked their fever two or three times a day," said Brackett. "If they got really tired, or had a hard time breathing, they were supposed to call an ambulance right away. But they never did. It was the two of them there, so they were watching each other."
Months later, Brackett himself tested positive after visiting with a neighbor on Halloween who turned out to have the virus. He and his wife both were tested, but only he was positive. He never had symptoms.
"We are a family that, if one of us gets sick, the rest of us rally around them. But once it's gone, it's gone. We don't dwell on what happened. We know that's just life. That's reality. We're realists."
Today, the Brackett clan would have a hard time rallying around a family member in the hospital, all of them gathering in the waiting room as they normally would. Now, most of them would be stopped at the door, due to COVID-19 visitation restrictions.
Cleveland Clinic Indian River has inaugurated a color-coded guideline on its website ranging from yellow, the least restricted visitation, to orange to red to purple, the most restricted visitation.
The hospital has been a level of red since Oct. 21, a spokesman said. When the guideline began in mid-August, all Cleveland Clinic Florida hospitals were at purple.
All along, COVID has been a "moving target," Brackett said before Christmas. Asked whether he would take one of the vaccines, he said he was "going to study more on it."
"I haven't had anybody give me a good reason not to take," he said. "I'm going to watch it and try to make an intelligent decision. I would definitely encourage people in a high-risk position to take it.
"The key to this is, we're not here to stop the virus. We're here to manage the numbers, and manage the deaths," Brackett said. "You just have to keep doing the right thing at the city level. By the same token, we're very much aware from an economic standpoint that we don't want to impose any restrictions that keep people from earning a living. We don't want to close them down.
"My hat's off to this community because they've done a good job and made the right decisions. Wash hands, not gathering in large places, wearing masks. We didn't have to mandate that."
Brackett's concern for the economy is well founded, with businesses struggling through lockdown to hold on to valued employees and stay solvent with no customers to serve.
As revenue dropped and with it profits, some generous business owners stopped their own salaries to make sure their employees had roofs over their heads.
It was a wrenching year for Vero's nonprofits, too, with food pantries, domestic abuse shelters and low-cost clinics overwhelmed with pandemic-generated needs.
The tax-levying Hospital District has so far provided more than $300,000 in supplemental COVID-related aid to the agencies it funds, most of that reimbursed through the county's CARES Act funding.
"I believe the needs will be greatest in the area of mental health," said Hospital District board chairwoman Marybeth Cunningham. "The full effects won't be felt for another six to 18 months after we're through with (the pandemic)."
While they were far down the list in terms of essential services, the county's celebrated arts organizations that kept spirits buoyed through less dreadful times were shuttered as the pandemic took hold. Galleries emptied, instruments fell silent, actors were mute for lack of audiences who instead binged on Netflix sequestered at home.
The curtain fell on Riverside Theatre's elaborate production of "La Cage Aux Folles" on March 15, just six days into a scheduled three-week run that cost the theater $1.4 million to stage.
During the final show, a reviewer noted, the few guests unable to stifle a clearing of the throat triggered a ripple of adjustments as people nearby shifted away from them.
In the lobby, bottles of hand sanitizer stood alongside abandoned cocktails. Patrons lingered a little longer at the restroom sinks. As they left, leaning shoulders against exit doors to avoid high-touch handles, ushers showed the way out with a gloved hand.
Riverside also canceled two upcoming shows, "Bakersfield Mist" and "The Bodyguard."
A month later, producing artistic director Alan Cornell sent a letter to patrons, telling them they were missed. He quoted the late playwright Terrance McNally who died of COVID-19 in late March at his home in Sarasota: "Theatre has the ability to change hearts, and to take us to that secret place where we all live."
The line resonates in Vero; it is our secret place, where no pandemic should dare to tread. But by summer's end, Riverside announced it was moving its 2020-21 season to 2021-22, and the same with its Distinguished Lecture Series.
Soon, the Live in the Loop outdoor dance parties became the default entertainment on weekends, with a socially distanced Comedy Zone – yes, we can laugh with masks – starting up at the end of May.
Across the street from the theater, the grand dame of the local cultural scene, the Vero Beach Museum of Art, closed its galleries for seven months, reopening only in October and with restrictions. Virtual lectures and films stood in for the wealth of in-person programming normally available.
The museum's upcoming January fundraiser, with an Italian theme, will be a hybrid of in-person concert and dinner, or take-out and streaming – unless, of course, the numbers worsen and COVID-19 steals another show.
"You can make a plan today and it's out the window by 5 o'clock," said Adam Schnell, founder and artistic director of Ballet Vero Beach, as he prepared to screen a condensed filmed version of his original "Nutcracker by the Indian River," performed this year not on stage, but literally along the lagoon.
Last spring, Schnell had to cancel the young company's live season finale, scheduled for April, instead releasing a film version with a "pay as you like" admission. Since then, Schnell and ballet master Camilo Rodriguez have been flying by the seat of their tights.
Plans were canceled for a New York company to lead the annual Riverside Dance Festival in August, and master classes were taught by local Ballet Vero Beach dancers instead. Day-long classes and rehearsals included masks and social distancing, and a showcase just for students and a few limited guests replaced the usual public performances.
COVID precautions continued through the fall semester as dance students came to in-person classes at the theater. Kids were dropped off at the front door, and teachers checked temperatures as they came inside. So far, their precautions have been effective, Schnell said.
"We have had zero problems because we have been strict in our protocols and because of how well, in my opinion, the school system has handled this. If any of those kids had to quarantine because of school, we expected them to tell us."
Then came Christmas and the expectation of the annual performance of "The Nutcracker" that in one form or another has taken place at Riverside for a decade.
There had to be a way.
What resulted was an example not of a Vero plagued, but a Vero soaring to excellence – a scrappy, original and impressively professional filmed production. Schnell spearheaded the collaborative coup de theatre in the midst of not only a pandemic, but a wildly wet weekend that warped an improvised shoreline stage, requiring a total rebuild in a matter of hours.
That came on top of a production deadline moved up a month in order to get the show broadcast to an exponentially larger audience – on two South Florida public television stations.
And never mind Schnell's thrice-weekly commute to south Miami to rehearse the professional company that would perform in Vero, all the while hyper-aware of preventing cross-contamination of separate COVID-19 bubbles.
For the filming of "Nutcracker on the Indian River," Schnell was able to form a pod of dancers from Miami's Dimensions Dance Theatre. Before rehearsals, everyone involved had to test negative for COVID-19, and all wore masks during rehearsals. As rapid tests became more available, dancers with symptoms could be screened before returning to rehearsals.
To keep the two groups separated – the Miami pod from the Vero bubble – Schnell drove to south Miami and back every other day so that dancers from Vero didn't have to rehearse with dancers in Miami, and to avoid staying in hotels and potentially picking up the virus there. "I was scared to stop at a rest stop on the turnpike," Schnell said.
When it came time to cast the children for the show, Schnell relied on the same group of students that had safely taken classes together all fall, always with masks. Four more dancers from the ballet's outreach program joined at the very end. All were already living together at a homeless shelter.
One more dancer, Gina Marie Saxton, was hired to dance the role of Marie. When the filming started, the Miami group stayed at Vero's SpringHill Suites, some able to share rooms with their housemates in Miami.
As the outdoors portion of filming got underway, led by filmmaker Lance Glenn on properties owned by the Indian River Land Trust, crew members tended not to wear masks unless they came within six feet of dancers, and always when the children were on set.
Other interior shots were taken inside Vero's historic Hallstrom House on Old Dixie Hwy. The filmed performance has been streaming on the Ballet Vero Beach website, where it will be available through Jan. 6.
WXEL and WPTV, South Florida's two PBS stations, aired the half-hour ballet twice on the evening of Dec. 22, fulfilling a lifelong dream for Schnell, who grew up watching arts programming on public television.
"This film is a love letter to our community," reads an on-screen banner as the ballet begins, adding that the film was made in "strict accordance with all local, state and federal orders/guidelines in place at the time of filming."
The credits took note of sponsors for recognizing that "even in troubling times, the arts matter."
In the week before Christmas, the positivity rate in Indian River County leapt to an average of 9.2, with the figure topping the 10-percent mark twice. Hospitalizations of COVID-19 patients at Cleveland Clinic Indian River rose to 44 the Monday after Christmas weekend.
At Cleveland Clinic Indian River Hospital, 80 caregivers have had COVID-19, according to Rosencrance. By Christmas eve, nearly 600 had received the first dose of the vaccine in Indian River County.
Meanwhile, Susan Murante's condo near McKee Botanical Gardens has been empty since June. That's when her daughter rescued her from a period of grief made even more profound in the isolation of the lockdown.
Murante's longtime partner, Arthur Friedman, died of COVID-19 last spring, and the home they shared before he went into memory care at HarborChase Assisted Living had turned into a prison of sadness.
Now back in upstate New York, Murante is spending the holidays bundled up in comfy clothes in a red-shingled house in the Adirondacks, unwilling to risk travelling south to Vero, or for that matter, even to her daughter's house in Rochester, two hours away.
HarborChase's first positive case showed up in state records on April 7. A robocall went out the next evening to residents' families informing them the case was a hospitalized staff member who was "doing well."
Ten days earlier, on March 28, Friedman had gone to the Cleveland clinic emergency room with difficulty breathing, Murante said. She pleaded with medical personnel to test him for COVID-19 but was told he didn't have symptoms.
"I called the emergency room and said I want him tested. Something is wrong. But nobody would test him." He was sent back to HarborChase's memory care wing with oxygen "for the first time in his life," Murante said.
The next day, Friedman collapsed and was taken back to the hospital. This time he was kept overnight and then released back to HarborChase, still without being tested, according to Murante.
A week later, on April 6, he fell out of bed at HarborChase and was taken to Lawnwood Regional Medical Center in Fort Pierce, for possible trauma injury treatment, Murante was told. Frantically, she pleaded with hospital staff to test him for COVID-19.
"I begged them to test him. I talked to them every day. I told them there's something else wrong. He's not normal, he's not eating. And they would just say, Oh, he doesn't have symptoms."
Eight days later, on April 14, he was finally tested. Results came the next day: He was positive. Until that point, his Lawnwood records note, he was not isolated. On April 18, Arthur Friedman died. He was 92.
Susan Murante, who said she saw no one through the lockdown, was utterly alone. She was accustomed to an active social life, but the virus not only left her essentially widowed, but severed from all her usual comforts – lunch with a friend, a little shopping, a stroll on the boardwalk.
"My head was spinning. It all happened so fast. I couldn't see anybody. I was really a basket case," Murante recalled.
Finally, in June, her daughter felt safe enough to drive down from Rochester and take her back to Susan's house in the mountains.
"I miss him terribly. I can't tell you. We'd been together 25 years, since we met in Albany when I was with the Cuomos," said Murante, referring to a time when she was press secretary to former Gov. Mario Cuomo's wife, Matilda.
Friedman was an assistant to Sheldon Silver, former speaker of the New York state assembly. In her mind now, unable to return to Florida as she normally would this time of year, Murante braves the holidays sorting through photos snug in her house as a snowstorm threatens.
In one photo they are together on the rustic porch of a restaurant; in another, at a sunny waterside cafe. In still another, Art is wearing reindeer antlers.
"He was just so much fun."
Arthur Friedman's  death points to one disturbing fact: People who contracted the virus at the start of the pandemic were more likely to fall victim to shortages, chaos and ignorance of the disease.
Today, thankfully, the novel coronavirus is considerably less novel, though its mutations may yet wield new danger, as word came just before Christmas that a mutation from the U.K. may have already arrived in the United States.
"I lost two friends to COVID-19. I miss them and I'm frustrated they died," said Allen Jones, a trustee of the county's Hospital District, which strongly supported a mask mandate and together with the extra $300,000 for COVID-19 supplies, allotted millions during the pandemic for agencies that care for indigent residents.
Jones believes that had his friends gotten ill at a later point in the pandemic, they might have survived due to advances made in care.
Today, an explosion of knowledge has fueled the global mobilization of vaccines, with the first batch arriving in Vero the Monday before Christmas to inoculate frontline healthcare workers at Cleveland Clinic Indian River, and more on the way for other local hospitals as well as long-term care facilities.
Next week, the first of three FDA-approved self-administered rapid tests designed for home use will be made available to the public, with a dozen more at-home tests in development.
Even without home tests, local low-cost community clinics including Whole Family Health and Treasure Coast Community Health now offer free PCR COVID-19 testing without requiring symptoms, known exposure or doctors' orders.
As of last week, rapid tests were also available but in more limited supply, and TCCH was using them only for first responders, healthcare workers and students with symptoms.
The Health Department of Indian River also offers testing, as it has from the start of the pandemic. Over and over, the under-the-radar efforts of the department's army of epidemiologists won praise from those who desperately relied on their expertise – nursing homes, assisted living facilities, and private citizens.
"They came in and actually tried to help us, as opposed to all these state inspectors that just want to cite you for every little thing," said one senior care facility manager.
At last check, the Health Department claimed to be contact tracing "100 percent" of local cases, though in many instances, including at Church of Christ, Wild said, the health department appears to rely on the word of people involved in outbreaks that they have informed all those affected.
"I called the health department and said one of our people just got a positive result, and the lady I was talking to said, 'Just see if anyone else comes down with any symptoms,'" Wild said.
"Maybe the health departments needed more support, and we may have paid a price to learn that lesson," said Jones
"We also discovered how fragile our hospital system can be and how dependent we are on other countries for PPE and raw materials necessary for vaccine production."
Jones believes COVID-19 has brought out the best and worst in Americans, and that in the end, it will make us better by forcing an important conversation.
"We may have learned lessons that only tragedy, unfortunately, is able to instill in our consciousness," Jones said.
He points to the resistance to masks and the argument that mandates infringed on a right to self-determination.
The refusal to wear masks endangers others, insists Jones, framing the debate as a "lack of respect for the common good versus each individual's preferences."
Thanks to COVID, he said, "we may be closer to finding a balance regarding the important concept of how to embrace both."
Jones also questions the language used to justify the lockdown, saying shutting down commerce, particularly small businesses, "hurt a lot of people," and that deeming businesses "non-essential" by the standards of science may not have been a wise distinction to make.
He called it a "failure of leadership" not to "frame these complexities in language that we could agree on."
As trust of institutions, science and each other seemed to deteriorate, Jones came to see diverse components holding together the web of the country's identity, from Amazon and UPS – the "glue" of  the economy – to EMTs and ER nurses "making the healthcare system work."
"We learned they care and are deeply traumatized by ill patients," said Jones. "Maybe they all deserve a raise and a bigger share of our vast economy."
For Himanshu Mehta, managing director of the county's solid waste disposal district, health department staffers were a godsend when he developed COVID-19 symptoms a few days after his 51st birthday in October.
HIs symptoms started out like a cold coming on, and since it was a weekend, he was able to isolate. But his parents, both in their early 80s, were essentially trapped in a mother-in-law suite Mehta had built for them behind his house.
"I was worried about my parents," he said. "I'm an only child. How do I get them tested? I certainly couldn't take them."
Instead, he asked the health department if there was any way they could send someone out to test them. "It seemed that that was a surprise request," he recalled. "But to my pleasant surprise, two days later, people showed up from the VNA.
"'We're here to test your parents for COVID-19.'
"I said, 'Wow, how did you know? They said, 'The health department contacted us.'  I said, 'Oh my God, thank you so much. They tested both of them and luckily they were both negative.
"I can't say enough about the health department. From the ease of just driving up and getting tested to the follow-up and the phone call, it was amazing what they're doing.
"I certainly have friends and colleagues with the county, but I know if they're doing it for me, they're doing it for everybody else. Cool, calm and collected. They answered all my questions."
Mehta, who says he has had worse cases of flu than what he experienced with COVID-19, continued to work from home. Friends brought food, and he had his groceries delivered. But by most afternoons, he was overcome with exhaustion. "All you want to do is sleep."
"COVID  wants you to stop breathing," said Mehta. "Taking a deep breath made my lungs hurt. It was two weeks of that. It's doing everything it can to keep you from having enough air in your body."
Mehta's three teenage sons quarantined with their mother for 14 days and all three were fine, Mehta said. It was hard being separated, but Mehta ordered them lunches or dinners, and they would eat together over Zoom.
"It was a balance, it was a will," Mehta said. "My boys have been my motivation in terms of being in their lives, being the father, and I look forward to being a grandfather too. The desire to live and contribute and to be a part of what I've created in my life. It reminds us of what's important to me.
"It really puts it in perspective that we have this one life and we have to be grateful for it. COVID really wants you to stop breathing. And you can't let it. You've got to fight it."
After two weeks, Mehta was cleared to return to work but he lost his sense of taste and smell for five weeks.
Born in India, where he lived until age 10, he particularly missed his beloved Indian food. It was only after he was well, and believing he was immune, ventured out for a favorite pastime –  playing pool – that he noticed he was smelling the cigarette smoke in the pool hall. 
"Surviving COVID and having antibodies felt like a superpower that I wasn't contagious or could get it again immediately," Mehta said. But the feeling was short-lived. Scientists report they don't know yet the parameters of post-infection immunity, just as they don't yet know how long vaccines will be protective.
"A healthy respect for COVID is the only way to live and love life," Mehta said.
"I take this thing seriously; I've got my elderly parents to take care of, and I didn't want them to get it. That was a big thing weighing on me. From everything I read back in February and March, I knew I needed to protect them. I'm not just doing my own thing. This virus is serious, and I'm scared."
The other concern was his positive test would not end with his own illness.
It did not, he believes. A co-worker who was with him in a meeting the Friday before his symptoms began ended up testing positive too. Mehta believes they both wore their masks throughout the meeting, but the room was closed. That co-worker went through symptoms similar to Mehta's and has recovered. But Mehta still feels bad about it.
"You're afraid for yourself but it's a worse feeling to know maybe you gave it to a friend or colleague. That's a really tough thing, especially if something bad happens. It's something you don't want on your conscience. You really don't.
"If you get tested, that's the time you don't go anywhere, while you wait for the result. If you find out you're positive and you were out exposing yourself to others, that's not helping your community. Everybody should be vigilant."
Mehta, who has always been a blood donor, discovered one silver lining to his infection: He was able to donate plasma, potentially to help another COVID-19 patient.
"This life is for living, and I'm going to continue doing what I love while I can do it," said Mehta, a long-distance runner who plans to run in a race called Just Survive 125 in early January – a 125-mile race from the beach at Hobe Sound  to Lake Okeechobee and back.
"After being cooped up in the house all this time, I need to live."