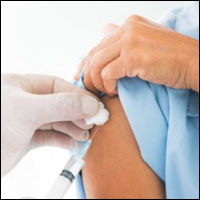 First responders to be vaccinated as soon as possible
STORY BY LISA ZAHNER (Week of December 3, 2020)

With Indian River County's COVID-19 case count passing the 5,000-case mark on Monday, public safety agencies are preparing to vaccinate their personnel as soon as one of the three vaccines in the approval process is available.
According to state and local officials, healthcare workers and first responders will be among the early adopters of the new COVID-19 vaccine due to their frequent contact with the public, and the need to keep them healthy and on the job to support the county's healthcare infrastructure.
Indian River Shores Public Safety Chief Rich Rosell said he and Capt. Mark Shaw devised a mass-vaccination plan five years ago when he joined the agency. But that plan was intended for a really bad influenza season where doses of flu vaccine would be widely available to everyone, so the Shores is tweaking that plan for the COVID-19 vaccine.
"Ideally we would want to vaccinate all of our public safety officers and per diem personnel so we can keep serving the public, and in our plan we would also encourage the family members of our officers to get the vaccine," Rosell said, thereby creating a vaccinated buffer zone to keep his agency as COVID-free as possible.
But Rosell said he did not know whether or not the employees' families would be eligible in the distribution system for COVID-19 vaccines. Also up in the air is whether it would be safe for officers to remain on the job should they develop a fever or other symptoms after being vaccinated.
"There are so many things we still don't know about the vaccine, or even which vaccine we will get," Rosell said. "I have faith in Chief Tad Stone and Etta LoPresti from Emergency Services and in Miranda Hawker from the county health department, and in the guidance we'll get from the county."
As of Monday morning, no briefing had been scheduled this week for government officials on the COVID-19 situation or details of vaccine distribution, according to Chief Stone. "We do not have an estimated date as of when the vaccine shipment will be received," he said.
County firefighters and paramedics would be vaccinated on their shift day, to avoid overtime and to give them 48 hours off-duty in case they experience side effects with either the first dose, or the second "booster" dose required to achieve the strongest immunity to the virus.
"We have polled our staff to get a possible number of those that may want to get the vaccine when it arrives," Stone said. "We would do the vaccinations for those that may want it while they are on duty and we would cycle them through the system. We would then cycle those that got the first shot back through the system 21 days later for the second round," Stone said.
Vero Beach must give the health department a list of essential workers to be immunized, which will include certain utility workers and police. Vero Beach Police Chief David Currey is still developing his plan to vaccinate Vero's police force. As of Monday, Currey said he had not been given a target date for starting vaccinations, or worked out the logistics of how, when and how many would receive the two-dose vaccination.
"We have met once with the Indian River County Health Department and Emergency Management," he told Vero Beach 32963. "All of your questions were talked about, but have not been decided as of now."
Gov. Ron DeSantis said Monday he definitely wants residents of long-term care facilities to be vaccinated as soon as possible, as 40 percent of Florida's fatal cases of COVID-19 have occurred among nursing home and assisted-living facility residents. Next, he said, would be seniors not in long-term care with at least two co-morbidities. DeSantis said he expects the first doses of the vaccine to go out "in a couple of weeks" to front-line healthcare workers and first responders.
Vero City Manager Monte Falls told the city council last Tuesday that the Pfizer and Moderna vaccines are the brands set to arrive in Vero, according to information he received from the county.
In terms of administering the vaccine to the general public, Falls said the county is looking at setting up three main vaccine distribution centers – one at the Indian River County Fairgrounds in Wabasso, one in Fellsmere and one in Sebastian – and the vaccine would not be a drive-through service like some COVID-19 testing has been.
"The limiting factor is that once you get the vaccination, you have to remain on site for 15 minutes for medical observation before they let you go," Falls said. "If it weren't for that, they could do a drive through and give you the vaccination in your car."
Based upon the county's initial plans, Falls said he expects there will be walk-through vaccine clinics with enough space for people to wait the required 15 minutes while being appropriately distanced. "You don't want to give them the vaccine and then have 500 people standing on top of each other," he said.
Federal and state officials have said they will use military resources such as National Guard units to get up to 40 million doses of the vaccine out around the country quickly. Depending upon the brand of vaccine, the injectable liquid may need to be kept very cold, or even frozen in transit to remain effective, and have a shelf life once thawed of only about six hours. That means the chain of custody will be tight, and speed will be required, as well as safety.
Locally, if extra skilled hands are required to vaccinate residents when the vaccine is widely available, Indian River County firefighters will pitch in, as they have with testing in nursing homes, and with contact tracing of infected people. "If needed, at the request of the Health Department, we would assist with mass vaccinations in the community," Stone said.