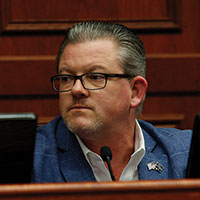 Harry Howle ponders entering race for County Commission
STORY BY LISA ZAHNER
Photo of Harry Howle

Just three months since stepping down from the Vero Beach City Council following the successful conclusion of the Vero electric sale, Harry Howle is feeling the urge to run for office again – this time for the District 5 County Commission seat being vacated by Bob Solari.
His motivation:  Solari, Howle said, is leaving enormous shoes to fill and right now, he doesn't like the way the Republican primary race is shaping up.
"I've been in discussions with trusted advisors and supporters for a few weeks. Looking at the current field, I'm not convinced anyone gets close enough to Commissioner Solari's level of dedication to limited government for my liking," Howle said. 
By the end of the week, Howle said he will decide whether to file papers to run.
Howle ran for Vero Beach City Council in 2015 to beat back what he saw as the city running amok under Dick Winger and his cohorts in the "Keep Vero Vero" crowd. Now Howle thinks he sees that same element, with the same group of supporters, creeping into the race for Solari's seat.
"I believe in . . . [Solari's] mission, and I want his legacy to endure future commissions. For that reason, I am strongly considering a run," Howle said.
"Ronald Reagan said that freedom is never more than one generation away from extinction; this is why I can't stand idly by and watch liberalism infect the current positive direction of our county," Howle said.
Keeping current Vero Beach City Council member Laura Moss out of Solari's seat is a special motivator for Howle. Though both ran for council with the goal of getting the Vero electric deal over the finish line, Howle and Moss – already a declared candidate to replace Solari – diverged on a host of other important issues while they served together. Howle believes he can beat Moss in a countywide race, provided his conservative base gets behind him.
"Over the next few days I will continue to weigh support for a Harry Howle County Commission race," he said.
The race has already attracted two other candidates besides Moss:  Indian River Shores Vice Mayor Bob Auwaerter and local real estate appraiser Stephen Boyle. As of the last reporting cycle, Auwaerter leads in fundraising with more than $30,000. Boyle has more than $12,000 in his war chest and Moss has raised $4,100 so far. Howle would need to play catch up the next few months in terms of fundraising. Plus, he would need to overcome the fact that Solari has already thrown his support behind Auwaerter and donated $500 to Auwaerter's campaign.
"If led to do so, I will run for the Indian River County Commission. Not for the betterment of a political career, but instead to protect the God-given rights of my friends and neighbors in Indian River County," Howle said.
Howle moved to Vero Beach in 1989, attending St. Edward's School and graduating from Vero Beach High School. After earning his bachelor's degree in political science from Florida State University in 2000, Howle embarked upon a 20-year career in the insurance business. He is a partner at Gottzmann Insurance Group, Specialty Risk Management. He and wife Heather live in the historic McAnsh Park neighborhood of Vero Beach.
In addition to four years on the Vero council and a rotation as mayor, Howle has chaired the county's Emergency Services District Advisory Committee and the Vero Beach Code Enforcement Board. He's also served on the Vero Beach Planning and Zoning Committee and the Indian River Tourist Development Council.