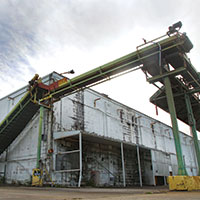 Abandoned citrus packing houses poignant reminder of glory days
STORY BY SAMANTHA ROHLFING BAITA

Abandoned citrus packing houses in and around Vero Beach are a poignant reminder of the glory days here, when the scent of orange blossoms perfumed the air in spring and summer, and more than half the grapefruits grown on the planet came from Indian River and St. Lucie counties.
Most of these hulking ghosts, with their tumble-down signs and flapping sheet metal, are strung out along U.S. 1 and Dixie Highway between Wabasso and Oslo Road.
They are the aftermath of citrus greening – a wicked, insect-borne bacterial disease from China that appeared in Florida in 2005 and over the next decade wiped out 75 percent of orange production and 85 percent of grapefruit production in the state, according to the University of California.
The faded names on the shuttered packinghouses – Hale Groves, Quality Fruit Packers, Graves Brothers – evoke the history of Indian River County, but the properties themselves could be part of its future.
The packinghouses come with fair-sized chunks of land and many of the buildings are still sound, despite their forlorn looks.
Several of the packinghouses are for sale but commercial real estate agents say they can be a challenge to unload.
Billy Moss, with Lambert Commercial Real Estate, said the sprawling buildings are simply too large – typically tens of thousands of square feet – for most businesses that are seeking space, while SLC Commercial Realty and Development vice president Mike Yurocko said the buildings are a little too "specialized," and thus very costly to retro-fit to a different purpose.
Add in the cost of deferred maintenance and major repairs; some of the packinghouses have languished on the market for years. Wayne Bibeau with the county property appraiser's office said the empty Graves packinghouse on Old Dixie at Route 510 in Wabasso has been for sale since 2004.
But some packinghouse properties near Vero have been repurposed and redevelopment is coming to others.
The Indian River Packers facility on Oslo Road is leased by Waste Management as a garage for its garbage and recycling trucks and as the "station" for the natural gas it uses to fuel its fleet, according to Bibeau.
"It is a thriving operation," Bibeau said.
Further north, on the west side of U.S. 1 at 45th Street, part of Quality Fruit Packers' 3.38-acre property has been sold to developers and soon will be the home of the county's newest Wawa.
At the same time, Crossover Mission, a basketball-centric nonprofit that supports and redirects "at-risk youth through afterschool programs run by dedicated coaches and mentors," is negotiating with Quality to lease the former packinghouse on the property for a gymnasium complex, according to Crossover co-founder and executive director Cathy DeSchouwer.
A foodbank is operating out of a former packinghouse near the airport, according to Yurocko, and produce markets occupy portions of others.
Additional ideas for bringing these concrete and steel behemoths back to useful life include transforming them into marijuana or hemp grow-houses. Several potential buyers have looked into that possibility, but nothing has materialized to date, according to Indian River County Community Development Planning Division data.
The idea of using an abandoned packinghouse as an indoor tennis facility has been floated, too, but an industry source said, "I don't think it got far, because of cost."
There are roughly 27,000 acres of abandoned grove land in Indian River County compared to about 15,700 acres still producing fruit, according to the U.S. Department of Agriculture and the Indian River Citrus League, which represents growers along Florida's east coast between St. Augustine and West Palm Beach.
The number of active packinghouses in the county has fallen from 40 to six, according to Indian River Citrus League Executive Director Doug Bournique.
Despite those grim statistics, Bournique said the industry is slowly coming back, noting that "60 PhDs and 150 techs from the USDA [are] tantalizingly close" to figuring out how to defeat citrus greening.
In March, a state-backed partnership that includes a Japanese corporation, the Coca-Cola Company and local growers will begin planting 250,000 grapefruit trees on 1,500 acres in several locations around Indian River and St. Lucie counties, a $25-million project expected to increase the state's grapefruit crop by 15 percent when the trees begin to bear fruit in a few years.