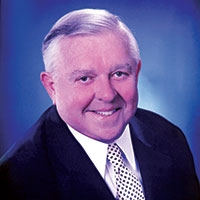 Dr. Donald Ames, pioneering Vero surgeon, dies at 83
STORY BY MICHELLE GENZ
Photo of Dr. Donald Ames.

For the family of Dr. Donald Ames, Vero Beach's first board-certified orthopedic surgeon and for 35 years a consulting doctor for the Los Angeles Dodgers, Christmas holidays over the years were often interrupted as Ames responded to an annual epidemic – the injuries of kids wiping out on new skateboards and roller skates.
"We'd hear him on the phone to the hospital. 'I'm on my way, just keep 'em on ice,' he'd say," said Doug Ames, Don's eldest son. "I can remember all of us waiting for him in the car outside the emergency room."
This year, Ames' absence was far more profound. On the Sunday before Christmas, the distinguished physician died at his home surrounded by family, quietly closing his eyes in mid-afternoon and missing one last sunset over the Indian River Lagoon. It was a sweeping view he cherished and had made the centerpiece of his island home.
"Best sunset in the county," he liked to say. He shared that vista with hundreds if not thousands of guests over the years in a house he built with gatherings in mind, from cocktail parties to benefit galas.
Putting down roots as a young doctor in what was then a very small town – fewer than two dozen doctors for a county of 36,000 people – Ames cemented friendships with what are now local legends of medical practice, philanthropy, civic involvement and entrepreneurship.
Dr. Hugh McCrystal, a urologist and one of the very few board-certified physicians when Ames arrived in 1970, was chief of staff of what was then Indian River Memorial. "Don came with talents that had not been seen here before, introducing total joint replacement and expert orthopedic care," McCrystal said. "Patients with a major orthopedic injury were very lucky when he arrived that they didn't have to be transferred to another hospital in West Palm or Orlando."
Ames' network of friends in Vero was vast, extending well beyond the medical community to commercial real estate and citrus production. The affable man with outsize talent and unfailing professionalism brought not only his skill but the skills of other doctors to the area, often turning new arrivals into investors in the local economy. Among the physician-funded efforts Ames led was developing the medical office complex near the hospital often referred to as the "777" building.
For years, Ames held a seat on the board of what was then Sun Bank and, later in life, Marine Bank and Trust. He had memberships in nearly every private club in town, starting with John's Island, which he joined in 1974. With all his connections, he easily opened doors for the doctors he recruited, from club memberships to mortgages. "It was one-stop shopping if you knew Don," said Doug Ames.
Ames played a critical role in the development of what would one day become Cleveland Clinic Indian River. A pioneer of arthroscopic surgery and sports medicine in Florida, he was involved with the Vero hospital when it moved from its downtown Vero location to the large tract of land it now occupies on 37th Ave. He later chaired the credentials committee, a pivotal post and a great fit for Ames, who cared intensely about quality medical care.
Dr. John McDonald, a board-certified dermatologist whom Ames helped lure to Vero in 1983, called Ames "the watchdog for the level of care" at the hospital.
"He always had his eye on the quality of the medical community here," said McDonald, who for years was Ames' close friend.
In 1974, two years before the first textbook was published on arthroscopic surgery, Ames became the first orthopedic surgeon in the area to perform arthroscopy, the so-called "Band-aid" surgery that allowed repairs to be done without large incisions. Doug Ames recalls his father having special tools custom-made by a small company in Stuart.
That same year, the man who would become Ames' mentor, Dr. Frank Jobe, the L.A.-based team physician for the Dodgers, used a revolutionary method to reconstruct a ligament in the elbow of pitcher Tommy John.
The procedure was so successful that it came to be known as Tommy John surgery. Jobe went on to become one of the most respected orthopedic surgeons in the nation and it was he who asked Ames to be the team's consulting physician during the Dodgers' spring training in Vero.
"The team physicians wouldn't necessarily have privileges at the hospital of the spring training site, so the consulting physicians were very, very important," said Craig Callan, the longtime manager of Dodgertown, now retired.
"Whenever you're talking about a major league team, you need top gun physicians," said Callan. "You're talking millions and millions of dollars just weighing in the balance of good input or bad input, and you need the best. Don was that."
Jobe and Ames remained close friends and business partners – Jobe invested in groves with Ames – until Jobe's death in 2014.
Working with Jobe and operating on athletes opened Ames' eyes to advances in surgical techniques and instruments. But it was working on a very different patient population, casualties of the Vietnam War, that proved even more valuable in his medical training, Ames often said.
A graduate of St. Louis University School of Medicine who did his residency at Boston City Hospital, Ames earned a degree in orthopedic surgery, and was offered a job teaching at Harvard, family members say.
"He had always envisioned himself as a professor," said Doug Ames.
Instead, he was drafted and sent to serve at the naval hospital in Charleston, S.C. It was 1968 and the Vietnam War was at its peak, with more than half a million American military personal serving in the country. With his wife and four young children in tow, Ames spent a harrowing two years in Charleston repairing the injuries of men returning from the battlefield.
"He operated from eight in the morning until five at night," said Doug Ames. "The doctors worked 'round the clock, all the time. [Patients] were lined up outside the operating room."
When his enlistment was up, the family fulfilled a dream of moving to Florida; Ames chose Vero because there was a need for orthopedic surgeons, and he quickly began convincing his Navy doctor friends to join him here, including retired plastic surgeon Dr. Ferdinand Becker and the late pediatrician, Dr. Dan Thornton.
Though Ames didn't fully retire from practice until 1997, he stopped performing surgery when his hands became arthritic. It was a very discouraging development for a talented surgeon.
"Don had a great pair of hands," said Ann Marie McCrystal, who, like her husband Hugh, was one of Ames' closest friends. "He was meticulous in his surgical expertise."
Ames also served as team physician for the minor league Vero Beach Dodgers – the "junior" Dodgers, as they were known informally. And for the nine seasons that the New Orleans Saints football team trained in Vero, Dr. Ames was their doctor too, present not only for games – with the best seat in the house, behind the bench – but during practices as well, helping coaches safely train players with injuries.
Ames also served, without charge, as physician for the Vero Beach High School football team. Once a high school football player himself in his hometown of Kirksville, Missouri, Ames was on the field every Friday night during Vero's football season – including away games – as team physician, even coming back to the locker room on Saturday mornings to check on injuries.
Equally passionate about academics, Ames would sometimes visit biology classes at Vero High, bringing a bag of bones from a human skeleton.
"He would pick a bone out of the bag and pull it out without looking at it, and tell the class what it was, and every time, he got it right," recalled Doug Ames, a Vero High graduate, along with his sister Cynthia. Two other siblings, Phillip and Pamela, went to St. Edward's School.
Ames volunteered as president of the Indian River County Medical Society and was a founding member of We Care, the ongoing group of physicians who donate their time treating indigent patients at no cost.
In his free time, Ames hunted, fished, played tennis, and, in retirement, took up golf. All were passions that consumed him, driven and detail oriented as he was. He also loved to gamble; grandson Eddie Mapel, 24, still carries in his wallet the blackjack "cheat card" Ames gave him on his first trip to a casino when he turned 21. Through diligent study, Ames earned a veritable Ph.D. in poker strategy, so effective that he twice got tossed out of casinos.
Eddie and the other eight grandchildren were perhaps Ames' greatest passion. "He went to every single thing, every birthday, every graduation, every whatever," said son Doug.
When Ames' first wife Mary Rose died at 59 without having a chance to take a 10-year-old granddaughter on a promised cruise to the Bahamas, Don took her by himself. Wini Mapel, now 31, remembers asking her grandad for a tiny straw purse at the straw market. Ames agreed to pay for it, but only if Wini bargained with the vendor. She did, and the moment was captured in a photo, with beaming smiles all around – including on the face of the vendor.
Such lessons on the fly were a constant in adventures with Ames, and though he himself was a hard-driving perfectionist, he never pressured the children.
After Mary Rose's death, Don spent a decade on his own. Then, at 70, he met a woman who, in the words of Ann Marie McCrystal, "brought great peace and happiness in their remaining days."
Sandy Tate of West Virginia had a winter home in Grand Harbor; she and Don married in 2006 and continued entertaining in Vero, hosting events for two new boards Ames joined: Marine Bank and Trust and the Education Foundation. The couple began summering in White Sulphur Springs, West Virginia, buying a home near the Greenbrier Resort.
They were a decade into their marriage when Ames suffered a stroke. It was December 2016; the family was at the Ocean Grill wrapping up a lively pre-Christmas dinner. Ames reached for his wallet to pay the check and realized his arm was numb.
His death came three years to the day after that stroke.
Bill Penney, chairman and CEO of Marine Bank and Trust, knew Don and Sandy Ames through the 10 years Don Ames served on the bank's board. "She is lovely, and they just seemed very, very happy. I know she took care of him at the end, and that's the true testament of love."