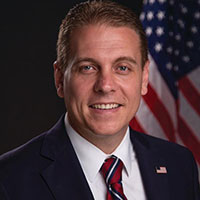 Is someone trying to derail sheriff's candidate Flowers?
STORY BY RAY MCNULTY
Photo of Sheriff's Office Maj. Eric Flowers.

Is someone trying to dig up dirt on Sheriff's Office Maj. Eric Flowers, possibly in an effort to derail his candidacy for the agency's top job?
Twice in a 10-day period last month, an anonymous plaintiff filed lawsuits alleging that public records were being wrongly withheld by the school district and Sheriff's Office.
The most recent lawsuit, filed last week in Vero Beach, seeks a court order to compel the Sheriff's Office to provide the plaintiff with text messages, emails, social media account information and activity, computers used and their browsing histories, digital chat logs, and authorizations for usage.
All of the plaintiff's public-records requests are aimed at Flowers, who serves as the Sheriff's Office's public information officer, using his agency-issued credit card to purchase in September a one-year subscription to "Hootsuite," a software application that allows subscribers to manage multiple social media accounts.
According to the lawsuit, Flowers – or someone under his direction – linked the Sheriff's Office's Hootsuite account to Facebook pages created by local radio personality Rhett Palmer, who allows the agency to broadcast its radio shows from his Royal Palm Pointe studio.
Connected to the Sheriff's Office's Hootsuite account are Palmer's personal page, the "Mayor of the Airways" radio-show page, and the Vero's Voice Magazine page. The lawsuit alleges that Flowers paid $500 in June, $1,000 in September and $1,500 in November for "campaign advertising" in the magazine.
Palmer defended the Hootsuite arrangement in a Facebook post last month, when he wrote: "Nothing wrong going on here, to the best of my knowledge."
Reached by text Friday, Palmer replied that he was unaware of the lawsuit, which was filed Dec. 26, and vouched for Flowers' integrity, saying, "He is a good man of honor, and I would sign any note on his behalf and put my name on the line on his behalf."
Flowers did not respond to a text message seeking comment on the lawsuit against the Sheriff's Office, but his boss did.
Sheriff Deryl Loar, who has endorsed Flowers' candidacy in what is now a four-man race to become the county's top law-enforcement officer next November, wrote that he hadn't yet read the lawsuit and "wouldn't comment on pending civil litigation."
The mysterious plaintiff – identified only as "John Doe, aka SaveVeroBeach@gmail.com" – filed a similar lawsuit Dec. 16 against the school district. Flowers was mentioned prominently in that one, too.
In the earlier lawsuit, the plaintiff alleged the district violated Florida's public-records law by withholding text messages, emails, photos, notes and logs from school board member Tiffany Justice's district-issued cell phone.
The plaintiff is asking a judge to order the district to turn over the requested documents, including any communications that have been deleted from Justice's iPhone as well as those stored in the iCloud account that backs up the device.
In particular, the plaintiff's lawsuit targets phone and message logs for Justice's communications with Flowers and former Vero Beach Mayor Val Zudans between December 2018 and October 2019.
While there is no obvious connection between Justice and Zudans – he said they're friendly but not close – Flowers has acknowledged that he and Justice are friends, and she has publicly endorsed Flowers' run for sheriff.
In addition, Flowers launched a four-month cyber-stalking investigation requested by Justice a year ago, when a school district employee posted tweets implying Justice had an inappropriate relationship with now-former Schools Superintendent Mark Rendell.
During that investigation, Flowers and Justice exchanged numerous text messages about the investigation, which produced no criminal charges against the woman accused of cyber stalking.
A school district spokesperson said the district would not comment on pending civil litigation. Justice did not respond to a text message seeking comment on the lawsuit.
Catherine Jones, the plaintiff's Rockledge-based attorney in both cases, did not return multiple phone calls to her law office.
In addition to a court order for the requested records, the plaintiff is asking the judge to require the defendants – the school district and Sheriff's Office – to pay his attorney's fees, administrative costs and any "further relief as this court may deem appropriate," the lawsuits state.
The cases have been assigned to Circuit Judge Janet Croom in Indian River County.
The lawsuit states the plaintiff made numerous public-records requests for emails, texts and other information, but, as of last weekend, the information still hadn't been provided.
The Sheriff's Office's public-records custodian responded to many of the requests by claiming the agency did not possess the documents being sought.
Under Chapter 119 of the Florida Statutes – more commonly known as the "Public Records Law" – any records made or received by any public agency in the course of its official business are available for inspection, unless specifically exempted by the Legislature.