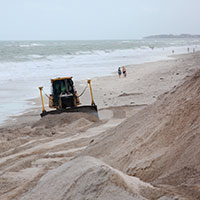 'Three hurricanes worth of sand' added to beach
STORY BY SUE COCKING
Photo: Heavy equipment moves sand at south end of Conn Beach as part of beach replenishment project.

Beachgoers were taken aback last week when massive Sahara Desert-like sand dunes appeared on the beach south of Jaycee Park, burying boardwalk stairs and ramps and forming steep cliffs that drop down to the shore.
From the boardwalk, the scene looks like preparations to protect the park from a monster storm or turn back an amphibious invasion.
But Indian River County officials say this state of affairs is only temporary. It's part of the long-awaited Central Beach replenishment project that began in November to deposit nearly 180,000 cubic yards of sand from Tracking Station Park south to Castaway Cove.
Work trucks and other equipment will smooth out those looming dunes and spread them more evenly along the beach so that Conn Beach will look more like itself again in another couple of weeks, according to Brian Sullivan, spokesman for Indian River County.
"They're bringing in three hurricanes' worth of sand," Sullivan said of workers repairing the erosion caused by hurricanes Matthew, Irma and Dorian in the past four years. Dorian alone, which brushed by our coast in September, was responsible for about $7 million in erosion damage, according to county officials.
The ongoing "Sector 5" restoration project – using sand trucked in from upland sources – inconveniences some beachgoers who are being kept away from active work sites. But Vero Beach City Manager Monte Falls said the area south of Jaycee Park remains open for visitors.
Falls said the project will have to be wrapped up before the start of sea turtle nesting season in April.