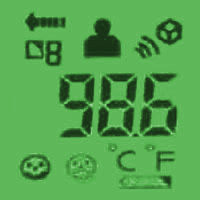 County buys 20 thermometers for $2,200 each
STORY BY LISA ZAHNER (Week of July 30, 2020)

For the past couple of months, as COVID-19 infections here have climbed week after week to an average of 55 new cases a day – with 10 more local residents aged 38 to 95 dying last week from complications of the virus – the Vero Beach City Council and the Indian River County Commission have done next to nothing.
We thought that was as bad as it could get. Now we almost want to beg them to just go back to doing nothing.
Indian River County got a few million dollars in CARES Act money and they needed to figure out what to spend it on. Lo and behold, they found some $2,200 thermometers to buy to protect themselves from sick people potentially coming into county buildings to take care of business or attend a meeting.
More than $44,000 spent on no-touch thermometers!! Many businesses or families have probably purchased these gadgets in recent months. How much did you pay for yours?
Indian River County Emergency Services Director Chief Tad Stone said he paid $150 each for the no-touch thermometers used at all the county fire stations to check firefighters and paramedics for fever at shift change, but he said those won't work for entry checks into county buildings because they require a person to point the thermometer at peoples' foreheads.
"If the county was to use the handheld units (similar to those we use at the fire stations), we would have had to have personnel assigned to all of the entry points in all of the buildings to screen people as they enter," Stone said.
"The raw, long-term economics of buying the equipment vs. pulling people off the job or hiring additional part time employees was one, among many, of the driving issues," Stone said.
But doesn't a real person need to be stationed at entry points anyway, to let people into the building after their temperature is taken? That same person could presumably perform the temperature checks. Won't employees and visitors be funneled through main entry points, similar to the security check point at the courthouse?
Stone said he made the decision, investing in the best equipment for the long haul, and stands behind it. He also said the $2,200 thermometers were in the lower cost range of the ones the county looked at. "Most of the other vendors/products that we looked at were in the $4,000 the $5,000 range per unit," he said.
The most compelling argument Stone made for pricey, automated thermometers was their potential for use in isolation rooms at the county's hurricane shelters, and for separating people with infection upon entry, from healthy people sheltered during a storm.
"As shelters open, the county needs to make sure we can meet the initial push of citizens that may present themselves to a shelter. That was the primary purpose for the screening equipment, the use in the county buildings was a secondary consideration on my part. It was a good fit at the end of the day to dual purpose this equipment," Stone said.
Hopefully nothing will happen to this very expensive equipment while deployed every day at county facilities in the meantime.
What's Brevard County doing with its tens of millions in CARES Act money? Brevard is giving away kits full of Personal Protective Equipment (PPE) to small businesses with fewer than 25 employees – masks, gloves and other items to protect employees and the public. Seems like a much better use of the CARES Act money.
And then there's Vero Beach, where we can say without hesitation that no amount of effort is ever spared in pursuit of a bad idea.
Failing twice to approve an ordinance or order mandating that face masks be worn, Vero now has up for consideration on Friday the most idiotic piece of bureaucracy we've seen recently.
Councilman Joe Graves wants the city to pass an ordinance that would make all businesses that are requiring masks to be worn to fill out a form and register with the city, so a list can be made of these businesses. Graves also wants those businesses to obtain official signs from the city saying masks are required.
What good does this do? It creates a hoop for local businesses to jump through, and it creates ridiculous busy work for the city staff. But it still does nothing to stop the spread of coronavirus in the City of Vero Beach, where the number of cases in the 32960 ZIP code soared to 525 on Monday.
Graves' arguments range from his doubts about the science behind wearing masks, to the city not having the legal authority to enforce a mask mandate.
On Monday, a judge in Palm Beach County affirmed that county's ordinance mask mandate was legally valid, tossing out a lawsuit filed by anti-maskers. We think Circuit Court Judge John Kastrenakes was a bit ticked off about this seemingly frivolous lawsuit.
"The ideals of limited government do not absolve a citizen from the real-world consequences of their individual choices, or allow them to wholly shirk their social obligation to their fellow Americans or to society as a whole," the judge wrote. "This is particularly true when one's individual choices can result in drastic, costly and sometimes deadly consequences to others.
"After all, we do not have a constitutional or protected right to infect others," Kastrenakes wrote in his ruling.
He characterized the legislation being litigated by saying: "It is reasonable and logical that our elected officials are throwing the citizens of Palm Beach County a lifeline in an attempt to ameliorate the spread of this deadly, unbridled and widespread disease."
Vero and Indian River County officials need to throw citizens here that same lifeline. Not a layer of bureaucracy registering businesses that are already doing the right thing. Not wildly expensive thermometers. What we need now is some serious common sense.