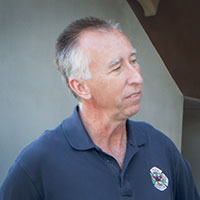 COVID-19 scare delays Brian Burkeen felony sentencing
STORY BY LISA ZAHNER
Photo of Brian Burkeen

The former second in command at Indian River County Fire-Rescue, Brian Burkeen of Fellsmere, was supposed to be sentenced last week for the felony theft of more than a quarter million dollars in county property, but COVID-19 delayed the hearing.
Burkeen, who faces up to 30 years in state prison after a no contest plea to stealing more than 1,400 tires purchased by him that never made it to fire department fleet vehicles, claimed last week that he was afraid he had COVID-19 because his wife had been having symptoms since Sunday, June 21.
This would only be marginally interesting to most readers, except for the fact that Ginger Burkeen is employed at Cleveland Clinic Indian River Hospital.
An email from Assistant State Attorney Lev Evans went out on June 25 notifying County Attorney Dylan Reingold and County Administrator Jason Brown about the canceled hearing. Brown was set to testify on behalf of Indian River County as part of the victim impact portion of the sentencing.
"The grounds for the motion were that Brian Burkeen's wife, Ginger Burkeen, had a cough and runny nose. Ginger has had these symptoms since Sunday and has not been tested for COVID. She continues to work as an ER nurse at a local hospital," Evans told Reingold and Brown. "Brian Burkeen's argument is that his wife might have COVID, consequently he might have COVID, too. Neither have been tested. We objected to the continuance. Judge (Dan) Vaughn granted the continuance."
The hospital was made aware that a statement was made before a judge that one of its Emergency Room Technicians had been on the job with COVID-19 symptoms for several days. Hospital spokespeople had no comment.
As of press time, the sentencing was scheduled for this Wednesday. Earlier, it was set for April 30 before Circuit Court Judge Dan Vaughn, but that hearing was canceled due to limitations on court proceedings as part of statewide coronavirus lockdowns.
County officials are hoping for a hefty sentence. The fact Burkeen's theft went undiscovered for five years has not only done financial damage to the county, it's also been a huge embarrassment to the county government, which prides itself on fiscal responsibility.
Upon hearing of Burkeen's no contest plea back in February, Brown said, "I believe Mr. Burkeen should receive a stiff penalty for the crimes he committed against the taxpayers of Indian River County. The county will continue to push for a significant prison sentence and restitution from Mr. Burkeen."
Charging documents say Burkeen, between 2013 and his retirement in early 2018, fraudulently ordered and picked up more than 1,400 tires that the county did not need, charging them to the Indian River Emergency Services District account. He then sold the tires to people he knew through social media postings and kept the proceeds.
Suspicious invoices charged to the fire department's fleet and account balances that did not add up were discovered by Emergency Services Director Tad Stone after Burkeen retired. Stone had come from Seminole County to replace Burkeen as assistant chief but was promoted to chief when John King retired shortly after Burkeen. No other county employees have thus far been implicated in Burkeen's scheme.
In addition to his impending sentence, Burkeen has lost his substantial pension and health benefits provided by the county. Evans said the state is seeking restitution and that he will present witnesses to try to quantify the damage Burkeen has done to the fire-rescue department.