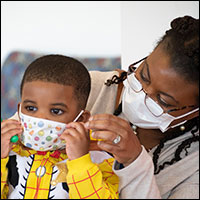 Kids and COVID-19: Pediatricians not sure what lies ahead if schools reopen
STORY BY LISA ZAHNER
Photo: A Nemours patient and his mom wearing a mask.

Children have been mostly out of circulation since March – no school, no play dates, no birthday parties, no visiting grandparents – and only 1 percent of Indian River County's youngest residents have been tested for the novel coronavirus, so pediatricians like Dr. Karen Westberry aren't quite sure what to expect when schools reopen in less than a month.
Normally, Westberry said, the separate sick-kid treatment areas at Nemours Children's Primary Care in Vero Beach begin to fill up about two weeks after school resumes in August. That's when all the garden-variety maladies are swapped and spread as kids come together after being apart all summer.
Whether the novel coronavirus will spread like this in the initial weeks of school and wreak havoc in the greater community is the big question. Government officials say the risk of COVID-19 to kids is "extremely low" because so far, the statistics show very few children wind up hospitalized or dead from the virus.
To date, only four Florida children have died from complications of COVID-19. Based upon that – and the need for parents to get back to work – schools have been mandated to open in August.
Though children have not been infected with COVID-19 at alarming rates, there's no solid scientific evidence to show that children are blessed with any special immunity to the virus, meaning they can be infected and they can infect others, even while asymptomatic or pre-symptomatic.
Of the 297 children and teens tested in Indian River County, roughly 40 percent or 118 have tested positive, according to the most recent pediatric case report published by the Florida Department of Health.
Nemours Children's Health System, which has had a presence in Vero Beach since 2015, is widely regarded as the gold standard in general medical and specialized care for kids.
Westberry, a board-certified pediatrician with 30 years' experience and an assistant clinical professor with the Florida State University College of Medicine, says Nemours doctors have seen local COVID-19 positive kids whose test samples were collected in-office, at the Health Department and at other clinics and hospitals.
"We have only had a handful of cases and all have been very mild," she said.
Westberry hopes it stays that way when fall classes resume, but when it comes to kids and COVID-19, "I think it really is the great unknown, because most of the data we have is with kids not being in school" she said. "But the American Academy of Pediatrics strongly recommends that kids go to school when possible. So that's kind of the caveat. When is it possible for kids to get back in school?
"Most people believe unless you're in a community that has very high numbers, where the hospitals are maxed out, that kids should be in public school. We know that kids are less likely to be severely ill – that is known for sure. And it seems like they don't spread the infection as well as adults, but that's the big unknown."
Westberry said in her opinion in-person school is safe for healthy kids if students, teachers and everyone on school campuses diligently and consistently adheres to the Centers for Disease Control and Prevention's guidance on social distancing, frequent hand washing and wearing face coverings when social distancing is not possible.
But she acknowledges "that may be hard for some schools to implement.
"Most pediatricians that I engage with strongly support the use of masks. That's the best way we know, other than social distancing, to prevent the spread of the virus," Westberry said. "I think we should expect that kids can wear masks. We say they're not going to like it and they probably won't. And the younger ones may not be able to, but I think if we just expect that they won't do it, we're setting ourselves up for failure.
"I think we ought to remind parents that their kids are capable maybe of more than they think," Westberry said. "And peer pressure can be a good thing in this case, if everybody has a mask on and you're wearing a mask just like everybody else."
At the Nemours office in Vero, the CDC guidelines are followed religiously. You'd never know by all the safety precautions that the risk of COVID-19 to kids is very low.
Everyone – staff, patients and parents – get checked for temperature and symptoms before they enter the building; then kids older than 2 years old and every adult must put on a mask. Siblings are not permitted to tag along, and only one parent is invited in to accompany the patient.
Sick kids not only have a separate waiting area from well kids who are there for a sports physical or an annual checkup and shots, but the sick kids and well kids have dedicated doctors, nurses and staff who do not cross back and forth during the work day. If a patient shows up for an annual exam but turns up sick, they are rescheduled with an appointment on the sick-kid side of the facility.
Contrast this level of care to prevent infection with the typical on-campus school experience.
In-person learning seven hours a day seems to violate all three of the CDC's Three Cs that should be avoided: closed spaces, crowded spaces and close-contact situations for sustained periods of time.
Kids will study in closed, air-conditioned classrooms and crowded hallways, school buses, gymnasiums and cafeterias five days a week. Little hands will be touching everything – every desk, chair, doorknob, railing and computer keyboard. When team sports and afterschool clubs and activities resume, that's even more together time, and kids are not going to wear a face mask while running down the soccer field or playing football or basketball.
Pushing kids and teachers into situations we know tend to be more risky for transmission is a huge public health experiment, but the Florida Department of Education is mandating all schools open in August for the good of students' mental and emotional health, and their general well-being.
It's a huge decision weighing on parents right now. "It's a discussion we have multiple times a day, almost every parent has questions. Should they send their child? Should they not send their child? Should they do nine weeks of home learning? It's a real dilemma for all of these parents," Westberry said.
Gov. Ron DeSantis and panels of experts at the state and federal level have pointed out that public schools are where many kids get their only reliable nutritious meals and sometimes school is where kids are safest if their neighborhood or their own home is dangerous.
As parents return to the workplace, unsupervised kids at home or on the streets is not a viable option, and unsupervised kids are more likely to slack on completing online learning tasks. There's also the "digital divide" separating kids with computers and internet access and those without. On top of all that, it's almost impossible for students with special needs to get services when they are not physically in school.
So, by the end of August, the sick-kid waiting room at Nemours' Vero office should begin to reveal the results of the big school experiment.
With kids there is a unique danger down the road, a mysterious disease that presents itself long after the prescribed 14-day quarantine period. It's called Multi-System Inflammatory Syndrome in Children or MIS-C.
"It's still very rare, but that is a known complication of COVID in kids," Westberry said.
Some children who turn up in the emergency room with MIS-C don't even know they have had COVID-19. Some test positive for the virus; others no longer have the virus but test positive for the antibody. Since very few kids are being tested for COVID-19 and most kids experience very mild cases from the virus, all parents need to be on the lookout for symptoms of MIS-C since kids might have been infected and weathered COVID-19 without seeming to be sick.
"Fever would be the biggest one, fever for more than 24 hours," Westberry said. "Usually it's pretty high. Kids can have vomiting and diarrhea. A lot of them get a rash on their hands and feet. Red eyes, redness of the lips and tongue, everything's inflamed."
Some kids have chest pain, difficulty breathing and exhibit a blue color on their skin. "These kids can get really sick really quick," Westberry added.
Nationally, about 1,000 kids have been diagnosed with MIS-C, with the latest numbers for Florida being 13 as of last week. "It seems that they cluster," Westberry said. "The latest data was, about a month after you have a surge of COVID is when we're seeing these cases. So, it's like a late effect."
Fortunately, Westberry said parents who shied away from medical offices in the spring due to virus fear have returned to get caught up on care. School and sports physicals, and the need to submit immunization records to schools, are pushing kids into the office now and that's a good thing.
As kids come in, Westberry said doctors are not only giving them a good head-to-toe check, they're also checking in with how they're coping emotionally with all the upheaval – younger kids are generally doing better in isolation than teenagers – and teaching kids and parents about COVID-19.
"I think we're doing more education on how it spreads, how to protect yourself and how wearing a face covering isn't to protect themselves, but to protect their grandparents and their parents," she said.
Kids are more likely to be asymptomatic than adults, Westberry said, so the responsibility to protect others should not be shirked. And again, kids are the great unknown when it comes to COVID-19 infection rates.
"A lot fewer kids have been tested than adults, so it's difficult to say." Westberry said. "Testing has been in short supply and for a long time we were only testing symptomatic people and with kids out of school and staying home, we had very few symptomatic kids who needed to be tested."
Though testing has become more available, Westberry said, it remains "harder for people without symptoms to get tested, so we still don't know the numbers."