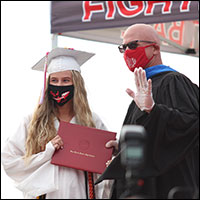 Vero Beach High holds unique graduation for class of 2020
STORY BY GEORGE ANDREASSI

Vero Beach High School seniors who persevered through the COVID-19 pandemic were rewarded with unique dual graduation ceremonies last Friday at Billy Livings Field.
Several hundred members of the Fighting Indians class of 2020 spread out in the stands for a "seniors only" graduation ceremony Friday morning featuring the traditional speeches and diploma procession with women wearing white caps and gowns and men wearing red ones.
Friday evening, after a brief rain delay, hundreds of graduates participated in a drive-through ceremony, rolling up to the stage in the middle of the football field for another diploma walk while friends and family in vehicles cheered and took photos.
Several seniors told Vero Beach 32963 said they were glad to have a chance to see their classmates one last time in the morning and celebrate with family and friends in the evening.
"I'm happy they at least gave us something," said Megan Bryant, who is heading to the University of North Florida in the fall. "At first they were supposed to cancel everything.
"It's been crazy not being in school for four months – no graduation, no prom, nothing," Bryant said. "We didn't really have a last day of school. So, it was just pretty odd going off to college, not finishing high school.
"But they at least let us at least have a morning ceremony and then the drive-through, which is nice so our family could come and take pictures," Bryant said.
Olivia Williams, who plans to attend Florida State University in the fall, said the dual graduation ceremonies provided a special ending to a unique year.
"I'm really glad they were able to pull it together to have a ceremony that wasn't virtual and to offer closure to the graduating class," Williams said.
Dayana Santes said she wanted to participate in both ceremonies to share her accomplishment with her family.
"It's one of a kind," Santes said. "It's really memorable. I will never forget this. There is a pandemic, so it's just really awesome they did this for us."