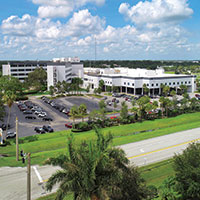 Cleveland Clinic may have saved life of our hospital
STORY BY TOM LLOYD

Cleveland Clinic's takeover of the former Indian River Medical Center a year ago may have saved the life of our county hospital.
In the midst of pandemic-induced losses that are decimating hospitals nationwide, it's an open question whether an independent local hospital would have survived the drastic reduction in revenue that hospitals all over the country have experienced when elective surgeries were halted to preserve protective gear and prevent contagion.
Meanwhile, Cleveland Clinic appears to be faring better than most hospitals after a big jump in operating revenue last year, and receiving one of the largest CARES Act stimulus payments granted to any hospital.
Back in January 2019 when Cleveland Clinic got the keys to the hospital, no one could have imagined the COVID-19 pandemic – or how valuable the presence of the renowned healthcare organization would prove to be for area residents once that pandemic struck.
Today we have at least an inkling.
Besides having world-class healthcare close at hand for testing and treatment during the most dramatic public health crisis of our lifetimes, Cleveland's relative financial strength is an additional source of comfort to the Vero community.
While Cleveland Clinic Indian River Hospital's neighbor to the north – Steward Health Care and its Sebastian River Medical Center – are by their owners' own admission "experiencing a seismic financial shock," CCIRH appears to be on somewhat firmer footing.
That's rare for just about any hospital these days.
An analysis by TransUnion found that more than 500 hospitals nationwide experienced non-COVID-19 patient declines of 60 percent or more in March.
According to Becker's Hospital Review, U.S. hospitals were losing more than $1 billion a day in April, and a May report from the American Hospital Association estimates "a loss of $202.6 billion for America's hospitals and health systems between March 1, 2020 to June 30, 2020."
Simply put, shutdown orders and cautious patients slammed the brakes on the "elective" surgical procedures that provide a large part of healthcare companies' revenue, and hospitals across the country are feeling the pain.
"Elective surgeries," says the investor-owned Steward, "are the cornerstone of our hospital system's operating model and the negative impact due to the cancellations of these procedures cannot be overstated."
In April, National Public Radio reported that Steward "told hospital employees in Massachusetts and the eight other states [including Florida] where it operates to expect furloughs focused on nonclinical staff," and that's exactly what happened.
Meanwhile, according to CCIRH spokesperson Angela Dickens, Cleveland Clinic Indian River hospital has not furloughed any employees, and now that elective procedures are being performed again, it seems highly unlikely any such furloughs would start now.
That's not to say CCIRH has gone unscathed by the COVID-19 pandemic.
"The postponement of non-essential procedures and other scheduled appointments has adversely affected the operating revenues of the system," according to Cleveland Clinic.
But the Ohio-based healthcare system came into the downturn financially strong. At the end of March, Cleveland Clinic reported operating income of $390 million for 2019, a 46 percent increase from the prior-year period, resulting in an operating margin of 3.7 percent, according to Healthcaredive.com, which reported that Cleveland "tallied across the board increases in inpatient admissions, surgical cases and emergency room visits for the full year of 2019."
Since the pandemic hit, Cleveland also has received $103.3 million in government stimulus funds, the second most of any hospital system in the country.
Meanwhile, the Boston Globe reported that in 2019 Steward posted operating losses totaling $592 million and when the COVID-19 pandemic began impacting hospital finances nationwide in March, Steward took a more draconian tact to deal with its financial problems.
According to the American Prospect website, "on March 22, the Steward hospital chain sent a letter to Pennsylvania governor Tom Wolf saying it would close its Easton Hospital in the state's Lehigh Valley on March 27 unless it received a government bailout to keep it operating."
Steward's letter, said American Prospect, read as follows: "If the Commonwealth has no interest in assuming all operating expenses and liabilities of Easton Hospital, Steward Health Care will proceed immediately on planning to close the facility."
"The threat paid off," the Prospect continued. "On the 27th, the state guaranteed Easton $8 million for April and a likely $24 million through the month of June."
Steward has so far refused to answer questions about how much if any cash it has received from the CARES Act bailout.
The obvious takeaway from all this is that by becoming a part of the Cleveland Clinic system, our  longtime county hospital is now far better positioned than it would otherwise have been on its own.
Meanwhile, according to Healthcare Finance News, Cerberus Capital Management, the majority owner of Steward Health Care and its Sebastian River Medical Center, has insisted its financial health is not as bad as its critics think.
If that's true, it could well mean Cerberus will be able to keep SRMC open, bring back its furloughed workers and continue serving the Indian River County community alongside Cleveland Clinic.