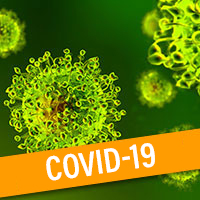 COVID-19 cases nearly double in just seven days
STORY BY LISA ZAHNER

The past week was the one Vero Beach and the barrier island hoped we'd never see, with the number of positive cases of the novel coronavirus nearly doubling in seven days and cases on the island rising from 13 to 24.
If this is not our peak, we may be in trouble.
As we go to press, 409 people had tested positive, and at the rate we're going that number could be up to 500 by the time you retrieve this paper from your mailboxes.
Miranda Hawker, director of the Indian River County Health Department, took a more somber tone in her weekly public address last Friday, in the face of rampant noncompliance with basic, commonsense protective measures across the county as cases mount.
Hawker almost begged locals to wear face coverings, practice social distancing and, if possible, to just stay home or drastically limit their travels as COVID-19 spreads through our community. "The healthier we can keep our county, the less people we have in the hospital and the less people will die."
Sadly, three more people did die with COVID-19 this week, a 42-year-old man and a 41-year-old woman lost while in the care of Lawnwood Regional Medical Center, and an 86-year-old woman who died in a long-term care facility. We don't know which facility, because that specific report is only published once a week on Fridays and her death was reported on Sunday.
More than 11,000 test results have now been returned in Indian River County, with a 4 percent positive rate. With a recent order that staff in all Florida nursing homes and assisted-living facilities be tested at least every two weeks, the number of tests run should stay high as about 1,900 people are employed in some capacity at Indian River County's 24 long-term-care facilities.
Meanwhile Florida topped 100,000 cases and 3,173 deaths statewide, even as Gov. Ron DeSantis explains the numbers away at press conferences, saying that it's mostly due to widespread testing, that the rate of new deaths per day is way down and that most of the people testing positive now are asymptomatic.
More than 1.6 million tests have been processed throughout Florida, but that doesn't necessarily mean that nearly 8 percent of Florida's 21 million people have been tested, since healthcare workers and long-term-care facility residents are often tested multiple times.
Testing has expanded locally, as the Indian River County Health Department in early June began testing people in the neighborhoods where they live, and 278 people in Wabasso, Gifford and Fellsmere of all ages got tested regardless of symptoms.
Since then, Fellsmere has emerged as a hot spot, with 95 positive cases as of Monday. One month ago, the Fellsmere ZIP code had fewer than five positive cases. It's likely more people were positive in Fellsmere a month ago, but few were being tested.
But COVID-19 has spread into every ZIP code in the county and the City of Vero Beach proper still has more cases than any other locality with 112 people with the virus. If people in 32960 could walk up and get tested in their own neighborhood regardless of symptoms, that number could skyrocket just like Fellsmere.
Another venue for widespread testing of asymptomatic people is in Indian River County's 24 nursing homes and assisted-living facilities. Twelve of those facilities are battling COVID-19 this week, with 42 cases in four nursing homes and eight assisted-living facilities. Sixteen staffers and 26 residents were still showing as active positive cases as of the most recent report on Saturday.
Despite the heightened risk to our most vulnerable residents, many of the county's long-term-care facilities are slowly beginning to resume activities, including plans for visitation – a notion that rather than offering relief to residents, is making many of them very anxious as they hear of the spike of cases in the county.
Michael Smith, communications director for the Pennsylvania-based Acts Retirement Life, which owns Indian River Estates, continues to question the validity of the 24 COVID-19 positive results, all asymptomatic cases so far, that were returned from the early June mass testing of 1,245 residents and staff.
More results are outstanding, but Smith said they have asked the state-recommended lab American Health Associates of Fort Lauderdale not to bother sending the rest, after it has taken more than two weeks to get results. Instead, they have undertaken another round of testing. As of press time Monday, the new testing had shown two positive residents and three positive staff members, but results were not all in.
According to the State Department of Health report, Rosewood Manor is now up to seven active cases among its residents plus one staff member. One resident has died. The facility could not be reached last week for verification of the increase in cases.
Facilities have also resumed sales tours and marketing activities to bring in new residents, introducing people from the larger Vero community or even visiting from out of state, through their doors.
Pediatric cases in Indian River County are still on the rise, with 33 people under the age of 18, including two infants, testing positive for the coronavirus in Indian River County, and the positivity rate for kids at nearly 14 percent, as school officials struggle to make families feel safe enough to send their kids back to school.
So many young people are showing up as positive cases on the daily reports that the median age has plummeted in the past few weeks to a mere 42 years old.
At least one daycare center has closed again after briefly reopening, citing the spike in new cases in the county and concern for its students and staff. One child at the daycare has tested positive. (See related story.)
That preschool sequence provides public schools a glimpse of the fire drill they may have to experience repeatedly as their hallways fill with hundreds of kids, even if only a handful get sick or test positive.
But things are not bad enough to mandate that people wear masks to protect themselves and others, according to our local elected and appointed government leaders. Most experts in the healthcare industry feel the need for mandatory masks is urgent, but the decision-makers don't seem to be listening (see related stories).
So, if this is not a peak, we may be in real trouble.
Staff Writer Michelle Genz contributed to this report.