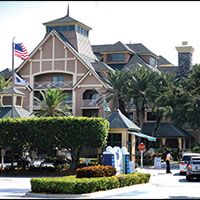 Disney's Vero Beach Resort is back in business
STORY BY STEPHANIE LABAFF

Guests were ready and waiting when Disney's Vero Beach Resort reopened on Monday, with 80 percent of the rooms booked.
The Walt Disney Company has begun sprinkling fairy dust from coast to coast, reanimating locations nationwide after shutting down all its U.S. parks and resorts in mid-March. The Vero property was one of the first to roll out the red carpet in the phased reopening.
On a warm, sunny Monday, visitors began to trickle down to the beach after checking in – anxious to get some sand between their toes before heading back up to the pool or gift shop to grab a souvenir.
While the beach only had a few sunbathers and beachcombers early in the day, the Vero resort was at 80 percent capacity, according to rooms coordinator Makeya Jones, and a lot of the guests seemed to be Florida residents.
At the first of year, the resort had been fully booked for this week, but Jones said there were some cancellations; those were partially balanced out by others wanting to take a vacation after being stuck at home in recent months.
To ensure guest safety, cast members have upped their cleaning regime, social-distancing protocols have been implemented, hand sanitizer has been placed at all doors, masks must be worn everywhere on property with the exception of the pool deck and the beach, and you cannot enter the property without a reservation.
"The pool has been sectioned off in areas to promote social distancing. Depending on the size of your family, pool chairs are set up in a section, so people are spaced off from others around you," said Jones.
The Vero location opened in October 1995 and has drawn tourists to the area from near and far. Locals show up to dine in the resort's restaurant, cheer on the annual Tour de Turtle release [which has been canceled this year] and enjoy the spa and hotel for staycations.
The spa was still closed on Monday, but non-guests can make reservations for the Wind & Waves Grill through opentable.com. To gain access to the property, you must have a reservation, which will be verified at the gate, explained Jones, adding that she and the rest of the staff are glad to be open again.
Lounge chairs and umbrellas were lined up at a safe distance on the beach as cast members raked seaweed from the wrack line – a collection of seaweed and debris left along the beach by high tide.
Kaitlin Robinson, a 29-year-old from Akron, Ohio, visiting with her family pointed to the piles of seaweed that were being buried, so guests have a pristine beach to lounge on. "That's not something you get anywhere else. That's over the top."
Robinson's family are Disney Club members. They return to the Vero resort each year. Their current visit was booked a while ago, and Robinson never considered rescheduling, even with all the concerns amid the COVID-19 pandemic.
"Disney is a place that you know you are going to get the best care. There's always the best quality of everything, so I know that they are doing whatever they can to keep us safe," she said.
Given the size of the property, Robinson isn't concerned about crowding, and she said, "With everything that's going on, I really needed to have a break from life."
Just down the beach, two young ladies from Cookeville, Tenn., set up their lawn chairs near the water's edge. They come with their family every year to spend a week at the resort. Their trip was delayed by a few days since the resort only just opened, but they say that's okay. They plan to make the most of their time on the beach and shopping in Vero Beach.
A group of four adults traveling together laughed as they chased the swash from waves breaking on the beach. Having just arrived from Chicago, they couldn't wait to get outside. As Disney Vacation members, they visit Vero every year.
"We love it here because it's not a real touristy area. We like to go into town and shop on Ocean Drive, and we've got plans to go fishing," they said.