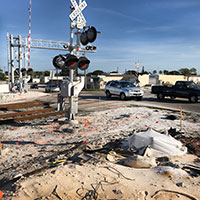 County: State must make sure railroad crossings are safe for Virgin's high-speed trains
STORY BY GEORGE ANDREASSI

Florida transportation chiefs are downplaying their duty to oversee railroad crossing safety as Virgin Trains USA prepares to run 34 high-speed trains per day through Indian River County's 32 crossings, said county Public Works Director Rich Szpyrka.
Virgin Trains is upgrading the Florida East Coast Railway tracks from West Palm Beach to Cocoa and constructing new tracks from Cocoa to Orlando to complete a Miami-to-Orlando route.
But Florida Department of Transportation has not used its authority to ensure the railroad crossings are safe enough for trains travelling 110 mph, Szpyrka told the Florida Transportation Commission.
"It seems that FDOT doesn't believe they are responsible for overseeing those [railroad crossings]," Spyrka told the commission on Feb. 24. "We had a problem with FDOT coming up, staying up and doing what we believe is in the Florida Statutes for them to do.
"I know DOT doesn't like to go up against FEC," Szpryka said during a meeting on rail safety. "[But] they've got to stand up and they've got to help the locals and they've got to help their own railroad crossings and make sure that they're safe for all of the residents of the state of Florida."
After the meeting, FDOT District 4 Secretary Gerry O'Reilly declined to address Szpyrka's comments or his reference to Florida Statutes 335.141: Regulation of public railroad-highway grade crossings; reduction of hazards.
"Everyone is entitled to their opinion," O'Reilly said about Szpyrka's call for FDOT to play a greater role in railroad crossing safety for high-speed passenger rail.
But Transportation Commission Chairman Ron Howse took notes during Szpyrka's presentation and said the policy oversight board would look into FDOT's role in regulating railroad crossings.
"Florida is getting its first high-speed rail system, so we look at policies involved in that," Howse said.
The law cited by Szpyrka says: "The department shall have regulatory authority over all public railroad-highway grade crossings in the state, including the authority to issue permits which shall be required prior to the opening and closing of such crossings."
Virgin Trains killed 15 people in vehicle collisions and 36 overall since starting operations in South Florida in January 2018, Federal Railroad Administration records show.
A December 2019 analysis by the Associated Press determined VTUSA had "the worst per-mile death rate of the nation's 821 railroads."
FDOT should help local governments and Virgin Trains better coordinate railroad crossings and traffic signals at nearby intersections to reduce traffic backups, Szpyrka said.
Heavily traveled U.S. 1 is within 50 feet of the railroad tracks through long stretches of Indian River County.
FDOT should also be more involved in designing railroad crossings for the high-speed passenger trains, Szpyrka said.
"I'm of the opinion DOT is the state governing agency that should help the local governments muddle through some of these things," Szpyrka said.
The transportation commission called the meeting at the request of state Sen. Debbie Mayfield (R-Vero Beach), Howse said, to learn about high-speed rail as new systems are developed in Florida.
Mayfield's High Speed Passenger Rail Safety Act, which would give FDOT more authority over passenger rail projects, is pending in the legislative session set to end March 13.