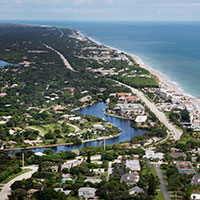 Scientist: Water to flush Bethel Creek would only flow one way
STORY BY SUE COCKING

The scientist in charge of an $800,000 state-funded research project looking at the feasibility of flushing Bethel Creek with ocean water provided an overview of the project last week, and said water would flow only one way at the site – from the ocean into the creek, and not back and forth.
Some have objected to the flushing proposal out of fear that lagoon pollution could contaminate Vero's beaches, but that would not be the case, according to Dr. Gary Zarillo, professor of oceanography at Florida Institute of Technology, who spoke in county commission chambers March 4.
"What I envision is a series of controlled structures connecting the ocean with the Indian River Lagoon that can be operated on a schedule or when needed," Zarillo said. "A one-way exchange from the ocean side to the estuary side."
He assured a large audience of government officials, environmentalists and others in the county commission chambers on March 4 that beach restoration projects would not be impacted.
Besides Bethel Creek, Zarillo and his team are studying the possible impact of flushing at two other locations to the north in Brevard County.
He noted that ocean flushing of the lagoon, up and down its 156-mile length, happened naturally prior to extensive residential and commercial building on the islands and the onset of beach nourishment projects that hold the ocean at bay.
"I do have a message here," he said, "and I think this is an important thing to consider, that naturally there would be exchanges between the lagoon and coastal ocean and it would have been fairly frequent, with overwashes maybe a couple of times a years and temporary inlets that might have a lifespan of a few years to  few decades.
"It is all part of the natural process that we have by and large stopped in its tracks."
That natural process tended to keep the lagoon clearer and cleaner, allowing for abundant seagrass growth and marine life.
Bethel Creek begins on the barrier island near the Village Market and curves through residential neighborhoods to enter the lagoon near the city marina.
If a flushing system is built at some point and ocean water is pumped into the creek, gravity would cause it to flow out of the creek into the lagoon, where it would eventually return to the ocean via either Fort Pierce Inlet or Sebastian Inlet.
Zarillo and his FIT colleagues are gathering water data from sensors deployed by Harbor Branch Oceanographic Institute, Ocean Research and Conservation Association and the St. Johns River Water Management District in the lagoon near Bethel Creek to develop computer models that use virtual dye to track how water would flow in possible flushing scenarios through culverts, pumps and weirs connected to the ocean.
Findings from simulations conducted so far in Brevard County show less-than-complete flushing of the Banana River by any mechanical means, but Zarillo said water turnover in that part of the lagoon can take up to a year, and the Banana River is many times larger than Bethel Creek. The creek, Zarillo said, exchanges water every few days as incoming tidal flows from the two inlets converge in Vero and then recede, twice daily.
Zarillo said researchers will conduct a series of Bethel Creek simulations, ranging from virtual pumping stations to water control structures to culverts to see what works best before making specific project recommendations.
Last week's public seminar was convened by County Commissioner Tim Zorc, who has been pushing for a project to clean up Bethel Creek for years – especially since a 2017 sewer main break along A1A that spilled 3 million gallons of raw sewage into the waterway.
Zarillo expects to complete the first phase of his research and present a full report by June 30.
Phase two of the project, which has not yet been funded by the legislature, would involve getting permits and building pilot projects to test the effects of flushing and discover if seawater helps restore the lagoon's ecosystem.
"We'd like to see [the creek] preserved and recover and be like it used to be," Zorc said.