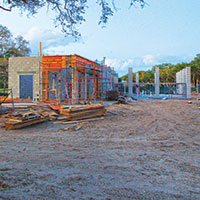 Upgrades in progress at five private clubs
STORY BY RAY MCNULTY
Photo: Construction underway on Vero Beach Country Club's expansion and revitalization project.

Private clubs on the mainland and up and down the island from Windsor to The Moorings are sprucing up their properties, building new facilities and expanding their programs to stay relevant in a highly competitive environment.
Work on Vero Beach Country Club's $3.8 million expansion and revitalization project is ahead of schedule, General Manager Tim Straley said last week, and the new amenities should be open and operating in October.
"Barring any interruptions by Mother Nature," Straley added, referring to possible hurricane-related delays this summer.
Construction on a new 4,500-square-foot fitness center, 1,500-square-foot Key West-style tiki bar and 450-square-foot snack bar began in January. The walls are up, and the buildings are taking shape.
Excavation for a 3,100-square-foot, resort-style pool is scheduled for late April.
"Historically, we've been a Florida golf club, which served us well for nearly 100 years, but we don't believe it will take us through the next 100," Straley said. "We need to become more family-friendly to attract younger members, and these new facilities will enable us to do that.
"At the same time," he added, "we're enhancing the experience we can offer to our current members and adding value to our club."
Other local clubs, including Windsor, Riomar, The Moorings and Oak Harbor, have embarked on improvement projects in hopes of doing the same for their members.
Riomar Country Club is celebrating its centennial year by extensively renovating and restoring its 14,000-square-foot, concrete-and-stucco clubhouse. Work began last April and is expected to be completed this spring.
The remodeled clubhouse will include an east-side, open-air patio that overlooks the golf course and offers casual dining, as well as a new, modernized kitchen that can accommodate special functions, such as weddings, along with daily lunch and dinner service.
"We're probably looking at completion in the next couple of months," General Manager Mark Badertscher said, adding that the project complements the club's golf-course renovation in 2015.
Looking ahead a few months, The Moorings Yacht & Country Club will embark on the second stage of its Master Plan Project, installing six new Hydro tennis courts, renovating the Hawk's Nest Golf Clubhouse and relocating a golf-cart barn to a new area on the property – a move that will free up a building-pad space for future expansion.
The two-year, $2 million second stage also includes improvements to the Pete Dye-designed Moorings Golf Course, where a new irrigation system will be installed and greens and tees will be renovated.
In 2019, the club completed the first stage of the master plan project, investing $2.4 million to install three Hydro tennis courts – including a stadium court – and four pickleball courts, as well as building a state-of-the-art golf course maintenance facility, access-control guardhouses, Pilates studio and kids game room.
"The Moorings is not standing still, and we continue to enhance amenities to meet the growing needs of our current members and set the stage for generations to come," said Ursula Gunter, the club's director of memberships and marketing.
"Since the 2015 acquisition of the Hawk's Nest Golf Course, the club has experienced robust membership growth, lowered the average age by 10 years and enjoyed high levels of member satisfaction and participation," she added. "We have our eyes on all the trends in the club industry and look forward to staying relevant in the years ahead."
Oak Harbor, meanwhile, is in the process of adding a regulation-size croquet lawn to its package of amenities, which includes golf, tennis, swimming pool, fitness center, walking trail, dog park and 42,000-square-foot clubhouse, which offers gourmet dining and is home to a wide variety of events throughout the year.
"We already have a very popular croquet program, but our current lawn isn't big enough," General Manager Art Spilios said. "We needed a regulation-size lawn to have inter-club matches here. We plan to invite players from other clubs once it's ready for play, which should be next month."
The new croquet lawn, which will be slightly larger than the required 35 yards by 28 yards, is in front of the clubhouse. Work on the project began in December, Spilios said, "so we can give it plenty of time to grow in."
These projects come on the heels of the re-grassing of the Windsor Club's golf course, which was celebrated at a gala re-opening event at the club in January.
"The turf is brand new," General Manager Bob Gallagher said. "We just started playing on it – the front nine in November, the back nine in December."
Gallagher said the course was re-surfaced "wall to wall" with Celebration, a drought- and shade-tolerant grass, and with "tried-and-true" Tiff Eagle Bermuda grass on the greens. In addition, the course was restored to its original, Robert Trent Jones design.
"The course is almost 30 years old and, over time, the original design changes as a result of the maintenance," Gallagher said shortly after the project began last April. "Typically, the greens get smaller as you cut the fringes. The fringes then get longer. Even the shapes of the bunkers change as they break down."
The out-of-bounds areas were "tightened up," he added, and more natural waste areas were created to make the course more maintenance-friendly, but the focus was on restoring the layout's "original footprint."
Coming up at Windsor is a new Fitness & Wellness Centre, with construction slated to start in the heart of the village in June 2020. The facility will include "approximately 12,000 square feet of exercise and wellness space equipped with state-of-the-art exercise equipment and include rooms for a dynamic range of fitness and wellness classes as well as spa treatments." It will also include pickleball courts.
At the same time, the club is adding a cabana bar at its beach club in response to "a membership desire for more casual dining options. The existing cabana building on the east side of the pool will be transformed into a new two-story structure featuring two roofed, open-air seating areas flanking a central open bar, all with views of the ocean and pool area."