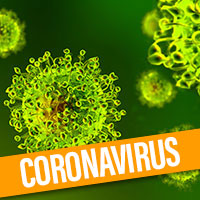 3 local long-term care facilities now fighting COVID-19
STORY BY LISA ZAHNER

The beachside business district began to creak open a smidge this week after almost two months in various degrees of lockdown, but on the eve of that soft opening, Indian River County had the largest one-day jump in COVID-19 since the pandemic arrived here March 19, with four new cases reported Sunday.
In addition, three local long-term care facilities – Palm Garden nursing home plus HarborChase of Vero and Sonata Senior Living – are now battling novel coronavirus outbreaks, according to state reports.
The four new cases reported Sunday, which were among staff members at Sonata on State Road 60 just across from Vero's historic McAnsh Park neighborhood, prove that even when good precautions are taken, the virus can find a way in. On April 20, the facility's management stated in a note to residents and families, "Sonata proactively tested every resident, staff member, and private sitter."
And yet, two weeks later, Sonata is dealing with at least one infected patient and four infected staff, according to the daily report published by the Florida Department of Health.
Visitors are prohibited by executive order at facilities like Sonata, residents are staying put, and staff members are presumably being screened for symptoms and fever at the start and end of each shift. So that means the coronavirus is very much still out there, in our Vero Beach community, likely being spread by asymptomatic people.
And many of the people in our community either don't understand, or are unwilling to accept, the importance of wearing a mask.
The other complicating factor is that as of the start of the week, Indian River County had only tested 2,026 people, with the average number of test results returned daily over the past two weeks being 53. If you back out three banner days when it's obvious that assisted-living or nursing home residents and staff were tested en masse in response to an outbreak, the daily average of tests returned comes to a mere 31 people per day.
There is no way to be sure the virus has not spread in our community with only 31 people a day being tested. But the lack of testing is not due to a lack of capacity. Indian River County Health Department Director Miranda Hawker says she can test 220 people per day. That capacity does not count the resources of the Cleveland Clinic Indian River drive-through testing center or Sebastian River Medical Center.
Licensed pharmacists have been authorized by Gov. Ron DeSantis to perform COVID-19 tests, and soon pharmacies will be able to provide this service for people who can get out to the store. Meanwhile, those who are homebound can get tested by nurses from VNA of the Treasure Coast by calling the Health Department.
The capacity to test is definitely there, and last week the Centers for Disease Control and Prevention loosened the testing criteria, making tests available to more people. The test is covered by Medicare, Medicaid and private health insurance with zero copay in almost all cases. The barriers to testing that were present early on are swiftly being surmounted.
So why are only 31 people on average in Indian River County stepping forward each day to find out if they are carrying the virus?
Is it possible some residents do not want to be tested? Could it be an issue of privacy, or of opposition to what some may view as government interference in one's life?
If trepidation over being tested, or the unwillingness to self-quarantine for a few days while awaiting test results, or the refusal to provide personal information so public health officials can do contact tracing, are factors at play in our fiercely independent and deeply private community, this will surely slow the rate at which we can fully reopen the county and the economy. 
Five people were currently hospitalized here with COVID-19 as of press time. Eight people had died so far countywide, 62 percent of those in one assisted-living facility.
This might not seem like a big number, but the same number of people had died in all Brevard County, which has a population nearly four times larger. Brevard County had only lost one person in an assisted-living facility.
Indian River County Fire Chief Tad Stone said on Friday that he thinks it will be "at least two weeks, but probably a month or more" until the county can be creaked open a little more.
Widespread testing – and wearing masks when out and about – could go a long way to making that a safer and sounder move. Leadership is needed now to implement a proactive testing strategy countywide.