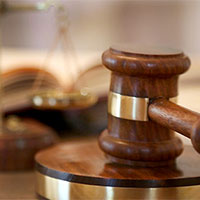 Chief judge hopes to reopen court house by June 1
STORY BY RAY MCNULTY

Chief Judge Lawrence Mirman of the four-county circuit that includes Indian River wants to reopen courthouses along the Treasure Coast as soon as June 1, and he has ordered the formation of a special panel to establish the safety protocols needed to do so.
Local courthouses have been closed since mid-March, creating a backlog in both criminal and civil cases despite the efforts by judges and attorneys to conduct hearings using video-conferencing systems.
The 19th Judicial Circuit Covid-19 Reopening Workgroup mandated by Mirman was scheduled to conduct its first meeting Tuesday afternoon via the Zoom video-conferencing application.
"How do we get together in a courtroom and effectively carry out our duties and dispense justice without violating anyone's rights and getting anybody sick?" Chief Assistant State Attorney Tom Bakkedahl said. "That's what we have to figure out."
Once the rules and procedures have been approved, they will be announced by the circuit's Trial Court Administrator and implemented by the sheriff's offices at the courthouses.
Mirman wants video conference hearings to continue while the workgroup comes up with a plan.
"There are certainly challenges, but our top priority will be protecting the people who work at the courthouse and the citizens who come in," Indian River County Clerk of Court Jeff Smith said. "We're going to take every precaution we can and I'm sure we'll find ways to do it – but we've never been across this bridge before."
Smith said criminal cases probably will take precedence over civil cases, and it's possible retired judges could be brought in to handle the caseload, which also will require better coordination when scheduling trials.
"We've got seven courtrooms and one under renovation, so we should have enough space," Smith said. "It would be abnormal for all seven courtrooms to be in session at the same time, but we could do it if we had to."
Bakkedahl, who will succeed State Attorney Bruce Colton in January, said crowded dockets when courthouses open might make parties involved in civil matters more willing to seek settlement agreements, and that there might be more plea deals in criminal cases, too.
"On the positive side," he said, "we've seen a decline in arrests during the pandemic, so there are fewer new cases."
If jury trials return in July as now planned, the challenges will become more complex.
Among the concerns is whether potential jurors, worried about being exposed to the virus, will show up when summoned. If they do, how will the court authorities accommodate social-distancing requirements.
"With the backlog of cases and the people who will want to be excused from jury duty because of the virus, we're going to have to summon a lot more people to get the numbers we need," Smith said. "Then we have to find a place to put them."