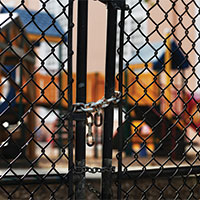 Childcare a problem for parents ready to return to workplace
STORY BY STEPHANIE LABAFF
Photo: The playground at the First Baptist Church of Vero Beach is one of the many playgrounds around town currently closed to the public.

Shortages of toilet paper and bleach are not the only ones created by the COVID-19 health crisis. Quality childcare also is in short supply.
Some island residents who planned to returned to work last week, as the state began to reopen, saw their plans come to a screeching halt when they discovered their childcare facilities either wouldn't be reopening anytime soon or were unable to accommodate as many children.
At the same time, other parents are afraid to send their children back to pre-school so soon, which has contributed to some pre-schools staying closed.
Most childcare facilities in the county follow the school district's schedule in terms of school closings. So, when the school district announced two months ago it was closing, many childcare facilities followed suit.
"We shut down the same time that the school district did," said Reeny Sempsrott, Trinity Episcopal preschool director. "We felt that if the School Board was doing it that they had good reason. With the uncertainty, especially in the beginning, parents were very concerned, as we were,"
Because of new safety and capacity guidelines, the financial hardship of being closed for nearly two months, and the concerns of anxious parents and employees, many of the childcare programs still have not reopened.
René LaRosa, First Baptist Church Preschool assistant director, said her school contemplated reopening its program for the rest of May, but "some of our staff were very leery about going back to work and a lot of our parents said they wouldn't bring the kids back yet even if we did open."
During March and April, childcare providers that elected to follow the modifications outlined in the Governor's Executive  Order and stay open were able to provide crucial services for first responders and those considered essential employees.
The guidelines include social distancing; disinfection; modified drop-off and pick-up; groups of 10 or fewer, including the teacher; a prohibition against children and staff changing from one group to another; a requirement for maintaining each group of children in a separate room; and a prohibition against interaction with other groups.
"Some of our parents are first responders and essential employees, so we've been open the whole time," explained Matilde Espinal, Vero Beach Preschool manager. "But we've been operating at 30 percent capacity."
Dr. Kathy and Tom Plower are both essential workers – one is a dentist and the other a nuclear reactor operator. Staying home with their two young children was not an option for them, so fortunately their childcare provider, Children's Discovery Center, didn't close.
"We were worried about what we were going to do with our children because of all the closures. It was such a blessing to us that they stayed open because we have no family in town," said Plower.
During the shutdown, limits imposed by capacity reductions were not a problem because parents found themselves suddenly unemployed, limited to working from home, or afraid to send their children to their childcare facility, fearing exposure to the virus.
Now that parents are ready to head back to work, some are finding it difficult to secure childcare because of the classroom size limitation.
"Our kids are trying to come back, but our capacity has gone from 105 to 30 because of the social distancing regulations," said Espinal. That means when other clients are ready to go back to work, there won't be space for their children.
Mary Jane Mills has owned and operated Children's Discovery Center for more than 30 years. "We were able to stay open the whole time, but our numbers were very low during the peak time in March and April. It was basically first responders' children," Mills said.
To accommodate the class-size restriction, Mills has repurposed rooms in the facility. "The biggest hindrance to our program right now is that we can only have 10 per classroom. Which means we're only able to operate at half our normal capacity. A lot of parents are calling and needing to go back to work [but] ... we're having to turn children away."
Most of the childcare centers have plans to reopen in June with modified summer programming. Judging by parent response to that timeline, while some parents remain fearful, many families are eager to return to some sense of normalcy, according to Sempsrott,
"Our summer camps filled up within two days," she said. "It shows the families trust us, and they know that we're going to do what we need to do to keep their children safe."