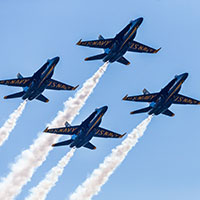 Councilman Graves threatens to sue Vero Beach Air Show
STORY BY LISA ZAHNER
Photo: The Blue Angels perform at the Vero Beach Air Show April 20, 2018.

Vero Beach Councilman Joe Graves has threatened to sue the 2020 Vero Beach Air Show if organizers don't refund the nearly $800 he paid for six VIP passes, plus $200 in damages.
On April 29, Graves' law partner sent the air show's registered agent a "Civil Theft Notice" demanding the money back within 30 days. The air show had to be canceled on March 14 due to coronavirus lockdowns. Ticketholders were sent a letter explaining why the difficult decision was made to postpone the event and promising that tickets and parking permits "will be honored at the next scheduled Vero Beach Air Show."
Graves purchased six Saturday advance VIP tickets in the Barnstormer Chalet Section for April 25 when the Blue Angels would have been appearing. Each ticket cost $132.87 and Graves wants his $797.22 back – plus he feels he deserves $200 in "damages."
"According to the CDC there are no mandatory requirements for the cancellation of an event such as the Vero Beach Air Show, only recommendations," Graves' letter states.
The letter goes on to say that the performance by the Blue Angels is the main reason for attendance at the air show and that if the Blue Angels are not performing at the rescheduled air show, that would be "tantamount to a bait and switch practice that is (in) violation of the Florida Deceptive and Unfair Trade Practices Act."
Vero Beach Air Show President Robert Paugh did not respond to a request for comment, but Vero Beach Regional Airport Director Eric Menger was unaware of the dispute on Monday. "I did not know that Joe Graves had even asked Vero Beach Air Show, Inc., for a refund of his ticket price. It is a 501(c)3 charity and it clearly states on each ticket that there are no refunds, even if the show is rained out. However, I believe that the Air Show has agreed to honor the tickets that were sold in advance of the COVID-19 crisis at the next Vero Beach Air Show (which will probably be in 2022)," Menger said.
The show's website also states the show is a charitable organization. "Proceeds of the show benefit our veterans of military service and the prevention of child abuse."