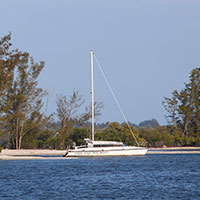 County gets grant to remove 7 derelict boats from the lagoon
STORY BY SUE COCKING
Photo: "Good Golly Miss Molly," a 38 foot derelict sailboat located off the coast and south of Riverview Park in Sebastian, Fla.

Armed with a grant from the state, Indian River County is poised to get rid of seven derelict vessels scattered the length of our lagoon that range in size from a 25-foot cabin cruiser to a 38-foot sailboat. The abandoned boats not only look ugly, but pose a navigational hazard, leak pollutants and damage the estuary bottom.
Melbourne marine contractor CCNK LLC will remove the abandoned watercraft using heavy equipment, and possibly a barge, to get them out of the water.
The total project cost of $22,100 is being footed by the Florida Fish and Wildlife Conservation Commission's derelict vessel removal grant program.
The vessels include a 25-foot Sea Ray cabin cruiser that's awash in the lagoon north of the Barber Bridge; a 32-foot Endeavor sailboat abandoned in the St. Sebastian River since 2018; the 32-foot catamaran "Stress Relief" and  36-foot cabin cruiser "Miss Behaving" sitting in the lagoon north of Main Street in Sebastian since last year; and the 30-foot C & C Yachts sailboat "Final Destination," which overturned near Sebastian Yacht Club last year.
Also slated for removal is a 25-foot Erickson sailboat that has been abandoned in the lagoon just east of the "Final Destination" since 2016, and the 38-foot sailboat "Good Golly Miss Molly" that sank near the IR 9A spoil island in the lagoon near the Sebastian waterfront last year.