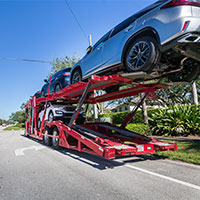 Island's seasonal residents staying longer to avoid problems up north
STORY BY STEPHANIE LABAFF

Easter Sunday and May Pops are two points on the calendar that typically trigger a parade of car carriers on A1A as barrier island seasonal residents prepare to leave and ship their autos back up north.
But this year many of those snowbirds – and their cars – are staying longer due to COVID-19 outbreaks and restrictions in northern cities.
From one end of the barrier island to the other, seasonal residents have adopted a "wait and see" mentality about when or if they will migrate north for the summer. Canadian retirees are the exception, forced to return home in March to avoid losing medical coverage.
"We usually leave by the end of May," said Barbara Crosby, an Orchid Island resident whose northern home is in New Hampshire.
"We have great trepidation. We just may stay until August. We're happy in this little Vero Beach bubble and wondering what it's going to be like if we go home."
The Crosbys are not alone, according to Rob Tench, Orchid Island Golf and Beach Club general manager, noting that the club has 50 percent more people here right now than a year ago. "They can still play golf here, and the weather is beautiful," he said, adding that member rounds of golf for April were up 59 percent from a year ago.
The same holds true at John's Island, explained resident Emily Sherwood. "You have to book your tee time four days in advance. Tee times open at 6 a.m. At 6:01 a.m. all three courses are booked. People are busy. They're out and staying active in this beautiful weather, so nobody wants to go back."
For those residents who have decided to head north, a whole new set of questions comes into play: "Do we travel by plane? If we drive, will we be able to find a place to stop over for the night? Will we have to quarantine when we arrive at our destination?
Rumors of long lines at grocery stores, a shortage of supplies, limited access to outdoor activities, and more restrictive stay-at-home orders tempered thoughts of leaving sunny Florida for Mark Mulvoy, who splits his time between John's Island and Rye, New York.
"People are adapting at John's Island," said Mulvoy, noting a sense of contentment as he and his wife Patricia have enjoyed cooking and watching Netflix, visiting with friends [while social distancing] and golfing.
Craig Lopes, The Moorings Yacht & Country Club general manager, said the club's membership numbers have reversed. "Normally, close to 70 percent of our members leave to go up north or the Midwest.
"Right now, 70 percent are staying."
Meanwhile, Grand Harbor resident Dale Jacobs isn't in any rush to head back to New Jersey. "We'll be here for a while. Here in Indian River County, we've had a much better response to the crisis than where I live in New Jersey. It's much safer to be here than it is up there."
There seems to be more traffic than is typically seen out of season, Sheriff's Maj. Eric Flowers said. "Anecdotally, I think they are staying longer ... a lot of the states that they would return to are still in lockdown."
The roadways aren't the only place we're seeing an increase in traffic. Sean Collins, Municipal Marina marine director, said some folks have delayed their departures, while others have vacated their boats and headed north using alternate modes of transportation, afraid they wouldn't have access to fuel and supplies along the way.
At the Village Beach Market, Jason Keen, chief operating officer, noted an increase in customers since the pandemic first hit.
"It's still running higher than the typical season," he said, adding that customers have shared their intentions of staying longer as they wait to see how things are going up north.