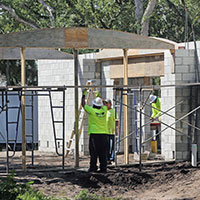 Residential construction going strong on barrier island despite coronavirus
STORY BY GEORGE ANDREASSI

Construction crews worked full throttle on residential development projects all along the barrier island last week as builders adapted to new social distancing and hygiene standards.
While projects are no longer pouring into the development pipeline, construction and sales are expected to continue on new houses and condominiums underway on the island, according to brokers and developers.
"From a construction standpoint, we're moving full speed ahead," said Yane Zana, president of Coastmark Construction, which is building residential projects.
"Luckily for us, the coronavirus has not affected construction in the field so much," Zana said. "Our crews are careful, they're in open air, they are taking care of themselves as best they can in this environment."
Coastmark recently started construction on Blue at 8050 Ocean, 21 condominiums with a clubhouse, pool and putting green on a 4.7-acre site at 8050 Highway A1A. Units start at $1,645,000.
In addition, the company is moving ahead with plans for Indigo, a luxury subdivision on the old Florida Institute of Technology property next to Indian River County's Tracking Station Park, Zana said.
Preliminary plans call for 10 detached villas and a six-unit oceanfront condo on the 4.6-acre parcel, Zana said. The villas will start in the high $2 millions and the condos in the mid $2 millions.
"We're still pushing forward," said Mike Hoyt, senior vice president of The Lutgert Companies of Naples, which is building Surfsedge a short distance from the Indigo site.
Surfsedge's plans call for 12 single-family houses and 12 condominium units. Single-family home prices start at $1.6 million. Oceanfront condos are priced preconstruction between $2.5 million and $3 million.
Road construction has begun at the beachfront subdivision,
While not halting progress, the coronavirus pandemic has added to the tasks to be managed on the construction site, Hoyt said.
"Obviously, nothing is smooth sailing right now," Hoyt said. "Everything has taken a step back. When it comes down to site work, it's a matter of managing the folks who are there to keep distances."
Parkwood Distinctive Homes and GHO Homes continue to work on Orchid Cove, a 31-acre subdivision at the east side of the Wabasso Bridge where 57 new houses are planned.
"We're still on site. We're still building homes," said Janyne Kenworthy of ONE Sotheby's, who represents Parkwood. "We're working on our models and our specs and our solds, which should be ready by summer."
The coronavirus pandemic has some potential homebuyers waiting on the sidelines until they see how things turn out, Kenworthy said.
"But I still believe there will be pent up demand post-coronavirus," she added.
Construction is also going full blast at The River Club in Indian River Shores, where Beachland Homes is building 17 houses, with prices starting at about $1 million.
"For us, the bright spot is construction activity seems to be good," said Beachland Homes owner John Genoni. "We have three houses currently under construction with two in for permitting."
"We're just trying to be as careful as we can with the number of trades we let in the house and follow the guidelines and keep everybody safe, but keep the construction process moving forward," Genoni said.
On the north island, construction continues at The Reserve, a 10-home subdivision adjacent to Pelican Island Wildlife Refuge where two houses have been completed and a third is expected to be finished by the end of May.
"They're thinking long term," said Michael Thorpe, broker-associate at ONE Sotheby's, who with his wife, broker-associate Kimberly Thorpe, has the listing for The Reserve and  Blue at 8050 Ocean.
"Everyone is moving forward because they have their loans in place, they have their permits in place, they have their construction running."
Construction is also ongoing directly across A1A from Blue at The Strand subdivision, where Lennar and GHO will build 47 single-family homes, with prices starting at $1 million. Roofing material was recently stocked on the roof of a Lennar display house and additional lots are being prepared for construction.
Also in the works at the 34-acre site are 21 townhouses with starting prices in the high $800,000s.
Construction is in full swing in that section, with a new, four-unit building erected in the past two months and a range of trades on the job, keeping their distance while getting their work done.