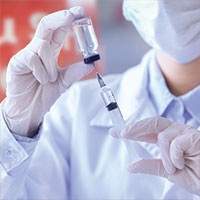 How will COVID-19 vaccine be distributed in Vero?
STORY BY MICHELLE GENZ (Week of November 12, 2020)

The first doses of a COVID-19 vaccine – assuming one is approved for emergency use – could arrive in Vero Beach as soon as next month, according to Miranda Hawker, director of Indian River County's Health Department.
And though it will likely be March or April before the public at large has access, Hawker said, the state has already released a draft plan on how to distribute the vaccine, with Hawker's department set to conduct exercises here in the coming weeks to prepare.
"We do anticipate that the first vaccine will come late in December; however, that's going to get priority for healthcare workers and first responders," Hawker told the Vero Beach City Council last week. 
"As we go into vaccination planning, we will be involved with [City Manager Monte Falls] and with all of you, as we identify what vaccine we're getting and when we start being able to structure mass vaccination clinics."
It was a rare hint from Hawker about what is happening behind the scenes in advance of a vaccine.
Since the announcement in August that Florida is one of five states chosen to be part of a vaccine pilot program, state health officials have been involved in a massive logistical exercise aimed at rapidly vaccinating millions of Floridians against the novel coronavirus.
A draft proposal of the statewide plan was released in mid-October, and local public health departments are awaiting the first of several trial run-throughs required before a final plan is formalized.
"There is an exercise component for all county health departments that is a requirement of the plan," said the County Health Department's spokesperson Stacy Brock. "The Florida Department of Health is currently designing the exercise."
According to the draft plan, by Dec. 1, county health departments will have gone through a COVID-19 vaccine dry run using the seasonal flu vaccine. The goal of the exercise is to give more and more vaccines each day, all while maintaining social distancing and incorporating sanitation measures used to mitigate the coronavirus.
The exercises are also intended to expand personal protective equipment usage, according to the draft of the plan. County health departments in all 67 counties will then report back to the state on any problems they encountered as well as their successes.
Hospitals, first responders, and long-term care associations have gotten involved in the plan's creation, along with county health departments.
The state based the COVID-19 vaccination plan on "lessons learned" in the H1N1 pandemic, the season flu vaccine program and a recent hepatitis A vaccination campaign.
The tentative plan to vaccinate much of Florida's population of 21.5 million is also based on guidance from the CDC. That agency in mid-October announced it has established a partnership with Walgreens and CVS that will include doing on-site vaccination in nursing homes and assisted living facilities, in addition to eventually giving shots at their own retail locations. 
One top HHS official, Paul Mango, said within 24 to 48 hours of an Emergency Use Authorization being issued for any of several vaccines currently in development, "we expect to be putting needles in people's arms."
The Pharmacy Partnership for Long Term Care Program has put CVS and Walgreens in charge of everything from keeping the vaccine cold during delivery to handling the extensive reporting required as more and more people take the shot.
As it stands, the pharmacies will have to fill out 20 lines of information for each patient and send this to local, state and federal authorities within 72 hours.
While the federal government will pay for the vaccine, the pharmacy giants will bill Medicare, Medicaid and private insurance for reimbursement for the services provided.
The state plan includes a distribution phase-in that will proceed depending on availability. The first release of vaccine doses would go to so-called closed points of dispensing that have an ability to store, administer and track the vaccine.
These could include hospitals that would administer the vaccine to their own staff and patients.
Long-term care facilities could also function as closed dispensing systems, followed by emergency responders and critical infrastructure employees.
Next, the draft plan addresses critical populations. Topping the list is healthcare workers. The report lists a total of 1,345,000 licensed healthcare workers in Florida, from nurses and doctors to audiologists and marriage counselors.
After healthcare workers, patients with pre-existing conditions that put them at risk for worse COVID-19 disease would come next in line for the vaccine. Determining who those patients are will be up to doctors and other practitioners, as well as programs for chronic disease prevention run through community agencies.
When more vaccine becomes available, open dispensing will begin to reach children and adults through pediatricians, primary care and eventually pharmacies. Mass vaccination clinics may be held, run by the state's Department of Health or Division of Emergency Management. Such clinics are intended to "ensure there is equitable distribution of the vaccine, in the same way COVID-19 testing was made available."
Open points of dispensing typically are "located at public locations such as arenas, community centers, or schools," according to the CDC. "These locations are often operated by local public health agencies and are where they dispense or administer vaccine to the general public."
College students are another sector of the population in need of vaccination, with more than 1.1 million enrolled in Florida colleges and universities.
As for inmate populations, the state's Health Department has recently been involved with jails in a vaccination program against hepatitis A, and that program will remain in place for a COVID-19 vaccine. Florida correctional facilities have a population of 95,000.
Critical to the success of the program is outreach to patients. Beginning with a press release when Florida starts the pilot program, and escalating through social media and paid advertising, the vaccination blitz will first have to explain why the vaccine's availability is limited.
It will take a second campaign to let people know there is enough vaccine on hand to enter the plan's final phase – vaccinating the public at large.
Before the vaccine even reaches Florida, another massive effort has been underway to keep the product viable while it's transported. The so-called cold chain distribution that the vaccine requires to prevent spoilage is a critical component of at least one of the vaccines under development.
From the moment it is manufactured until it reaches its target patient, Pfizer's vaccine requires a temperature of 94 degrees below zero. The Moderna vaccine also requires cold storage – at 4 degrees below zero, the temperature of a typical restaurant freezer.
Most vaccines require storage around the temperature of a typical refrigerator: between 35 and 46 degrees. A variance of more than one or two degrees of any particular vaccine's optimal temperature can render it unusable.
The cold chain requires storage capability in planes, trucks and warehouses. To avoid the risk of spoilage, some are proposing shipping very small batches of 500 to 1,000 doses. One expert cited a 2019 study that showed a quarter of vaccines are degraded by the time they reach their destination.
Depending on the efficacy of the vaccine, scientists theorize the pandemic can be minimized by a variety of vaccine delivery strategies. Over the weekend, a New York Times article addressing who should get a vaccine first looked at research showing that vaccinating children and adults between the ages of 20 and 50 could save more lives than vaccinating the elderly, because younger people are responsible for greater transmission.