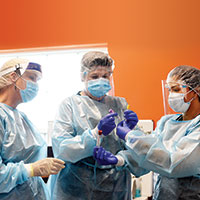 Vero researcher involved in COVID-19 drug trials
STORY BY MICHELLE GENZ (Week of November 19, 2020)
Photo: From left: Susan Heritage, Mona White, and Daniela Martinez at the Whole Family Health Center in Vero Beach. Heritage and Martinez are both research study coordinators, White is the executive director of the Pierone Institute a Whole Family Health Center initiative.

The news last week that the FDA had given emergency use authorization for  a COVID-19 treatment drew worldwide notice. In Vero Beach, few paid closer attention than infectious diseases specialist Dr. Gerald Pierone.
Since late October, COVID-19 patients with active infections have been coming to Whole Family Health Center – through a back entrance, away from other patients – to participate in trials of drugs under development to treat the disease.
Among those drugs is bamlanivimab – accent on the "iv." The drug, made by Eli Lilly and based on synthetic monoclonal antibodies, is similar to a drug given by IV to an ailing President Donald Trump when he contracted the disease. It effectively "neutralizes" the virus by blocking it from the place where it binds to human cells.
The drug is intended to keep high-risk patients who are still in the early stages of the disease from developing severe symptoms.
Three COVID-19 positive patients here have enrolled in that out-patient trial, known as ACTIV-2, with four more scheduled to be screened this week.
In all, some 2,000 patients in 62 locations were expected to enroll in the study. Late Monday, enrollment in the study was placed on temporary hold, Pierone said. "When the study resumes, which will be very soon, all of the patients will receive the active agent – no one gets a placebo," Pierone added.
"This is perfect," he went on. "I am very pleased with this decision. Now we can treat patients with an agent that we know is active while we wait for the next promising medication in the pipeline. So in the near future, we can compare newer therapies or perhaps a combination of medications to see which approach is most successful going forward."
Pierone Research Institute, located inside Whole Family Health, is one of  seven sites in Florida conducting the randomized, double-blind trial in which neither the patient, the provider nor the investigator knows which COVID-19 patients receive the drug under investigation and which patients receive a placebo.
During the ACTIV-2 trial, the participant gets an IV infusion of the drug or the placebo – a saline solution. The patient is then asked to note daily the presence and severity of a list of 18 COVID symptoms. On the third and seventh day after the infusion, the patient has to be swabbed to determine the amount of virus present and then come back for more swabs once a week for the next three weeks.
Any adverse event in the first month has to be noted by Pierone's team, as do hospitalizations or deaths. A list of secondary outcomes includes when symptoms resolve and when the patient self-reports a return to normal health."
"The goal is to see if this treatment will lessen the risk of hospitalization," Pierone said.
The temporary hold on the trial and decision to do away with placebo treatment comes after bamlanivimab received emergency use authorization last week. Under that authorization, drugmaker Lilly will be delivering 300,000 doses to providers over the next two months.
Six other patients here have enrolled in a study of remdesivir, an antiviral drug also given to Trump. That study also is temporarily on hold due to protocol changes, Pierone said. When it resumes, it will involve three daily IV infusions.
Most of the patients involved in the studies had come to Whole Family for COVID-19 testing, Pierone said, but were not regular patients at the low-cost community clinic. Others heard about the study taking place and got in touch with the clinic.
While none of the patients in the trials had what is considered severe disease, several have become "really ill," Pierone said, and nearly required hospitalization.
"Because of the double-blind nature of the study, I had no way to determine if our treatment is helping," Pierone said.
Knowing from now on that all patients will be getting active agents in the study is a relief to Pierone. Using active agents for all patients will "allow us to better understand the safety and efficacy of this agent on a number of outcomes in patients with early stage COVID-19," he said, after learning of the change.
He praised his research study coordinators, Mona White and Daniela Martinez, for their frontline role in the drug's hoped-for approval.
"I am incredibly proud of my team for caring for these patients during the phase of the illness when they are quite contagious," Pierone said.
While the world is holding its breath and hoping for effective COVID-19 therapeutics, trials of two vaccines breached the despair of coronavirus headlines in recent days with their stunning rates of effectiveness.
Pierone has known that elation before. Over the course of three decades, beginning when he trained in infectious diseases at Mount Sinai, Pierone has worked with "hundreds of patients in dozens of protocols" to find treatments for the HIV/AIDS pandemic.
In all, Pierone's research center, located here and in Fort Pierce, has participated in "most of the HIV medications that were in use as well as the more effective, less toxic ones that we currently use."
Even today, as Pierone's team tracks the two drugs' effects on local COVID-19 patients, Pierone is studying the first combination injectable HIV medication – cabotegravir and rilpivirene. The single injection, taken every two months, replaces a regime of daily pills, and Pierone believes the drug will win FDA approval in a matter of months.
For Pierone, who diagnosed several of Vero's earliest COVID-19 cases in March, the double good news of vaccines and treatment was a welcome relief. But the rising number of cases across the country seemed as alarming as those first cases as the increase slowly bleeds into Vero Beach.
"I don't think I've ever been busier," Pierone said late Sunday, apparently wrapping up another working weekend. "It's going to be a grim, deadly season."