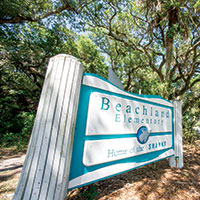 Beachland Elementary has COVID-19 case; so far, no schools here in danger of closing
STORY BY GEORGE ANDREASSI (Week of October 22, 2020)

Beachland Elementary School had its first COVID-19 case last week as a student tested positive for the virus and 15 classmates and two staff members were directed to quarantine.
The barrier island school reopened Monday morning to 330 students attending class in person after custodians disinfected and sanitized the campus over the weekend, said School District spokeswoman Christen Maddux.
Beachland Elementary was the 14th public school in Indian River County to report a case of COVID-19 since the school year started Aug. 24, records show.
Also last week, a staff member at Dodgertown Elementary and two more students at Vero Beach High School tested positive for COVID-19. No one had to be quarantined at Dodgertown but 36 students identified as meeting close contact criteria were quarantined at the high school.
Altogether, nine students at Vero Beach High have tested positive for COVID-19 this school year, resulting in the quarantining of 203 students and one staff member, records show. There are 1,913 students attending class in person at VBHS. Most of those quarantined have returned to school.
The only other campuses with multiple COVID-19 cases were Sebastian River High, Oslo Middle, and Vero Beach and Dodgertown elementary schools, records show.
Schools Superintendent David Moore said so far no schools are in danger of being shuttered as a result of the pandemic.
"We're nowhere close to considering closing a school right now," Moore told the School Board last Thursday.
Moore noted his previous employer, Miami-Dade County School District, has closed some schools with fewer students being quarantined than in some schools here.
In Brevard County, the school district also closed Eau Gallie High School in Melbourne for a week as a result of COVID-19 cases to prevent further spread of the virus.
In Indian River County, a total of 26 students and five staff members have tested positive for COVID-19 in public schools this school year, records show. A total of 477 students and 12 staff members have been quarantined. More than 17,000 students are enrolled in the district.
School district spokeswoman Cristen Maddux said no cases of COVID-19 have been reported at Citrus Elementary School even though a state Health Department report indicates a student at the school tested positive for the virus during the week of Sept. 20 through Sept. 26.