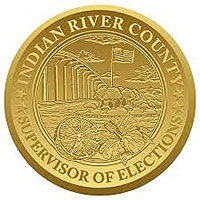 Supervisor of Elections: 'We've never had this many mail-in ballots before, not ever'
STORY BY RAY MCNULTY (Week of October 8, 2020)

With the presidency to be decided during the COVID-19 pandemic, a record number of county residents are expected to vote by mail in the November election, which likely will result in more of those ballots needing to be "cured" because of signature problems.
Supervisor of Elections Leslie Swan said last week nearly 48,000 of the county's registered voters already had requested mail-in ballots. According to her office's website, more than 11,000 of them had been filled out and returned to her office, as of Sunday.
"We've never had this many mail-in ballots before – not ever, ever, ever," Swan said. "A lot of people have been using the drop box at our office. We're emptying it three to four times a day. We've never had to do that."
As a result, Swan said her staff is prepared to respond to a larger number of mail-in ballots that arrive with voters' signatures missing or not matching the signatures on file with her office.
A state law enacted after the 2016 election requires the supervisor's office to notify voters as soon as is practical if there are signature issues. Once voters learn of missing or mismatched signatures, they may complete and return a "Vote-by-Mail Ballot Cure Affidavit" with a copy of their identifications, usually a driver's license.
The documents may be returned by mail, email, fax or in person. However, the deadline to submit the affidavit and ID is no later than 5 p.m. on the second day after an election – by Nov. 5, this year. Failure to submit a cure may result in the ballot being rejected and not counted.
All mail-in ballots must be submitted by 7 p.m. Election Day.
"As long as we have a way to contact the voter – by phone or email – we'll do it, and we'll do it as quickly as we can," Swan said.
Voters who requested mail-in ballots can track online the status of their ballots through the supervisor's office or a link on the Florida Division of Elections' website.
Citing recent history, Swan said she doesn't expect many mail-in ballots to be rejected, especially now that state law provides a cure for those that contain signature problems.
In the Aug. 18 primary, 24,660 of the 40,452 votes recorded were mail-in ballots, of which only 30 arrived with no signatures and 26 with mismatched signatures.
Swam urged everyone who votes by mail to include their phone number and email on the back of their ballots, which will be counted even if they're sent without the enclosed security sleeve.
"There seems to be a lot of interest in this one," Swan said. "We also have different groups flooding people with vote-by-mail requests, where all they have to do is sign it, date it and send it in. It doesn't take a lot of effort, so it's a great way to get people to turn out."
But not necessarily at the polls.
With so many residents choosing to vote by mail, Swan said she's curious to see how many people opt to go to the polls to vote, especially on Election Day.
"It could be that we don't see a lot of voters turn out in person," she said. "These are very strange times."
The surge in mail-in ballots will create extra work for her staff, so Swan encouraged those residents who choose to vote by mail to do so as early as possible.
"When you go to the polls, you fill out the ballot and just insert it into the machine," Swan said.
"But with the mail-in ballots, we've got to take them out of the envelopes, check signatures and record them. When you consider the turnout we're expecting, that's a lot of work."