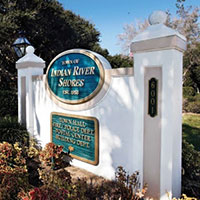 Indian River Shores poised for a most unusual election
STORY BY LISA ZAHNER (Week of September 3, 2020)

Not since 1977 has the Town of Indian River Shores had the opportunity to usher in three new council members with no incumbents seeking re-election, but it could happen this November.
The only other time it happened prior to 1977 was when the town was newly incorporated in 1953.
But all three council members with terms expiring this year – Mayor Tom Slater, Vice Mayor Bob Auwaerter and Councilwoman Debbi Peniston – have told both the town and Vero Beach 32963 that they do not intend to run in this year's municipal race.
Qualifying ends noon Friday, so unless one of the incumbents reconsiders or a new candidate files to run, Christian Hendricks, John McCord and Mary Alice Smith will win seats on the Shores Town Council by default.
"Mary Alice is one of those people who is a doer," Slater said. "She really knows how to get things done. Chris has been great on planning and zoning and John was very involved in the Vero electric issue."
Slater added he highly respects Councilman Brian Foley and Councilman Sam Carroll, who are midway through their terms, and trusts their ability to provide leadership and continuity.
Hendricks knows more about the inner workings of government than the average candidate for local office, as he's the retired Deputy Inspector General of the U.S. House of Representatives. He's also worked as a CPA and internal auditor, so that would give him an edge in dealing with the town budget.
After relocating from Washington, D.C. in 2003, Hendricks volunteered to serve on the town's Planning Zoning and Variance Board, a committee he chaired for three years. Topics on the board's plate included the cell tower and revamping the town's development code.
"Service on the Planning, Zoning, and Variance Board introduced me to the wonderful people who work for this beautiful community," Hendricks said. "I want to provide them with as much support as possible so that Indian River Shores continues to be a desirable place to live and visit."
McCord, a seven-year fulltime Shores resident who has owned property in John's Island since 1998, said he was encouraged to run by town officials familiar with his support for the sale of Vero electric. An attorney by training, McCord worked as an executive in the energy industry most of his career.
He would bring that experience to the table as the Shores moves forward with its breach of contract claims against the Vero Beach water-sewer utility. "I am very familiar with franchise agreements and with the mediation process," McCord said, adding  he hopes he can help the town get a fair shake in the rate and service dispute.
Smith, a 22-year Indian River Shores resident, said she thinks the town is well run, and she expressed deep appreciation for the Public Safety Department as the sister of a career law enforcement officer and K-9 handler in Pennsylvania.
"Over the years, I have gained insight into the decision-making process of our town and will look forward to being a part of the process over the next four years," she said.
Smith's community involvement includes organizing and implementing the successful Men's USGA Mid-Amateur Golf Tournament that brought positive publicity for the Vero area.
"My background in governance will draw from my involvements in various areas of the pharmaceutical industry for 25 years, volunteering for nonprofit organizations and serving on the board of director for John's Island for three years," Smith said.
Qualifying for three seats on the Vero Beach City Council also closes at noon Friday and, as of press time, four candidates – incumbent Robert Brackett, former councilman Brian Heady, John Cotugno and Honey Minuse – have filed paperwork to run.
Mayor Tony Young has stated publicly that he will not seek re-election, and Vice Mayor Laura Moss will be moving on to fill Commissioner Bob Solari's seat on the Indian River Board of County Commissioners.