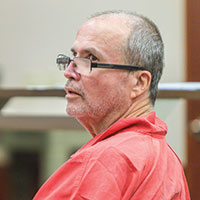 Accused South Beach killer tries to get judge thrown off his murder case
STORY BY LISA ZAHNER (Week of August 12, 2021)
Photo of Ashbury Perkins in court in 2017.

Just weeks before he was expected to stand trial on first-degree murder charges for the 2015 shooting death of his business partner and estranged wife, former South Beach resident Asbury Lee Perkins attempted to get the judge thrown off his case.
He claims Judge Dan Vaughn has failed to issue orders needed for his defense.
Perkins, who has been representing himself with intermittent help from a stand-by, court-appointed defense attorney, petitioned Vaughn in April to appoint a private investigator to help him prepare his case for trial.
The motion apparently was necessary due to the expenditure of taxpayer dollars on the case, and on April 23, clerk's notes on the case say Vaughn "addressed motions." But Perkins argues that the lack of a written order from the judge has prevented him from engaging the services of the investigator.
Three letters from Stuart-based Cooper and Hutchinson Professional Detectives LLC were included in Perkins' motion to have Vaughn disqualified.
The first one to Perkins states that Glenn Cooper contacted Vaughn's office about the order. "The legal assistant for Judge Vaughn searched the court notes and did verify I was appointed or will be appointed and should be receiving a copy of the court order appointing me as investigator," Cooper wrote.
"But please note I cannot work on your case until I receive a hard copy of the actual signed court order by the judge as the Florida Justice Commission (JAC) will not accept or process my work hours."
On May 4, Cooper wrote to Vaughn and his assistant asking for the court order, providing his contact information to send the order and emphasizing that he could not start work without it.
Then on June 18, Cooper wrote to Perkins at the Indian River County Jail saying, "Not hearing from the court or you and in particular not receiving a written order of appointment signed by a Judge appointing me as your private investigator concerning your pro se case, I am closing the file without any investigation activity."
Perkins has also asked for a forensic expert and an audiovisual crime scene reconstruction and is waiting on written orders for those costs, as well.
One of the defense strategies Perkins is trying to employ is to claim that circumstances of his marriage over many years caused him to be temporarily insane at the time he shot Cynthia Betts in the home they once shared.
Perkins claims to be the victim of multiple false accusations that led him into a downward spiral of legal and financial troubles, plus heavy drinking. The incidents Perkins cites happened in three different counties – Broward, Palm Beach and Indian River.
In a hand-written motion asking for a new judge filed from jail on July 15, Perkins stated that, "the Defense contends that the delays regarding the signing of these above-referenced orders ... could amount to an unfair trial due to the Defense's inability to secure and introduce particular evidence at trial."
Perkins said Vaughn is guilty of failing "to rule in a reasonable time" as Perkins contends is required by administrative court rules.
Perkins did get a quick response to his motion to disqualify Vaughn, however. Vaughn denied Perkins' motion in writing the very next day, writing in his July 16 order that "the defendant's motion is legally insufficient and therefore is denied."
Assistant State Attorney Christopher Taylor, who is prosecuting the case, said he does not know whether or not Perkins has begun his investigation, or where things stand regarding other things he requested.
"I asked for a 60-day time limit on the orders granting the defendants motions," Taylor said. "For example, if [Perkins] wants to examine the computers in evidence, he has 60 days to do it. I haven't seen the judge's orders yet."
At the beginning of the summer, Taylor estimated Perkins' case might be ready for trial sometime in August, making it the first capital murder trial to be held in Indian River County since the outbreak of the COVID-19 pandemic.
But it is unlikely that schedule will hold if Perkins is granted the time and opportunity to hire the private investigator and other experts he wants.