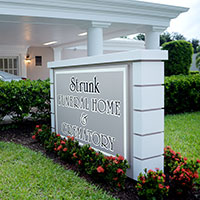 Family battle over Strunk Funeral Home gets uglier
STORY BY RAY MCNULTY (Week of August 5, 2021)

The ongoing legal dispute involving the Strunk Funeral Homes and Crematory got uglier last month when the businessman who claims to have purchased the real estate on which the longtime local business operates asked a judge to evict the founder's adult children from the premises.
In a lawsuit filed July 12 in Circuit Court in Vero Beach, James Young Jr. also seeks more than $300,000 in back rent and a court order preventing the current owners of the Strunk Funeral Homes from damaging, removing or disposing of any on-site property that belongs to him.
Young's petition – filed under the name of his business, Millennium Funeral Home and Crematory – is a countersuit in response to the lawsuit filed by Strunk's owners in June.
Joining Young's lawsuit as a plaintiff is his aunt, Dorothy Strunk, whose husband, Glenn, owned the local funeral home business since 1973, running it for 47 years before he died in February 2020.
Young, who said he has owned more than a dozen funeral homes and currently owns three crematories, claims he legally bought the Strunk properties from Dorothy Strunk for $3.1 million last month.
Glenn Strunk's adult children filed a lawsuit challenging the transaction, arguing that Dorothy wasn't authorized to sell the real estate.
Circuit Judge Janet Croom is presiding over the case.
The Strunk children contend the disputed properties were jointly owned by the Strunk Funeral Home because business operations covered the costs of their acquisition, maintenance and capital improvements, as well as expenses such as taxes, insurance and debt service – even though the properties were titled in the names of Glenn and Dorothy Strunk, who were married for 41 years.
In a telephone interview last weekend, Young said his aunt owned the 17th Street property on which the Strunk Funeral Home in Vero Beach operates before she married Glenn Strunk.
"She bought the property, and she put up the money for the funeral home in Sebastian, too," Young said. "Dorothy put as much time into that business as Glenn did, and she put in a lot more money."
Young said Glenn Strunk's children didn't participate in the funeral home's operations until he became ill.
"Except for his son, Kevin, who occasionally ran errands and answered the phone, Glenn's kids were never there working," Young said. "My cousin, Billy Whittaker, ran the business with Glenn and Dorothy."
According to state records, Glenn Strunk's daughter, Mary Kopchak, is the president of Strunk Funeral Homes, having replaced her father on Feb. 24, 2020 – two days prior to his death at age 79.
That's when Glenn's children "got him to change his will on his deathbed," Young said, adding: "We think he was so medicated that he didn't know what he was signing."
Shortly afterward, Young said, Glenn's children had Dorothy Strunk and Whittaker removed from the funeral home's property, then "shut off her cellphone, took her cars and cut off her credit cards."
The dispute turned so bitter that, after her husband died, Dorothy Strunk had his body transported to the Haisley Funeral Home in Fort Pierce, rather than use the business he founded.
"It's such a shame," Young said. "My Aunt Dorothy was married to their father for more than 40 years. She wouldn't have screwed those kids out of a dollar. Those kids had every chance to work something out with her, and they didn't."
Asked if he believes Kopchak and her siblings are merely carrying out Glenn Strunk's wishes, Young replied, "I have no idea."
Neither Kopchak nor her attorney, Richard Sneed, responded to phone messages seeking comment.
In their lawsuit, though, they're asking Croom to "preserve the status quo" by issuing a temporary restraining order and injunction to prohibit Young, Dorothy Strunk and Millennium from interfering with the funeral home's operation until the properties' ownership disputes can be legally resolved.
Young, Dorothy Strunk and Millennium, who are represented by Vero Beach attorney Buck Vocelle, claim in their countersuit that Strunk Funeral Homes hasn't paid rent since March 1, 2020, and its owners have refused to vacate the property.
The filing states that Kopchak was served with an eviction notice on June 17, and that Millennium "has elected to take possession of the premises due to the nonpayment of rent by the defendant."
Young said he hopes Croom will rule on the eviction in the coming days, so he can take control of the properties, which will be used for the same business but under a different owner and brand.
As for Strunk Funeral Homes, Young said, "they can move to another location."