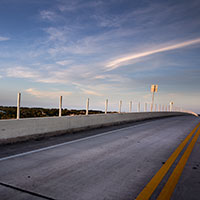 Fence going up to make Wabasso bridge safer for bikers
STORY BY SAMANTHA ROHLFING BAITA (Week of August 26, 2021)
Photo: A series of poles have been added to both sides of the highest bridge crossing the Wabasso Causeway.

A 36-inch-high chain link fence is being installed on the "high bridge" section of the Wabasso Causeway in a long-overdue effort to make one of the most dangerous bike lanes in the state safer for cyclists and pedestrians.
The fence is intended to supplement worn and weather-beaten 32-inch concrete barriers dating from 1960, which have been the only thing separating bikers from a drop into the Indian River Lagoon 60 feet below.
While no such accidents have ever been reported, county officials have been urging the state for years to do something to make the heavily traveled bridge safer for cyclists and pedestrians.
Originally a two-week project, the work was scheduled to have been completed by Aug. 4, but rain delays have left it unfinished, according to Brian Freeman, staff director of the Indian River County Municipal Planning Organization.  With one lane closed during construction activity, work has been taking place late at night to minimize traffic impact. 
For years, cyclists and the Indian River County Metropolitan Planning Organization Bicycle Advisory Committee have urged the Florida Department of Transportation to make improvements. And, for years not much had happened, says longtime bike safety activist Hugh Aaron.
In January 2016, responding to requests by the Bicycle Advisory Committee to evaluate the bridge for bicycle safety, an FDOT engineer headed a detailed and comprehensive Federal Highway Administration Safety Audit.
To the dismay of the county's BAC, according to Aaron, no action on the report's observations and suggestions was taken until 2019. Late that year, FDOT did complete improvements to the dangerous stretch, including establishing 5-foot bicycle lanes in both directions, adding profiled edges in both directions to improve load distribution, and adding "Bike Lane" signage. 
The current project, one of the suggestions in the 2016 audit report, is at last under way. Says Aaron, "We are very happy to see something happening. Five years later."