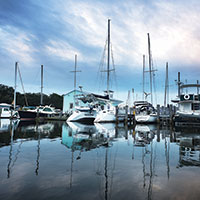 Boat tie-ups at Vero's city marina down 50 percent
STORY BY SAMANTHA ROHLFING BAITA (Week of February 4, 2021)

The number of boats paying to tie up at the picturesque but dilapidated Vero Beach Municipal Marina is down a whopping 50 percent so far this season, according to Director Sean Collins.
Possible reasons for the decline in usage – and revenue – include the ever-present pandemic, which has restricted travel and which Collins sees as the main culprit; a recent increase in mooring fees; the condition of the marina; and free mooring areas nearby that are being used this year by more boats than in past years.
With 100 slips, mostly occupied by permanent or long-term customers, and a 57-buoy mooring field used mostly by transient boaters, the marina has room for 157 vessels in the water, along with a dry storage area.
But Collins says many marina regulars – boaters who come down annually for part of the season – simply haven't shown up this year.
One marina resident said he has observed that mooring buoy traffic "is well below previous years for high season."
Transient dock rental and anchorage rental are typically two of the Marina's top income producers, bringing in nearly half a million dollars in normal years, but it's too early to tally the full financial impact of this year's slowdown, according to Collins.  "We'll have to get through this, then see where we are," he said.
While the marina director believes COVID-19 is the primary factor in the loss of boating traffic, some residents wonder whether the marina's first rate-hike since 2017, approved by the City Council in October, might also be contributing to the reduction in usage.
Collins doesn't think the rates are much of a factor, noting that the facility's fees remain comparable to or lower than other marinas to the north and south, but boats mooring for free in open water north and south of the marina definitely are cutting into revenue.
One such area near the Cole Fishing Dock in Riverside Park, where eight to 10 boats have been moored for extended periods of time in recent weeks, has been dubbed "The Free Marina" by some boaters.
An island resident who lives nearby and sees the boat traffic every day at the marina and in nearby waters says more boaters are mooring outside the marina this year, and that those who use the "free marina" have a good thing going with no mooring fees, access to cheap pump-outs and other services at the city marina, and free transit service on shore, courtesy of The Go Line.
"You can take your dingy to shore, grab the bus, go to the beach, go get groceries. How nice!" said the resident. "The folks at the free marina are not doing anything wrong  ...  but why this year and not previous years? It may just be something we have to put up with until the marina gets its upgrades, but things have definitely changed this year."
One marina employee, who has observed "around 10" boats moored in another location outside the marina, notes that local governments have no authority over where boaters choose to drop anchor. "We don't like it but [there is nothing we can do about it]," he said.
"Under Florida law, boaters who use their boats for navigation (even if only occasionally) cannot be restricted from anchoring by a local jurisdiction (city or county) outside of permitted mooring fields," according to BoatUS.com.
Ironically, the slowdown at the marina comes as boat sales in Florida have gone through the roof, with business booming at Vero Marine Center on Royal Palm Pointe and at boat retailers across the state.
"The demand is high," said Artie Olson at Vero Marine Center, who reports seeing boat buyers "of all ages, both existing customers and new buyers."
Olson attributes the upsurge in boat sales to COVID-19-weary people wanting to get outside and find safe ways to recreate, have fun and escape pandemic thoughts for a while.