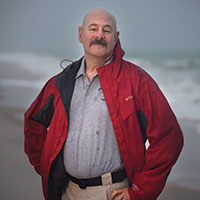 Islander expert in emergency management sees politics hampering COVID-19 relief
STORY BY MICHELLE GENZ (Week of February 11, 2021)
Photo: Emergency Management Program Director of Operations Paul Seldes at South Beach Park.

In his long career working as an emergency management consultant and first responder, Paul Seldes says he had never seen disaster management succumb to the forces of politics the way it has during the COVID-19 pandemic.
"I've just not seen that from 9/11 through hurricanes and tornadoes and earthquakes and what had you. I've never seen anything politicized to that degree before," says Seldes.  "And it's costing lives, unfortunately."
Seldes has a deep history with emergency management and disaster response.
He was a first responder at Ground Zero after 9/11 and helped in the search-and-rescue mission and clean-up for eight months.
Just the year before, in 2000, his team had examined the damaged USS Cole in an effort to come up with changes to the Navy's force protection training following a terrorist attack in Yemen that killed 17 crew members.
In Vero, where Seldes and his wife, Paula Lerner, formed a new consultancy post-9/11, Seldes served as mass care officer for the Red Cross after the twin 2004 hurricanes, overseeing shelters in St. Lucie and Indian River counties.
A year later, in 2005, he was dealing with Hurricane Katrina. Within 48 hours of the storm making landfall, he was setting up medical facilities along the Mississippi Gulf Coast.
In 2011, he headed to Alabama to organize field medical services after 62 tornadoes struck the state in a single day.
Today, Seldes is focused on the COVID-19 pandemic, tracking data and following policy. He is on daily calls with the state and weekly calls with the CDC as he wraps up a three-year contract as emergency management program manager in Hillsborough County.
At the same time, he volunteers as an admin for the local COVID-19 Facebook page, Mask IRC, posting relevant data he gets from official sources, and verifying information others post on the site.
"There's so much disinformation or misinformation out there and I try to combat that," he said.
Information flow is getting better, Seldes says. He points to weekly state reports compiled by a group within the White House Coronavirus Task Force and sent to governors across the country. Once withheld by Gov. Ron DeSantis, they are now published on the CDC site.
"If you know how to find it, all the data is publicly available from the Department of Health," Seldes said. "That's one of the big myths, that the data is hidden."
It is dumbfounding to Seldes that there was no federal vaccination plan in place under the previous administration. He says a national vaccine strategy now is "in progress from what I can glean with various calls with the CDC."
A history and political science major at Brooklyn College, the New York native began his career working briefly for an "unnamed federal intelligence agency," a stint he refers to as "secret squirrel stuff."
Among the "strange skills" that qualified him for the job were his adventurous pastimes – skiing, mountain climbing and rock climbing. "It was a career path I wasn't expecting, then decided it wasn't the safest thing in the world to do, and I began my foray into the financial world."
Seldes worked for more than a decade as technology director for risk management at Manufacturers Hanover, which became Chemical Bank and was about to merge with Chase by the time he left, in 1995.
With his wife, Paula Lerner, he formed several consulting companies, including one that led to his analysis of the attack on the USS Cole, with an eye to training Navy personnel to better fend off threats.
A year after the Cole bombing, Seldes was on his way to One Police Plaza to start an anti-terrorist training program for the NYPD. Near the World Trade Center, he picked up the second of two team members from out-of-town. As they passed the twin towers, the visitors were craning their necks to look up at the buildings. "What the (expletive) is that?" asked the passenger in the back seat, as a plane veered and crashed into the North Tower.
The resulting fireball directly over them lifted the car off the ground, Seldes recalls. As burning debris descended around them, Seldes drove on sidewalks to escape the area, stopping to take a quick call from his wife. "I'm a little busy now," he told her.
Twelve hours later, he made it back home. Early the following morning, he loaded up his gear and headed back to the site to help direct search and rescue. He stayed on for the next nine months, suffering lung damage and PTSD in the process.
"Between my wife and me, we easily knew 100 people who died – friends, co-workers, clients. We worked in the heart of the financial district. My wife worked in the building next door. Fortunately, she was on hiatus for a couple of months. Otherwise, she would have been walking across the concourse of the Trade Center right about the time the planes hit."
As recovery efforts wound up in June 2002, it was Paula who suggested they move to Vero, where Seldes's parents had lived for many years.
The couple had dreams of sitting by the pool, building websites for clients. And Seldes wanted to devote more time to scuba diving, another of his passions. (He's currently a dive instructor with Stuart Scuba, focusing on technical diving – the level needed for professional divers on complex or deep-water missions.)
"I wanted no part of all this other stuff I'd been doing for so long," he said, referring to risk management and emergency response.
In the aftermath of 9/11, though, security training and consulting had become a booming business, and the couple was gradually drawn back in.
"We never really built websites by the pool," Seldes says. "People in various fields from federal air marshals to baggage screening started reaching out to me saying 'We could use your help on this,' and I gradually got sucked back in."
In 2004, another major disaster landed in his lap when the twin hurricanes wrecked the Treasure Coast.
Seldes' current contract with Hillsborough County began with hurricane preparations – "the usual disasters," as Seldes put it, but then morphed into pandemic preparations when COVID-19 struck. It wound up with preparing for the Super Bowl in Tampa, a feat that included not only security but social distancing.
Part of his preparation for planning security for this year's event included attending last year's Super Bowl in Miami.
"We were just starting to hear about COVID-19," he recalls. "We were worried about it and leaning forward a little bit wondering, what do we do if this gets worse? So, we started the planning process last year."
The solution Seldes came up with included scaling back the crowd at Raymond James Stadium to roughly one-third capacity for COVID-19 mitigation and no-touch payment at all concessions. That was in addition to the usual security – "drones, canine units, metal detectors, all that sort of stuff."
Seldes oversaw security remotely from his home on the island and all seemed to go well – though the large gathering, even with precautions, raised the specter of added infections.