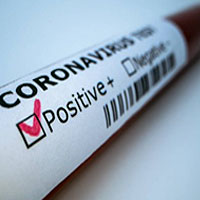 New COVID-19 infections here unchanged, but deaths down
STORY BY LISA ZAHNER (Week of February 18, 2021)

Reports of new COVID-19 infections countywide and on the barrier island during the past week were nearly identical to the week before, with an average of 47 new cases per day countywide for a total of 334.
Vaccine administration is going strong locally, with nearly 8,000 shots given last week and the number of people who have received at least one dose of COVID-19 vaccine now in Indian River County at 27,568 – with 86 percent of people vaccinated being age 65 or older.
On five of the last seven days leading up to press time, more than 1,000 shots per day were administered, with Feb. 8 setting a record of 2,059 shots in arms.
The number of local deaths reported this past week was less than half last week's number, with eight people dying with complications of the virus, down from 17 the previous week.
Indian River County's positivity rate for COVID-19 testing has remained below 10 percent now for a solid two weeks, after more than a month of percentages frequently in the teens. Emergency room visits for COVID-like symptoms and flu-like symptoms were down sharply over the past week.
Daily hospitalization numbers remained steady, with 25 people in the hospital with COVID-19 Monday evening, but the availability of intensive-care unit beds continues to be a challenge, with only 14 percent of the county's ICU beds open on Monday.
Winn-Dixie pharmacy in South Vero was added to the list of vaccine outlets this week, giving local seniors one more place to try for an appointment. Local residents who registered for the State of Florida vaccine waiting list have been getting appointments – some with strings attached, as they must be willing to travel to South Florida for their shot.
The pandemic continues to disrupt small businesses around town as the virus hits key employees, and students are still turning up sick and sent home to quarantine, interrupting routines at schools and in families.
Large gatherings, events and festivals are starting to make a comeback as people cooped up for nearly a year yearn to get their lives back to normal, but the social calendar is still far from the typical February on Vero's barrier island.
As testing and vaccinations are running more smoothly in Florida, the legislature prepares for its spring session with a debate on the horizon on whether or not Florida should institute limits to businesses' COVID-19 liability. Organizations like the Florida Chamber of Commerce strongly support these limits, while workers' rights groups and consumer organizations oppose the limits.