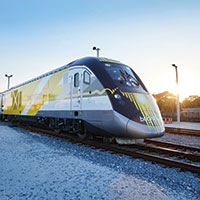 Brightline restarts work on high-speed rail tracks here
STORY BY GEORGE ANDREASSI (Week of January 7, 2021)

Brightline contractors resumed work Monday clearing brush near the 49th Street railroad crossing in Gifford after taking a holiday break since Christmas Eve.
HSR Constructors deployed a John Deere 245G LC mid-size excavator in the Florida East Coast Railway right-of-way as Brightline prepares to upgrade the tracks to handle high-speed passenger trains.
Brightline envisions running as many as 34 passenger trains per day on dual tracks through Indian River County at speeds of up to 110 mph by late 2022.
The 170-mile-long project involves 925 construction workers building new high-speed tracks from Orlando to Cocoa and upgrading the FECR tracks from Cocoa to West Palm Beach.
The extension includes the construction of a new $1 million concrete railroad bridge across the South Canal near the 4th Street railroad crossing in South Vero.
HSR Constructors is using a massive crane whose boom towers above the Woodlawn Manor mobile home park to install a temporary work trestle for cranes on the east side of the FECR bridge.
The company already built the bed for a second track and new drainage facilities at the 4th Street railroad crossing.
Brightline also is replacing the 94-year-old St. Sebastian River Railroad Bridge.
A temporary work trestle with platforms for cranes has been partially erected along the east side of the old bridge. The new 1,625-foot-long concrete bridge is expected to be completed in 2022.
Brightline provided passenger train service between Miami and West Palm Beach from early 2018 until March 2020, when it stopped operations to slow the spread of COVID-19.
The company was hemorrhaging money up until the closure, but "suspending service on the commuter-rail-length segment between West Palm Beach and Miami spared Brightline operating losses it was incurring before the pandemic."