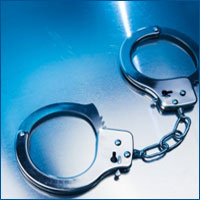 Deputy, fired here for pepper-spraying inmate, once handcuffed Mike Wallace after traffic stop
STORY BY RAY MCNULTY (Week of January 21, 2021)

The corrections deputy arrested and fired by the Sheriff's Office last week for pepper-spraying an inmate three times during a December dispute at the county jail lost his first law-enforcement job after a headline-grabbing incident in 2004 in New York.
While working as an inspector for New York City's Taxi and Limousine Commission, Keefe Roman arrested and handcuffed CBS News icon Mike Wallace – of "60 Minutes" fame – after a traffic stop outside a Manhattan restaurant.
The commission dropped a disorderly conduct charge against Wallace, then 86, after an in-house investigation determined the two inspectors on the scene made errors in judgment and that Roman hadn't yet been authorized by the New York Police Department to make arrests and write summonses.
After issuing an apology to Wallace for its agents acting "somewhat overzealously," a commission spokesman told the New York Times that Roman and his partner, veteran inspector Richard Mattaliano, "could have chosen other better options."
Roman, a 23-year-old rookie inspector with only "provisional" status at the time, was taken off the streets, assigned to a communications dispatch position and, according to the New York Post, was promised by his supervisors that his job was safe.
Three months later, however, Roman was fired – after 1 ½ years on the job and just one month before he was scheduled to be sworn in as a "special patrolman," fully approved to carry handcuffs, make arrests and issue summonses for the commission.
"This was done because of the Mike Wallace incident," Roman told the Post in November 2004, after being notified by mail that his employment with the commission had been terminated. "It really bothers me."
A commission spokesman told the Post there were "multiple other dimensions" beyond the Wallace incident that prompted the agency to fire Roman.
To this day, however, Roman maintains that he did not recognize Wallace, who died in 2012, and didn't act improperly in making the arrest.
"There were no other issues," Roman's Jacksonville-based attorney, Don Pinaud, said Monday.
According to news reports, the drama unfolded after Wallace picked up a takeout order of meatloaf from an Upper East Side bar and grill, and returned to his limousine, which the car-service driver had double-parked outside the restaurant.
Wallace saw the commission's inspectors questioning the driver and got into the back seat and waited. When the questioning dragged on, Wallace got out of the car to see if he could settle the matter so he could get home with his dinner, which was getting cold.
Wallace told the Times that he spoke politely to the inspectors, but one of them barked, "Get back in the car." The hard-nosed newsman refused, and when he continued to ask questions, one of the inspectors threatened him, suggesting it might not be safe to remain outside the vehicle.
"Suddenly," Wallace said, "one of them came behind me and put my arm behind my back in a hammerlock."
In an interview with the Post, Roman said Wallace posed a safety risk when he wouldn't comply with an order to move away from his partner.
"Our threat level went from dealing with just the driver to now dealing with the driver and the passenger," Roman said, claiming that Wallace "had alcohol on his breath."
An initial statement from the commission stated that Wallace lunged at one of the inspectors, but the internal investigation turned up witnesses who rebutted that claim.
Wallace, who was taken to a nearby police station before being released, was still upset about the incident the next day, the Times reported.
"I've seldom seen as angry a man as that guy," Wallace said, referring to Roman. "This guy could have been a killer. This is a very angry man. I think he needs therapy."
Even then-Mayor Michael Bloomberg questioned the need to manhandle, handcuff and arrest Wallace.
"Why a man in his 80s was so threatening that they had to arrest him, when they normally don't arrest anybody, certainly gives you cause to ask the question," Bloomberg said, adding that he "never thought of [Wallace] ... as a particularly threatening person."
The commission's investigative report recommended that both Roman and Mattaliano be retrained in conflict resolution.
For his part, Roman told the Post his training as a peace officer gave him the authority to make arrests, and that his commission supervisors issued him handcuffs, Mace, a baton and multiple summons books.
"The directors of training are the ones at fault," Roman said. "If they give us the equipment to do the job, then we'll do it. It bothers me that they tell you to do your job, and you get the short end of the stick.
"You end up getting the raw deal."
The job application Roman submitted in December 2019 to the Sheriff's Office here lists only his two most-recent previous jobs: Before becoming a state corrections officer in Orlando in March 2018, he worked for 10 months as a site supervisor for a private security company firm in Melbourne.
He did not mention his stint with New York City's Taxi and Limousine Commission.
Roman also responded "No" to application questions asking if he had:
• Been dismissed or asked to resign from a job or resigned or left a job by mutual agreement.
• Been subject to disciplinary action from any employer.
• Applied or performed paid or unpaid services for a law enforcement agency not listed as an employer.
And somehow the background check conducted by the Sheriff's Office uncovered nothing to prevent Roman, now 39, from being hired in September to work in the jail.
Three months later, surveillance videos captured him pepper-spraying inmate Brandon Kormanec during a confrontation at the jail. Kormanec had complied with Roman's order to sit down on a bench and was not doing anything physically threatening when he was repeatedly pepper sprayed in the face. A month-long investigation resulted in Roman being charged with battery and fired from his job.
Sheriff Eric Flowers said in an agency-released video that Roman's actions and use of force were "inappropriate."
Pinaud disputed the misdemeanor charge, saying Roman's actions were "defensive measures" that were justified because the inmate repeatedly threatened to harm him.