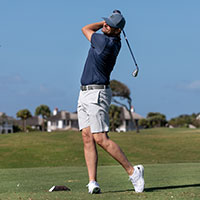 Major golf and tennis charity events here altered in response to pandemic
STORY BY RAY MCNULTY (Week of January 14, 2021)
Photo: The Mardy Fish Children's Foundation golf outing has been canceled. Photo of Mardy Fish playing at Windsor in January 2020.

The recent spike in COVID-19 cases locally has prompted organizers of three of Vero's popular annual, sports-related fundraising events to change their plans – but only the Mardy Fish Children's Foundation golf outing has been canceled.
Tom Fish, president of his son Mardy's foundation, said last week the organization decided to scrap this year's event, which was scheduled for Monday, Jan. 18 at Windsor, for public-safety reasons.
"It was a difficult decision, because the golf event is our second-biggest fundraiser," Fish said, "but considering what's going on, we didn't want to risk the health and safety everyone involved – our sponsors, the players, volunteers – or the community at large."
Mardy Fish, the former top-10 tennis player and current U.S. Davis Cup captain who created the Vero Beach-based foundation, will be returning to town, anyway, to prepare for next weekend's Diamond Resorts Invitational celebrity golf tournament in Lake Buena Vista.
One of the world's top celebrity golfers, Mardy Fish won the tournament in 2018, and there were concerns he might not be able to play this year if he became infected during his foundation's event.
"A lot of people are being careful," Tom Fish said, adding that the foundation is "reaching out" to past participants in the golf fundraiser in hopes they will donate to the cause, despite the cancellation.
"It's a good ask," the elder Fish said. "Everybody knows we help less-fortunate kids, and a lot of families are hurting, especially during this pandemic. So, we're hoping people will give as much as they did last year, even though we're not playing golf."
The money raised through the foundation's golf and tennis events goes to provide "healthy, fun and safe" after-school activities to more than 2,000 underserved children in the county, Tom Fish said.
Meanwhile, the wildly popular King of the Hill Tennis Tournament, which benefits Youth Guidance of Indian River County, will go on next month – but it will be smaller than in past years, with an abbreviated format and only sponsors allowed to attend.
Gigi Capasu, who has run the tournament for 25 years, said he seriously considered cancelling the event because of the pandemic.
"I wouldn't do it at all, but Youth Guidance didn't have a chance to do any fundraisers last year," Capasu said. "The only extra money they received was what they got from the United Way, so we're going to do what we can to help."
According to Capasu, the new format will feature competition in three divisions – 40-and-over, 50-and-over and Open – with only the four 2020 finalists in each group playing one-night tournaments on consecutive Thursdays, starting with the 40s on Feb. 4.
The tournament will be held at The Boulevard Tennis Club, where play is scheduled to begin at 6 p.m., but, unlike past years, the event is not open to the public.
Capasu said players will each receive $200, rather than earn prize money based on their finish, but the champions will get their names engraved on the King of the Hill trophy.
"People love this event and we always get great crowds, but COVID-19 is still a danger, so we're not going to have spectators," Capasu said. "And the sponsors who come, they'll be required to wear masks and practice social distancing.
"That goes for the players, too, when they're not on the court."
Capasu said he has a personal reason for taking such precautions: His wife is battling a "form of leukemia" and he doesn't want to put her health in further jeopardy.
"Youth Guidance was hit hard by COVID-19, and the need for financial assistance is more important than ever," Capasu said. "Fortunately, three-quarters of last year's sponsors already have committed to this year, and we're asking people to donate, even though they can't come to the event."
Capasu said he hopes to raise the $45,000 to $50,000 the tournament usually generates, "but if we just get beyond $30,000, that's OK."
Also impacted by COVID-19 was the Quail Valley Charity Cup's tennis tournament, which was scheduled for this week but has been postponed until March in hopes that the pandemic will ease.
Quail's golf tournament, however, will be played this week as planned.
"We can do the golf tournament because, with different tee times, we're able to keep everyone socially distanced," Quail Valley General Manager Kevin Given said. "The tennis posed a greater challenge.
"Our biggest concern was that, if someone tested positive during the event, the entire bracket – everyone he or she played with or against – would be compromised," he added. "So, we thought it was in everyone's best interest to push it back a couple of months and see if things simmer down a bit."
Given said he also was concerned about crowds of players gathering around courts to watch the championship matches in each bracket.
The tournament has been rescheduled for March 17-20.
Given said the Charity Cup's 5K Walk/Run was done virtually earlier this month, as were the Bridge Games, and the annual fundraising auction will be held online.
"We still plan to do the check presentation to our charities at the end of March, as we normally do, and we're still anticipating raising and giving out in excess of $500,000," Given said. "Even during a pandemic, our members continue to be very philanthropic."