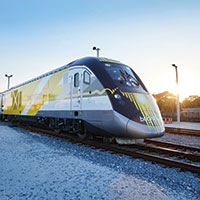 Not going to see this racing through Vero before 2023
STORY BY GEORGE ANDREASSI (Week of January 21, 2021)

Indian River County residents won't face any danger or inconvenience posed by Brightline's high-speed passenger trains until at least 2023.
Confirming what has seemed obvious to many observers, Brightline says it will not be able to meet its goal of starting train service between West Palm and Orlando in 2022.
The company now hopes to complete track construction and start test runs by late 2022 and begin service sometime in 2023.
Brightline has completed nearly half the work on 170 miles of new high-speed tracks between Orlando and West Palm Beach, railroad spokeswoman Katie Mitzner said Friday.
"We are looking to complete the tracks in the last quarter of 2022," Mitzner told the Treasure Coast Regional Planning Council. "We will then begin the Federal Railroad Administration testing and expect to have regular service starting in 2023."
Brightline began service between Miami and West Palm in 2018 but shut that route down last March at the onset of the pandemic. The company's passenger trains have not operated since then.
Restarting Brightline service in South Florida hinges on completing the installation of Positive Train Control technology along the 70-mile route, as required by Federal Railroad Administration regulations.
"Our service has been suspended because of COVID, but we're working at getting it back up and running," Mitzner said. "In the meantime, we are actively working on Positive Train Control implementation from West Palm Beach down to Miami."
Positive Train Control is a computerized system designed to automatically stop trains to prevent collisions with other trains, derailments caused by speeding, incursions into work zones and movements through misaligned switches.
A computer in the locomotive receives and analyzes data about track conditions, giving the engineer time to reduce speed or stop the train in case of an emergency on the tracks ahead.
If the engineer fails to take corrective action, the system automatically applies the train brakes and brings the train to a controlled stop.
However, the system does not prevent vehicle-train accidents at railroad crossings, or stop trains when people are walking on the tracks.
Brightline trains killed 43 people while operating between Miami and West Palm Beach from January 2018 through March 25, 2020, when service stopped.
Brightline operated 32 trains per day in South Florida at its peak in early March 2020, 16 northbound and 16 southbound.
If that schedule is put in place for the Orlando extension, the dual tracks Brightline is building in the Florida East Coast Railway right-of-way through Indian River County could carry 32 passenger trains at up to 110 mph and 20 freight trains at up to 60 mph each day, for a total of more than 50 trains.
There are 32 railroad crossings on the tracks in Indian River County, which generally run parallel to U.S. 1 and Old Dixie Highway.
Brightline plans to develop stations on the Treasure and Space coasts within five years after starting the Orlando to South Florida service, but hasn't picked the locations, Mitzner said.
"Nothing has been decided in terms of specific locations, but those are the two areas we had committed to," Mitzner said.
City officials have reached out to Brightline in hopes of getting a station in Vero Beach, and two of Indian River County's representatives on the regional planning council – County Commissioner Laura Moss and gubernatorial appointee Doug Bournique – said they're looking forward to the completion of the Brightline project.
Their support for the project is diametrically opposed to the position of a majority on the County Commission, which has spent nearly $4 million in legal fees in an unsuccessful effort to derail the $2.7 billion extension.
"The fact I was elected is indicative of the fact not everyone in Indian River County is against the train," said former Vero Beach Mayor Moss, who won the District 5 commission seat last fall.