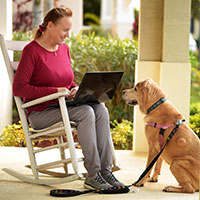 Vaccine or placebo? Pfizer trial participant waits to find out
STORY BY MICHELLE GENZ (Week of January 14, 2021)
Photo: Janet Hornreich Winikoff on the front porch of her home with Nala, a dog she rescued more than a decade ago.

Janet Hornreich Winikoff, like thousands of other residents of our county, is waiting to find out her status regarding the COVID-19 vaccine. For her, though, the big question is not when she will be able to get vaccinated – but whether she already has been.
Sometime between now and March 1, Winikoff, who volunteered for the clinical trial of the Pfizer-BioNTech COVID-19 vaccine, expects to find out whether the shots she got last summer were syringes full of vaccine or only salt water.
If it was the vaccine, Winikoff may be the first person in Indian River County to have gained immunity against COVID-19 without contracting the disease.
So far, all she knows for sure is that a needle was jabbed into her arm – twice.
The first time was in August.
She got up that morning at 4 a.m. and drove two hours north to DeLand, where staff with a firm called Accel Research Sites spent an hour asking questions, taking her vitals, giving her a blood test and swabbing her for COVID-19. They explained how to log into a COVID-19 diary app once a week and report how she was feeling and whether she had any symptoms.
After that, she rolled up her sleeve and got an injection. And then she made an appointment for a second shot, three weeks later.
Just what was in those injections, neither Winikoff nor the nurses who delivered them know – saline solution or a substance called BNT162b2, a vaccine candidate that could provoke her own cells to produce antibodies that could keep her from catching the novel coronavirus.
Just as Winikoff may have been vaccinated before the rest of us, she also was aware of the pandemic at a much earlier point, vicariously fearful through 30 children in China to whom she taught English virtually. That included one child in Wuhan, a thriving port city of 11 million in Hubei province, where the novel coronavirus was first detected.
"There were all in a pretty severe lockdown throughout China," recalled Winikoff. "So, I had a pretty good sense when they started talking about coronavirus happening here. I was immediately thinking of masks, social distancing and lockdown because I was seeing that in my kids back in January."
She remembers her students showing her closets full of masks, including some in miniature for their toddler brothers and sisters. "The moms were telling me how it was all happening, how the kids weren't going to school and everyone was masked. You were only allowed out of the house a couple times a week."
That contrasted starkly with advice from health experts in the U.S. who said early on that masks shouldn't be worn by the general public for fear of depleting supplies for healthcare workers as the pandemic began to spread.
"When things got serious, beginning in March, and people were talking about not wearing masks, I thought, oh my gosh, we are definitely going to need masks. I actually started making masks."
By summer, as things in China normalized, it was Winikoff's students who began to worry about her. "So many of my families were so concerned about me. Families were saying, 'We'll overnight masks to you.' It was so incredibly sweet."
Today, as the U.S. watches COVID-19 cases, hospitalizations and deaths skyrocket out of control, life for Winikoff's students in China is almost back to normal.
"Most of my kids aren't wearing masks at school. They're going out to restaurants. Periodically they have flare-ups, but I think the (Chinese) government has worked hard to keep things under control."
China also has a vastly different attitude toward vaccine distribution, with the government offering vaccines widely to throngs of enthusiastic recipients.
By contrast, vaccine hesitancy is apparently slowing down a U.S. rollout in some sectors, including among healthcare workers – though the crush of calls and texts to vaccine clinics in Indian River County would seem to belie any reluctance here among those 65 and over, at least for now.
After the first injection, Winikoff said she felt "a little under the weather."
"But was that because I got up at four in the morning and drove to Deland and back? Maybe. Did my arm hurt? No more than any injection."
Side effects of the Pfizer vaccine can include fever, headache, body aches and fatigue as well as pain at the injection site.
In double-blind trials, an outside monitoring group not connected to the researchers randomly assigns volunteers to either the drug group or placebo group, and keeps track of them throughout the study.
The COVID-19 trials have drawn far more participants than is typical for clinical trials.
Winikoff is one of 43,548 volunteers participating in the Phase 2 (now a combined Phase 2 and 3) Pfizer trial. The drug would go on to become the first vaccine to arrive in Vero Beach, after receiving emergency use authorization in mid-December.
There has been considerable debate nationally whether those brave trial participants who received a placebo should as soon as possible be offered the vaccine they helped prove safe for the rest of us.
At 56 and in good health, Winikoff would not normally be a candidate for a vaccine until higher-risk groups have been vaccinated – or offered vaccine.
But courage and concern for the common good should count for something, vaccine makers argued, though the FDA wanted participants to remain "blinded" so as to continue providing solid data in the ongoing trial.
Two weeks ago, Pfizer and BioNTech, its German partner, finally convinced the FDA that its trial participants should have access to their vaccines. Moderna will do the same.
More than anything else, Winikoff wants to travel again. The former director of education for the Humane Society here, and before that, a spokeswoman for the Humane Society of the U.S. in Washington, D.C., Winikoff has traveled extensively through Asia, where she's delivered veterinary supplies and once assisted with a spay-and-neuter clinic in a Buddhist temple in Cambodia – she kept the dogs and cats from running away when they came to.
"I was feeling pretty stoic when the outbreak first occurred, and then around July, I felt I was hitting a wall. I was ready for this to be over and get back to normal," Winikoff said.
"I was doing masks and social distancing, but I thought what could I do that was proactive that would get us back to normal faster? I'd been hearing about how [vaccine developers] were looking for volunteers."
Winikoff searched online and found a way to apply for vaccine trials on the CDC's website.
"I registered for a couple of them," she said. "I felt this was the fastest way to get us back on track. I was really on a mission to get my life back to normal and get everybody else back to normal. Without volunteers, there's no vaccine approval."
Friends warned her it was risky, she said, and her husband "was definitely concerned." But because there had been an earlier phase of the trial that had shown few side effects beyond sore arm, fever and lethargy, Winikoff forged ahead to participate in the second phase.
"It was a risk I was willing to take to move things along."
In July, she learned by phone that she qualified for the Pfizer trial – the Moderna trial wanted people with various health issues, she was told.
"I was actually excited. There were 44,000 people in total enrolled in the study nationally, and out of all those people's [efforts] I felt millions and millions of people in the U.S. could benefit. It felt exciting that I was really doing something that could make a difference."
Since receiving her shots, she has driven twice more to Deland for check-ins; a fourth visit is scheduled for early March.
In December, she was informed she would be given the option of learning whether she got the vaccine or a placebo, and if it was a placebo, to choose whether to get the vaccine.
Last week, Winikoff got a phone call from Accel letting her know that if she did get a placebo she will be vaccinated before March 1. Otherwise, she will keep her previously scheduled appointment in Deland on March 4.
"I would love to be vaccinated, if I haven't been already, and the sooner the better," Winikoff said. "But in saying that, I also know some people were saying, 'Gee, Janet, why are they making you wait until March when you volunteered to test it? Doesn't it seem that you should be able to jump the line?'
"If there are people who are more at risk than me, like frontline workers, I'm OK with the inconvenience of another few months of wearing a mask or staying at home and not seeing my friends. It's not risking my life."