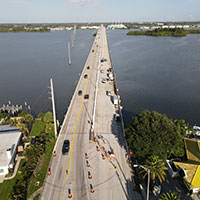 17th Street bridge repairs only a temporary fix
STORY BY LISA ZAHNER (Week of July 15, 2021)

Repairs to the 17th Street bridge that have disrupted traffic for eight months and are set to continue until at least November are just an interim solution, with the 42-year-old bridge now set for a major overhaul in 2024, according to the Florida Department of Transportation.
Since early December, both eastbound and westbound traffic on and off the barrier island have been routed to the eastbound side of the bridge while the westbound side of the bridge is being repaired.  That was slated to take three months but now is scheduled to take three times that long.
"The repairs have gone slower than originally planned due to scope changes and cure times for the new concrete," said FDOT District Four Communications Manager Guillermo Canedo.
"They found more that needed to be done," Canedo said, noting that the bridge also sustained damage from Hurricane Irma, which added tasks on top of the bridge before the work could begin underneath. "It was initially a lighting repair project that evolved into another type of repair.
"Weather is always impacting these projects," Canedo said.
With that in mind, and more stormy months on the way, is it realistic to think that repairs to the eastbound side of the bridge – slated to begin in August – will take only three months.
For now, traffic is still projected to be back to normal by Thanksgiving if work is completed on time.
Canedo, headquartered in Fort Lauderdale at the district office, promised last week to track down some more technical answers from engineers working on the project, but as of press time, no details had materialized. He did point out that the slower-than-expected repair job is only "a maintenance temporary repair" under an asset maintenance contract.
"There is another construction project in 2024. The department has hired an engineering firm to prepare the plans for the full replacement of 10 spans located on the east end of this bridge," Canedo said. 
This project is currently funded for construction in fiscal year 2024.  However, if stimulus funding becomes available, the department may seek to advance the project into an earlier fiscal year."
"It will not be a full bridge replacement," Canedo said. "The department does a cost-benefit analysis of how much it costs to make temporary repairs to a bridge, and ultimately, how much it costs to replace it.
"When you reach a certain tipping point under a certain analysis, you decide OK, the best deal for the taxpayers is for us to replace that bridge and use new construction, new techniques, new materials and meet new requirements with new information. Then we'll build a new bridge – when money becomes available."
The 17th Street bridge, which was completed in 1979 and named after Alma Lee Loy by an act of the Florida Legislature in 2012, was found to be structurally deficient in May 2020 and in critical condition needing prompt repair in 2018, according to FDOT inspection reports.