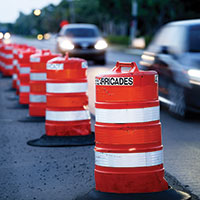 A1A speed limit will be restored to 45 mph, but not until the fall
STORY BY RAY MCNULTY (Week of July 15, 2021)

Island residents who haven't seen any work being done along A1A – from just north of Vero Beach to the Wabasso Causeway – are asking when the reduced-for-construction speed limit will be returned to 45 mph.
The latest projection?
Late September.
"I've been getting a lot of those inquiries," said Kathleen Dempsey, local spokesperson for the Florida Department of Transportation's $6.7 million road-widening project, which began 13 months ago and prompted the speed limit to be lowered to 35 mph.
"I can tell you the 45-mph speed limit will be restored when the project is completed, but we're not done yet," she added. "The entire corridor is still an active construction zone, and you'll still see lane closures."
FDOT District Communications Manager Billy Canedo wrote in an email to Vero Beach 32963 last week the project was "substantially complete," but that the agency doesn't expect its work to be totally finished until "towards the end of September."
Canedo said he was unable to provide a specific completion date at this time "due to possible weather impacts," adding that he should be able to do so in the coming weeks.
Last week's rains, in fact, prevented work crews from embarking on "asphalt corrections" deemed necessary after the contractor conducted tests on the newly resurfaced roadway, he wrote, though some work was taking place near the 7-Eleven when a Vero Beach 32963 reporter drove by Sunday night.
Canedo warned that "lane closures will occur during the day and night throughout the project" to make the necessary fixes.
Weather permitting, he stated, crews need to continue the installation of new traffic signage, thermo-plastic striping on the roadway and new 7-foot-wide "green bike lanes" on both sides of A1A – work that began last month.
Asked about the new signage, Canedo wrote that FDOT is replacing pre-existing signs and adding "rapid flashing beacons" at the pedestrian beach-access crossings where A1A intersects with Turtle Trail and Seagrape Trail.
The orange barricades that lined long stretches of the 6.74-mile construction zone for nearly a year were removed in late April, when the repaving of those sections of the island's main thoroughfare was completed and they were no longer needed to redirect the flow of traffic.
The removal of the barricades from the construction zone ended the daily frustration felt by island residents who endured bumper-to-bumper backups during the daytime hours, especially during the busy winter season.
Too often during the project, which began in June 2020, motorists mired in A1A traffic saw no tangible progress being made, prompting flurries of phone calls to this newspaper, local government officials and FDOT.
Many island residents complained in early April that they hadn't seen any significant work done – for any extended period, anyway – since before Christmas.
FDOT offered several explanations.
First, Dempsey cited "FDOT specifications," which she said prohibited work being done from Dec. 24 through Jan. 2 "to avoid impacting traffic flow during the holidays.
Then, in January, work was interrupted by what Dempsey described as "asphalt plant issues" that delayed the delivery of material needed to pave the roadway.
In early February, Dempsey said work had resumed two weeks earlier, but it was being done at night – between 8 p.m. and 6 a.m., Sunday through Thursday – to minimize the project's impact on the island's busy-season traffic flow.
However, island residents who contacted this newspaper said they saw little or no night work being done.
The reason, perhaps, was because work had been halted by rain and cold weather, particularly the January and February nights when local temperatures dipped into the 40s and even 30s.
In late March, Dempsey said work had been suspended for three weeks because the site was being surveyed before crews began the next phase of the pavement operation.
Now, repairs must be made to work completed earlier, which will be sure to bring more calls from frustrated motorists.