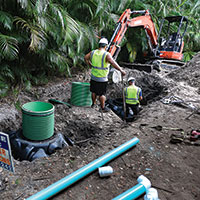 Vero seeks to expand STEP system in Shores, South Beach
STORY BY LISA ZAHNER (Week of July 22, 2021)

Now that half the 900 island homes with septic tanks in the Vero city limits are equipped with a Septic Tank Effluent Pump (STEP) system or are on the waiting list, the city is looking at converting more than 1,400 homes with septic tanks on the South Barrier Island and in the Town of Indian River Shores into new sewer customers.
STEP systems drain off the liquid waste from septic tanks, and pump that to a sanitary sewer line, reducing the chances that raw sewage would leach into the Indian River Lagoon.
Vero focused on its city customers on the island first due to their proximity to the lagoon. Five years later, there are still 444 septic tanks on the barrier island within the city limits not hooked up to a STEP system.  Three fourths of those are more than 40 years old and many are direct waterfront.
Of the island septic owners who had their systems inspected, one third failed inspection. There are still roughly 75 homeowners who have not complied with Vero's Dec. 31 deadline to have an inspection and pump-out.
Code enforcement, operating through the Vero Beach Police Department, is contacting those people individually, opening up a case on each one.
Utilities Commission Member Judy Orcutt said she'd like to see more people convert, and for the process to happen much more quickly. "One hundred failed. Where are we in the process?" Orcutt asked. "If they're not converted, that's a lot of septic systems in Central Beach and Bethel Creek ... and so many so close to the water."
Though the going is admittedly slow, the city is ready to expand the program. Building on the accomplishment of getting half the island septics converted to sewer – and most of the remaining septics inspected and pumped out – the city has opened STEP system sign-up to mainland city customers, as there are about 600 septic tanks in Vero mainland neighborhoods.
The first mainland informational meeting about STEP conversion will be 6 p.m. Aug. 25 in the Vero City Hall Council Chambers. The city is sending letters to targeted neighborhoods in the 14th Avenue area for this meeting; residents of other neighborhoods with septic tanks will be invited to future meetings.
Even if residents are not inspired to hook up to Vero's sewer system strictly out of a desire to protect the lagoon, the city's plan to tighten up the time elapsed between inspections and pump-outs of septic tanks inside city limits from every five years to every three years could motivate residents to hook up to sewer service.
That would enable them to take advantage of $4,500 in early sign-up credits and to have the city finance the costs over a 10-year period, rather than being forced to convert to sewer after septic system failure. Septic systems installed prior to 1983 are of special concern, as they lack design upgrades intended to reduce seepage into groundwater or into the lagoon.
Once mainland STEP conversions begin taking off, the next logical phase, according to city staff, is to address the 1,300 septic tanks in the unincorporated South Beach area and the 165 septic tanks in Indian River Shores.
Vero Water-Sewer Utilities Director Rob Bolton said the city has plotted the locations of all the septic tanks on its utility system and is using those to determine the areas to take action on first.
"We have not picked a specific neighborhood for South Beach yet. We have hired Tetra Tech to evaluate the impact to the lagoon. Their analysis will probably steer the direction for which areas are the worst," Bolton said.
To implement STEP conversions on the South Barrier Island and in Indian River Shores beyond those who voluntarily wish to become sewer customers, Vero would need to coordinate with the county and Shores governments on septic tank regulation.
For example, Indian River Shores has no ordinance on the books regulating existing septic tanks, according to Town Clerk Laura Aldrich. There's also the matter of financing the hook-up fees paid to the city. Vero holds the note on those costs for 10 years for city residents, but South Barrier Island and Shores residents might need to look elsewhere to spread out their payments.
Another matter that would need to be settled before South Beach and Shores STEP conversions could begin en masse has to do with franchise agreements. The Shores franchise agreement is up in 2027, the South Beach customers don't even have a valid franchise agreement with Vero, and both sets of outside city customers are looking at other options for service providers.
Vero presumably won't make a significant investment in new sewer infrastructure in those areas until long-term franchise agreements are in place.
Each resident is responsible for the cost of purchasing the STEP equipment and installing the system, which costs between $6,000 and $9,000, but the city will need to run the main sewer lines down each street. Bolton said the city is looking at various types of grants that could offset the cost of expanding the city's sewer network into neighborhoods with no existing sewer lines.
Bolton told the city's Utilities Commission recently that having grant money to help connect septic tanks in the most environmentally sensitive areas to the sewer system would give the "most bang for the buck" in terms of impact on the lagoon. Vero, in turn, would also be accumulating more monthly sewer ratepayers to pay for further enhancements to the utility system.
Bolton said one big snag in completing STEP conversions is that the needed contractors are swamped right now with new construction projects and commitments to developers.
"I can tell you they're not in any rush to get them in," he said, adding that only one or two installations per week get completed. But his department has a backlog of 40 applications they're still processing, so those people will also get in line for a contractor.
Meanwhile, homeowners wait – even if their septic tank has failed. Bolton said he has no dedicated staff working on processing STEP paperwork, and that's another reason for the delay.
Hopefully, lessons learned in the first wave of STEP system conversions on the barrier island will result in a smoother, more expeditious process going forward. If not, it's going to take a long time to hook up everyone who wants or is required to install a STEP system.
Planning for STEP conversions adding to the inflow to be treated is part of Vero's projections about how much capacity the utility will need 10, 20 or 30 years from now.
Vero is slated to begin constructing its new wastewater treatment and water reclamation plant at the airport within the next two years, so the plant on the river can be torn down to make way for the planned riverfront development on both the power plant and sewer plant sites.  Inflow projections are needed to inform the design of the new plant.