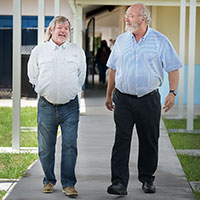 End of an era: Two Charter High arts educators retiring
STORY BY MICHELLE GENZ (Week of June 3, 2021)
Photo: Indian River Charter High School teachers Gary Miller, director of choir, and Ray Adams, director of visual and performing arts, will be retiring at the end of the school year. Both men serve on the music teams at their churches and will continue with their art in those venues.

The county's top-rated public high school, Indian River Charter High, is losing key leadership to retirement just as it faces the challenges of reintegrating its close-knit student body after a year of pandemic disruption and separation.
Two defining educators at Charter's Visual and Performing Arts Center, or VAPA, the county's only school-based arts academy, are leaving after two decades at the school.
Ray Adams, VAPA's artistic director, and Gary Miller, director of vocal arts, were clearing out their offices last week, a day after saying goodbye to students for the last time.
VAPA kids account for about half the school's total student population of around 700.
Another department head, Lucie Burke, director of visual arts, is retiring, too, though she will remain active at the school through next year, administrators said.
And next year, school director Cynthia Aversa will step down. Like Adams and Miller, Aversa will have held her title for 20 years, a period that spans nearly the entire existence of the school.
The departures come as the school takes a major step forward with the completion of a new 16-classroom wing, and its first-ever, fully enclosed performance space.
The 500-seat Charter Hall, which opened in February, was a 20-year dream come true for Adams and Miller, both of whom have been at Charter High since the arts academy's inception. The addition was paid for not with taxpayer millage, but with a mortgage: Charter is an independent, nonprofit business run by a board of directors; it gets only limited funding from the school district, even though it is a public school.
Founded in 1998, the school, located next to Indian River State College's Mueller campus, has held a state ranking of 'A' for the past 10 years. Along with an extensive arts curriculum and a golf academy, the school offers a dozen AP classes as well as dual college enrollment. Student proficiency scores are well above those at the county's other public schools.
The departures will likely mark an emotional turning point at the school. That comes on top of the already difficult adjustment of coming out of COVID-19 isolation.
Like other schools, the fall semester will bring not one but two grade levels of more or less newcomers, something like having two classes of freshmen in the same year – and having a senior class a little less seasoned than usual, after more than a year of limited school attendance and social distancing.
"It's a huge shift," said Adams of the looming changes in leadership. "Am I worried? Yes and no. The vision and the philosophy are all there. As for COVID, all schools took a hit, to be frank, and we know it will probably take two years to get Charter back on its feet like it was.
"We had a group of students that were here [on campus], but only kind of. They don't have the full understanding of the home base concept and what we call the Charter family. The family took a hit just like families across the country. We have a class of 165 freshmen – sophomores now – who all have to learn what the Charter family means."
As schools reopened after lockdown, Charter staggered its schedule to allow for distancing. For teachers, that meant trying to keep track of who learned what, and when.
"We had students that came on Monday and Thursday, then we had another group that came on Tuesday and Friday. For a while everyone was virtual on Wednesday, and then there were some that were virtual all the time," said Adams. "It was very difficult to feel you were reaching and working with all the students all the time."
For the more than 300 VAPA students, their studies were even harder. "Anything that required an ensemble was very, very difficult," Adams said.
That didn't change until nearly the end of the school year, when ultimately everyone had a chance to perform in some manner.
"Orchestra, jazz, choral, dance, art, theater – all of them were able to do some type of a program," Adams said.
Since its origins in the late 1990s, Charter High has had a reputation for inclusiveness. In the beginning, the student population included an odd blend of home-schooled kids aging out of parent-led teaching and kids who had left the county's two large public schools, Vero Beach High and Sebastian River High, due to bullying, academic boredom or other reasons. A smaller number transferred from St. Edward's School or the handful of religious schools in the county.
Uniting those disparate groups was a strict code of conduct, signed by parent and child on admission, that included drug testing. But in return, students were given wide latitude to set up their own schedules, leave campus between classes, and, with small class size, share their ideas in unorthodox ways.
That spirit of tolerance and creative freedom made the school ripe for an emphasis in the arts.
When Ray Adams arrived in 2001, the school had about 150 students and no VAPA program. By the next year, there were 300 students, and VAPA began to take shape.
With the recent expansion, the student body is expected to top out at 750, Adams said. There's often a waiting list to attend.
"When I came, I was put in charge of creating the VAPA program," said Adams. "They asked me to go out and talk to the community and look at the viability of starting an arts program."
Both Adams and Miller came to Charter with built-in followings. Each led choirs at their respective churches – Adams at Community Church and Miller at First United Methodist.
In addition, Adams founded a music academy at the Community Church, as well as the Vero Beach Choral Society, a large community chorus that anchored a range of musical performances around the county.
Adams was also instrumental in the founding of the Indian River Symphonic Association, which was formed in 1993 to bring the Brevard Symphony Orchestra to play at Community Church.
Between playing the pipe organ at Community Church and conducting choruses at the church and at Charter, Ray Adams had to have both shoulders replaced, one in 2016, the other in 2018.
Replacing Adams may be even more difficult, given the breadth of his experience at Charter and in the community, but two candidates from within Charter's ranks were interviewed for the position last week.
As for leadership of the choral department, accustomed to competitions and field trips – including four trips to sing at Carnegie Hall – that mantel will go to an up-and-coming conductor among the county's choral teachers, Ethan Kinkle, currently at Sebastian River Middle School.
"He's a young Gary Miller!" declared Adams.
Miller, 63, is taking a job that is completely outside his field – but entirely in the field – driving a pickup truck from the panhandle to the Keys to oversee sites being dug for pipes and fiber optic cable.
He may also work on getting his pilot's license. His retirement gift from his kids was a day in the air with a test pilot at Piper, the father of a drama student.
Miller will continue his musical relationship with First Baptist Church, where music director Michael Carter has given him an office and a title: artist in residence. Miller intends to set up a baby grand, a harpsichord and an electric keyboard in the office in the hopes of giving private lessons there, including in jazz and music theory.
And like Adams, who plays around town with his band, Soulfege, Miller will continue to play jazz piano for gatherings and restaurants, he said.
Miller felt wistful cleaning out his office at Charter last week. It was unusually quiet, the day after the last day of school, and the last day of his teaching career.
"This is the last rodeo. I'm not going to lie; I hadn't thought about it a lot until we did our last awards ceremony Sunday. You start thinking about the past. All the kids that have come through this class. I'm apprehensive. This is all I've ever known. I've been working with teenagers for 38 years."
Miller had worked for Vero Beach High School for 16 years when he began at Charter in 2002. It was the year the VAPA program started, and he was asked to fill in for a semester after the music director resigned. Two years later, the subsequent music director left. "They asked me to fill in, and I'm still filling in. It's been wonderful," Miller said.
Miller credits the VAPA program with contributing to the school's high academic ranking "in terms of bringing in the kind of kids, and instilling the kind of discipline, to do well across the board.
"We are one of the few charter schools in the state that actually have a viable and very active performing arts discipline," he said. "Very few invest in the arts."
Miller spoke highly of his principal, Aversa, now embarking on her final year at Charter. "She's definitely been the glue," he said.
"It has been one of my greatest honors and a blessing to have been able to work with these two educators for the past 20 years," said Aversa. "They have left a legacy at this school that will be difficult to match, and we are extremely grateful for the time that we have shared with them."