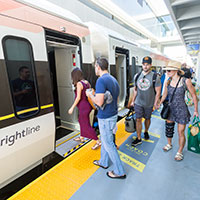 A ride on Brightline train shows rail has its fans
STORY BY GEORGE ANDREASSI (Week of November 25, 2021)

A ride on a Brightline train from West Palm Beach to Miami last week revealed satisfied customers and upgraded amenities, as construction projects prepare the way to extend the high-speed train up the Treasure Coast through Vero Beach to Orlando.
Brightline's recently restarted passenger train service offers consumers easy access to South Florida's vast array of entertainment and business venues while avoiding the stress of congested roads and costly parking.
Brothers Joe and Kevin McCourt, who were riding a Brightline train last Friday to Miami on their way to the Royal Caribbean Cruise Line terminal, chatted quietly while enjoying a beer instead of maneuvering through traffic on Interstate 95.
The McCourt brothers said they also anticipate riding Brightline's high-speed trains to and from Orlando after the company completes a 170-mile extension of its railroad tracks in early 2023.
"It's about time we have a high-speed train in this country," said Joe McCourt, a finance industry executive who lives on Singer Island just north of Palm Beach. "Have you been to Europe? Traveling around Europe on a train is great."
Brightline envisions developing a European-style network of high-speed train lines in the United States, starting by linking South Florida to Orlando and eventually the Disney theme parks and the Tampa Bay area.
There currently are no plans for the trains to stop for passengers in Vero Beach, however.
When all track and bridge upgrades are completed, Brightline passenger trains will travel through Indian River County at speeds of up to 110 mph on upgraded Florida East Coast Railway tracks, while freight trains continue to operate at 40-to-60 mph.
Locally, Brightline agreed to spend an extra $31 million to install additional safety equipment and warning signs in Indian River County to settle a seven-year-old legal battle over the passenger train project.
On Nov. 8 Brightline resumed operating 32 trains per day in South Florida, 16 in each direction after halting service March 25, 2020 at the start of the COVID-19 pandemic.
The 67-mile trip through a densely developed region of six million people – with stops in West Palm Beach, Fort Lauderdale and Miami – took one hour and 12 minutes each way when Vero Beach 32963 rode the train last week.
The McCourt brothers said Brightline is a viable transportation option because they can book a ride on Uber from the train station to their destination.
"It will be a $10 Uber to get from the Brightline station to the cruise port," Joe McCourt said. "It'll be a five-minute wait. I Uber all the time."
A relatively low ticket price of $15 makes Brightline an attractive transportation option, the McCourt brothers said. But that could change if prices skyrocket to the same levels as Amtrak's Acela service between Boston to Washington, D.C., to which Brightline is frequently compared.
"An hour and 15 minutes to get to Miami (from West Palm Beach) is pretty good," Kevin McCourt said. "For $15 each way, that's what you would pay for a couple of hours for parking. Parking in Miami is pretty miserable."
Joe McCourt said keeping prices low for the Orlando train would help Brightline compete with airlines.
"I used to live in Connecticut," Joe McCourt said. "The Acela from Stamford to D.C. is convenient, but it's $200-plus one way. It's just as easy to jump on a flight from LaGuardia (Airport) to Reagan (Airport)."
Liondre St. Hilaire, a musician, said he took Brightline from Fort Lauderdale to West Palm Beach because it looked more attractive than the other options, a Greyhound bus or Tri-Rail commuter train.
"It was really smooth," St. Hilaire. "I was like, this is amazing. This looks so nice. It looks way better than the Tri-Rail that's for sure. The building and the facilities are very clean. It looked spotless."
A promotional offer of a free round trip enticed St. Hilaire to take his first ride on the Brightline train. Extending the high-speed passenger train service to Orlando would provide an attractive option to Greyhound buses, Amtrak trains or rental cars.
"That's a great idea because we need a better train," St. Hilaire said. "It's nothing against Amtrak, but we need other competition to drive costs down. You either have to take Amtrak or take the Greyhound to get up there."
To entice families to try the train, Brightline is running special Polar Express trips from its Miami station starting Dec. 11, with Christmas-themed entertainment, treats and beverages.
COVID restrictions are still in place on the Brightline. Face coverings must be worn by everyone age two and older except when guests are actively eating or drinking. Signs in the Brightline stations also boast that 100 percent of Brightline employees have been vaccinated.