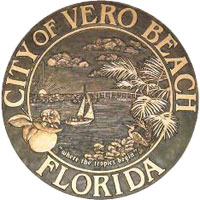 Brackett to stay on as Vero mayor; Neville to serve again as vice mayor
STORY BY LISA ZAHNER | NEWS ANALYSIS (Week of November 18, 2021)

Vero Beach got lucky this past Monday when the City Council decided to continue with Robbie Brackett as mayor for the next 12 months.
"Thanks for having faith in me," Brackett said after being returned to the mayor's seat for a second term, adding that he was honored and looked forward to serving.
Brackett has done a fantastic job this past year in corralling the strong personalities on the council and channeling all that energy into mostly good decisions for the city. When the decisions were bad, like the imposition of a new stormwater tax, Brackett made his best argument in opposition and voted a lonely 'No.'
Had the council brushed Brackett aside and chosen Honey Minuse or Rey Neville as mayor, that would have signaled a very different direction – that adherents of the once-influential Indian River Neighborhood Association are creeping back into power.
But Neville nominated Brackett as mayor and, in turn, Brackett nominated Neville as vice mayor so basically nothing changed from last year, except former mayor Dick Winger was replaced on the City Council by newcomer John Cotugno, a Central Beach resident who has served on both the city's Utilities Committee and the Three Corners Steering Committee.
Cotugno won on his third run for council and this time around he toned down his ties to hard-boiled conservatives like former mayors Harry Howle and Val Zudans, who endorsed him in previous years. His platforms and policies were middle of the road, so when voters checked off their "pick two" ballots, Cotugno could be paired with any of the other candidates.
Now that he's seated on the dais, Cotugno will likely be aligned with Brackett on most matters of policy. That's a good thing because Brackett views city business in a very common-sense way, and is involved and invested in the community on a daily basis as a business owner.
Despite having a busier schedule than most of the retirees who serve on council, Brackett remains accessible and open to opposing viewpoints. He answers his cellphone and fields questions about most anything – without checking with the city staff first.
The two council members to watch over the next year are Minuse, and Councilman Bob McCabe.
McCabe nominated himself for mayor on Monday but got only one vote – his. But McCabe already plays an important role as the council's swing vote.
Should a contentious issue arise, with Minuse and Neville pulling one way and Brackett and Cotugno pulling the other, McCabe will cast the deciding vote and he's tough to predict because he seems to not have any overarching agenda.
That's where Minuse comes in as the other person to watch. Minuse is a formidable woman, smart and always prepared. She is intimidated by no one. And it seems like she's been holding back the past year, maybe even biting her tongue instead of taking her opponents on the way she's more than capable of doing. She didn't really need to assert herself too much after Winger got appointed to fill the seat vacated by the resignation of Joe Graves, as she, Neville and Winger formed a comfortable voting majority.
Minuse let Winger take the lead when a stand needed to be taken, and an impassioned speech needed to be delivered.
Now that Winger is gone, when it comes down to an important vote about something she's passionate about, Minuse will still want to win. That means being persuasive enough to get the swing vote.
The council has two big projects on its plate – the riverfront development and moving the city's sewer treatment operation off the Indian River Lagoon to a new plant at the airport.
Apart from that, Vero must determine how much money it's willing to tax its citizens in the name of stormwater management – a cause very close to Minuse's heart. Then there's the matter of resolving multiple utility disputes with Vero's neighbors, the Town of Indian River Shores and Indian River County.
All of these issues combined potentially put hundreds of millions of taxpayer dollars in play over coming decades.