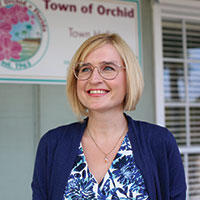 Cherry Stowe appears favorite for Orchid town manager
STORY BY SAMANTHA BAITA (Week of November 4, 2021)
Photo of Town Clerk and interim Town Manager Cherry Stowe.

Since the unexpected September resignation  of Orchid Town Manager Noah Powers after more than five years in the position, the tiny north island municipality's Town Council has been tasked with finding a suitable replacement as quickly possible.
Almost immediately, several on the council spoke in favor of moving the only other full-time employee, Town Clerk Cherry Stowe, into the manager's position, citing her excellent record over the past six years, her numerous strong job skills and work ethic.
However, in order to avoid cutting corners regarding proper procedure, the council sought input from several other municipal government leaders, and ultimately solicited the guidance of Ken Parker, a senior advisor from the International City-County Management Association.
Senior advisors, formerly known as range riders, are retired city and county managers who volunteer to support governments finding themselves in a gap between managers, and they often help in searches and hiring.
Meanwhile, Stowe has agreed to undertake the duties of town clerk and interim town manager – both full-time positions – for which she will be appropriately compensated until a permanent new town manager is in place.
Stowe is paid $75,000 per year as town clerk. Powers was hired on at $80,000 per year and was set to earn $128,000 this budget year, according to town budget documents.
Prior to attending a special council meeting last month, Parker had provided council members with a Town Manager Attributes Questionnaire to complete. Parker advised the council that, based upon what he's seen over the years, qualified potential candidates often hesitate to apply if there is a strong in-house candidate because they are cautious about spending time and possibly jeopardizing a current position when a viable in-house candidate seems likely to win the job.
At the meeting, Orchid Mayor Bob Gibbons stated his belief that any outside candidate was unlikely to "fit this unique community" better than Stowe, and suggested moving forward with an evaluation of Stowe by the council as a whole.
Council member Patti Oertle-Phaneuf said she had given Stowe high marks on the questionnaire but said she "just didn't know enough about Mrs. Stowe to provide a score yet."
Council member Mary Jane Benedetto said she finds Stowe very capable of "handling and explaining complex matters," and feels she would be an excellent trainer of a town clerk replacement should she be promoted to town manager.
Vice-Mayor Paul Knapp also spoke favorably of Stowe and, to ensure the hiring process proceeds properly, suggested a formal interview and background check be conducted. Council also requested that Stowe provide an up-to-date resume. Council member Sims Browning observed the council appeared in agreement about the direction forward.
Parker suggested, and Council agreed, that he contact each council member individually in order to complete their "ideal candidate" profile. He has been conducting these communications, while not sharing any comments with other council members due to Florida's Sunshine laws. From the comments he collected, Parker will create a single profile to be used as a guide.
As of this past week, according to Stowe, the council has not formally sought or received any applications for the town manager position, and "I have not yet put forth an application, for this reason. The Council is still finalizing the steps to take in this process."
Stowe took the position of Orchid town clerk in December 2015, after working in a corporate senior management position for Houston-based Pinnacle Financial Strategies.
Born in the Netherlands, Stowe came to the United States and Vero Beach in 2007, having completed a master's degree with distinction at the University of Dundee in Scotland that same year. In 2019, she earned the certified municipal clerk designation from the International Institute of Municipal Clerks, the second Orchid town clerk to do so.