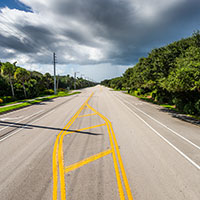 Probe of crash that killed bike rider on island is still open
STORY BY RAY MCNULTY (Week of November 25, 2021)

The driver of the car that struck and killed a John's Island resident while he was bicycling along the northern tier of State Road A1A in May has a long history of traffic offenses – dating back to 1988 – and twice had his license suspended.
Six months after the fatal crash, however, the Florida Highway Patrol has not yet closed the case and publicly released the findings of its investigation.
FHP Public Affairs Officer Lt. Yanko Reyes wrote in an email to Vero Beach 32963 last week that the agency's final report was "still pending administrative review" and should be made available "in the next two to three weeks."
According to the FHP's initial crash report, John Joseph Rampp, then 49, was driving north on A1A at 10 a.m. May 29 when he swerved off the roadway and onto the paved shoulder. There, the front-right part of his 2010 Nissan coupe collided with Carl Cutler, who was pedaling north in the bike lane.
A check of Rampp's driving history in Brevard County, where he lived for more than 30 years before moving to Vero Lake Estates, revealed he was cited twice for driving without knowledge that his license had been suspended, five times for speeding, three times for operating an unsafe vehicle, twice for running a stop sign or signal, twice for not wearing a seatbelt, and once each for careless driving, failure to yield and defacing or driving around detours.
In the A1A crash, Cutler, 63, a retired investment banker who split his time between the Greater Philadelphia area and Vero Beach, was knocked onto the grassy area alongside the roadway. He was pronounced dead 40 minutes later at Sebastian River Medical Center.
The FHP crash report stated that Rampp's car had no mechanical defects and he had his seatbelt buckled, traveling an estimated 50 mph in a 50-mph zone in clear, dry conditions.
Describing Rampp's actions that resulted in the crash, the report stated he was driving in a "careless or negligent manner" when he "failed to keep in the proper lane" and "ran off the roadway."
There was no mention of any citations issued at the scene, however, only that Rampp refused both an alcohol and drug test – which was puzzling, given that the trooper who filed the report indicated the driver was not suspected of alcohol or drug use.
Under Florida's implied consent law: If a driver refuses to take a breathalyzer test, he or she is subject to a mandatory one-year license suspension for the first offense. Such action, though, can be challenged in court.
The FHP didn't respond to phone messages seeking further information on Rampp's current driving status.
Cutler, who the FHP stated wore a helmet and was in no way at fault for the crash, was born in Royal Oak, Michigan, and was the father of three adult children. He graduated from Denison University in 1980 with an economics degree and spent more than 30 years at New York-based firm of Brown Brothers Harriman, retiring as a partner in the Philadelphia office.
At Denison, he was an All-America soccer player and later was inducted into the university's Athletic Hall of Fame.
Cutler was a member of five golf clubs, including John's Island and RedStick in Vero Beach. He also enjoyed hiking, skiing, pickleball and tennis.