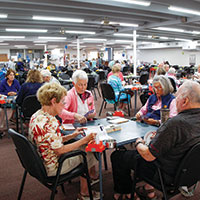 Vero Beach Bridge Club finds new players knocking on its doors
STORY BY PIETER VANBENNEKOM (Week of November 18, 2021)

When the Vero Beach Bridge Club cautiously resumed in-person play and classes for fully vaccinated players earlier this month after being closed almost two full years because of the COVID-19 pandemic, a couple of things happened – one bad and one good.
The number of people showing up for in-person games was somewhat disappointing. The club still runs some online games for late-arriving snowbirds and for those who prefer to play from home on their computers, but even the combined table count for in-person and online games didn't match the numbers for face-to-face bridge two years ago.
However, signups for beginning bridge classes were strong – beginners teacher Christine Matus had two full tables of people seeking to get into the game, one of the largest classes in the five years that she's been teaching it.
So while some of the "old guard" still seem reluctant to return to the bridge tables for a variety of reasons, new players are knocking on the doors to get in.
Perhaps neither development should be much of a surprise. Bridge clubs around the country have been decimated by the pandemic. The American Contract Bridge League (ACBL), which oversees the competitive game in North America, reports that only about half of the over 2,000 affiliated clubs of pre-pandemic times still have games today.
Bridge players are mostly retired, with an average age over 70, and many have underlying conditions that make them especially vulnerable. Most players, vaccinated or not, are still extremely cautious about venturing out.
Additionally, a lot of bridge has shifted online, where you can play for less money without leaving your house. But there are negatives to playing online as well – players miss the social aspect of the game, and rampant cheating scandals have given the online game a bad rep.
Before the pandemic shut down all face-to-face bridge, the Vero Beach Bridge Club was the fourth largest in the country by table count. No one knows where the club will rank this year and next, although Vero Beach may well stay in the top 10 since other clubs have suffered in attendance as well.
Vero Beach did not lose any members directly to COVID-19, but it lost several notable members to age-related causes.
Now that the club has reopened, there seems to be pent-up demand in the community for learning how to play duplicate bridge, which has been called "social insurance for the rest of your life." Soaring home prices show people are still moving into the area, and when new arrivals ask around for what there is to do, in addition to golf, tennis, boating, the theater and the museum, bridge is often mentioned.
Most people signing up for the series of eight beginners' classes said they had been exposed to the game before, but had not been able to pursue their interest during the pandemic and get serious about it.
"I took a course once a while ago, but I wasn't ready to start playing duplicate," said one woman taking the class. "I realized I needed to start over."
"I knew there was bridge online, but that was a little too intimidating for me with my limited knowledge of the game," said another. "When I make a mistake, there's no one there to explain things to me."
"I thought I'd give it another try," said another student. "The last time it didn't stick with me, but it's going much better now."
After completing the beginners' class, the players are ready to enter a so-called "student game" on Friday mornings at the bridge club on 15th Avenue where bidding help and coaching is still available, but players can start to earn MasterPoints en route to becoming a regular duplicate player.
The club also offers a number of other classes for intermediate players or advanced players on specific subjects.